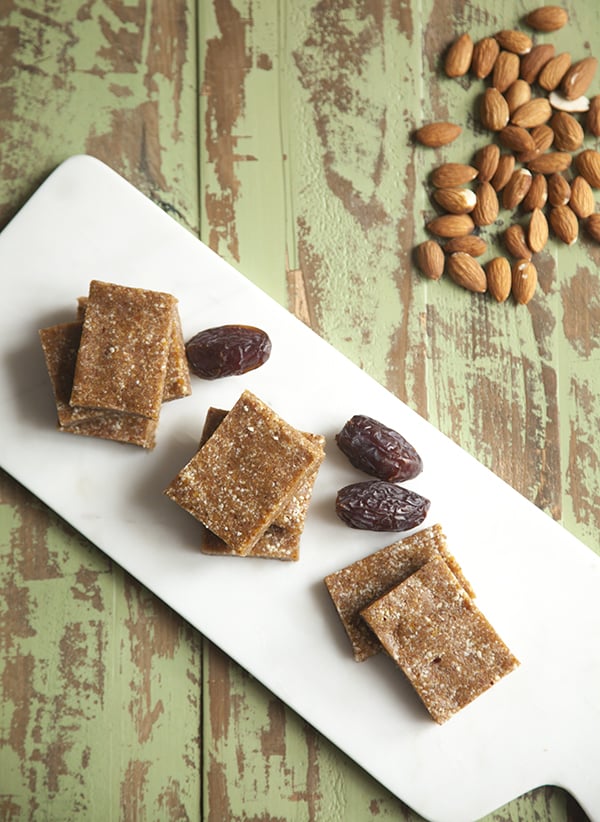 Back in the early days of this blog, I was a consummate DIY-er. I made almost everything from scratch: nut milks, crackers, breads, granolas, juices. You name it, I made it.
Times have changed, and I'm not quite as productive in the DIY department as I used to be. It started with my post-bacc; I tried my best to keep up with homemade snacks through the whole thing, but by the time I was studying for the MCAT, I was pretty much relying on packaged bars and snacks to keep me going. Which is fine. I'm a big believer that realism is a part of being healthy. There are a bunch of products that make my life considerably easier in a pinch. These include Pacific brand soups, sunshine burgers, commercial nut milks and/or soy milk, a couple of faux meats or cheeses (Steven and I really like Beyond Meat and Daiya at the moment, though we're always open to trying new ones, and when I don't have time to marinate tempeh at home, we also love fakin' strips from Lightlife), frozen edamame packs, crackers (Flackers and Lydia's are my faves), and more.
But there's something undeniably satisfying about making one's own staples, whether pantry items or snacks. And in spite of the fact that these are busy times for me, I've been thinking a lot about how often I grab something store-bought when I really could whip up the exact same product easily at home. Back in the day, one of my weekly DIY staples was a batch of homemade snack bars. Favorites included my lemon kissed cashew hemp bars, my raw cacao snack bars, and my five minute, no bake sunflower oat bars. These were quick and easy to prepare, satisfying, and far easier to customize than any raw snack bar out there.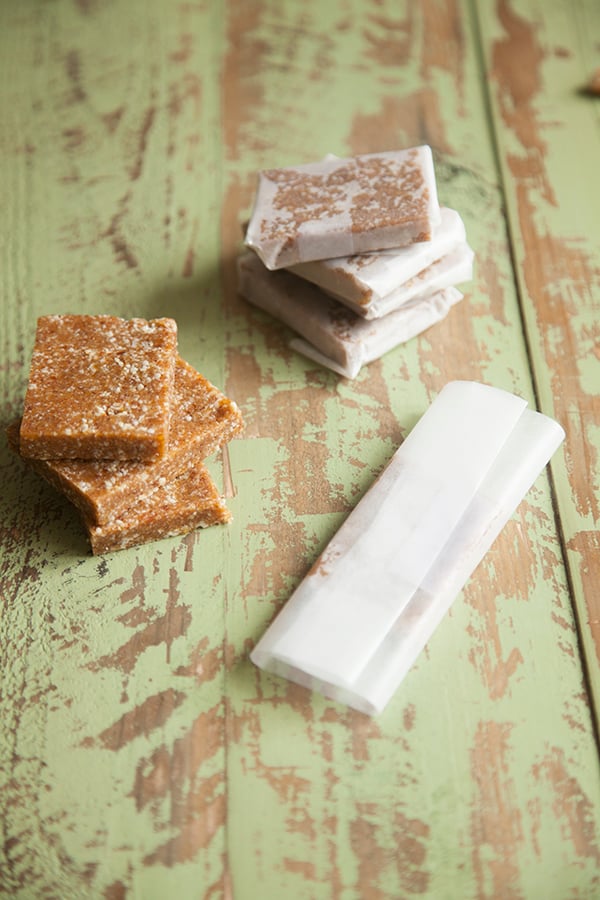 This week, I found myself with a half bag of dried apricots sitting in the pantry. I decided to break out the food processor, roll my sleeves up, and devote fifteen minutes to making a batch of homemade nut and fruit bars. These sweet and delicious apricot almond and vanilla snack bars were the result.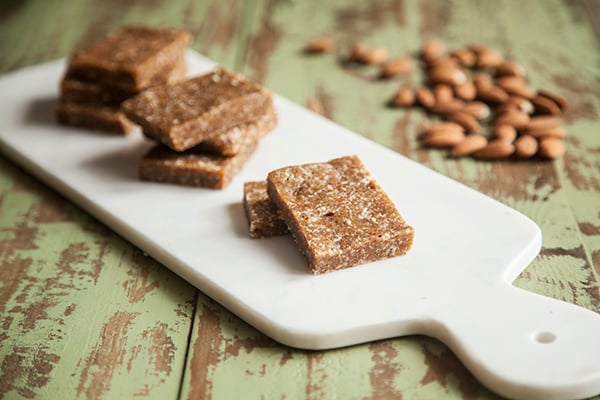 These are really great. They're sweet, they're chewy, and the mixture of apricot and date is a very nice departure from medjool dates alone (which is the basis of a lot of bars and bites that I've made). I also love the subtle, yet delicious flavor that vanilla and coconut add to the mix. The bars will keep for up to two weeks in the fridge if you store them in an airtight container and wrap them up well. Which means a whole two weeks of easy, accessible, and–best of all–homemade snacks.
Apricot, Almond, and Vanilla Snack Bars (gluten free)
Author -
1 1/2

cups

almonds

1/8

teaspoon

salt

8

dried apricots

unsulphured is best

1

teaspoon

vanilla powder or 1 whole vanilla bean

split and seeds scraped out (substitute 1 teaspoon vanilla extract)

10

pitted medjool dates

2

tablespoons

dried

unsweetened, shredded coconut

1

tablespoon

almond butter
Line the bottom of an 8x8 square baking dish with a square of parchment or wax paper.

Place the almonds, salt, and apricots in a food processor fitted with the S blade. Turn the motor on and process until the mixture is a course meal.

Add the vanilla, dates, coconut, and almond butter. Continue processing for about a minute, or until the mixture is sticking together. When you can squeeze a small handful together and it sticks easily, it's ready.

Press the mixture into the prepared baking pan. Transfer to the fridge for 1 hour to allow the bars to firm up. Cut into 12 bar shapes. I like to wrap the bars in wax paper and then keep them in the fridge for when I'm ready to eat.
Here the bars are, getting wrapped up for storage:
So easy! And so nice to have snacks at the ready for the week ahead.
I hope you'll enjoy these bars, too, and that they might inspire you to get a little more DIY and hands on with your snacks and staples. It's definitely a habit I'm hoping to revive.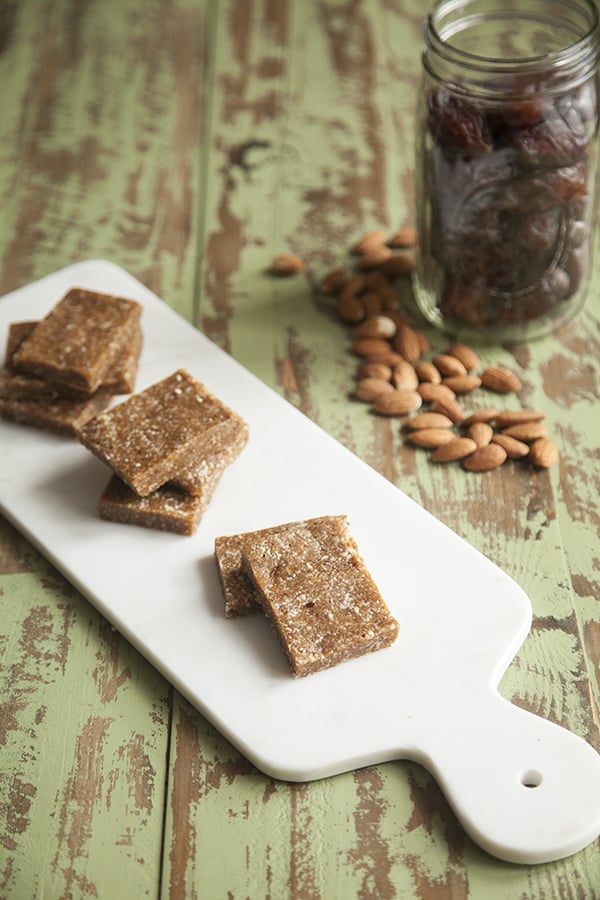 As I mentioned on Sunday, it's NEDA week, so my next post will be in that theme. Excited to share. Till then, stay warm!
xo