Last week, I showed you a slew of recipes featuring strawberries and greens, because the folks at Relay Foods had given me a chance to sample their local Bounty Box (similar to a CSA box). It was brimming with leafy greens and tender plump strawberries (finally, tis the season). The greens lasted me quite a few days, and many salads over the course of them. Today, I'll show you the last salad I made with these ingredients: a simple asparagus and strawberry salad with balsamic vinegar and basil.
Strawberries and balsamic are a classic flavor combination. I'll never forget the first time I tasted the two together, expecting something terrible; I was delighted at how delicious the marriage was! I often pair balsamic vinegar with fruit in salads (it's also great with peaches, raspberries, and even watermelon), so I knew I'd be happy with this combination of ingredients. Needless to say, it was a hit, and it was also quick and easy to make.
Asparagus and Strawberry Salad with Balsamic and Basil
Author -
5

large stalks asparagus

cut into 2 inch pieces

1

cup

halved or quartered fresh strawberries

6

cups

fresh greens

mesclun, baby spinach, romaine, mache -- all of these will be just fine

1/4

cup

tightly packed fresh basil

1

tablespoon

olive oil

1 1/2

tabelspoons balsamic vinegar

1

tsp

dijon mustard

1

tsp

agave or maple syrup

Sea salt and pepper to taste
Bring a small pot of water to boil. Add the asparagus and blanch for 1-2 minutes, till the stalks are still crunchy, but bright green and just tender enough to be palatable to you.

Slice the basil into thin ribbons and, in a large bowl, combine the greens, asparagus, basil, and strawberries.

Whisk together the oil, vinegar, mustard, syrup, and salt/pepper. Toss with the greens. Serve.

Makes 2 appetizer sized or 1 sizable salad.
If you're eating this on its own and would like it to be more meal sized, you could toss in some cooked quinoa or roasted chickpeas–both would be lovely here!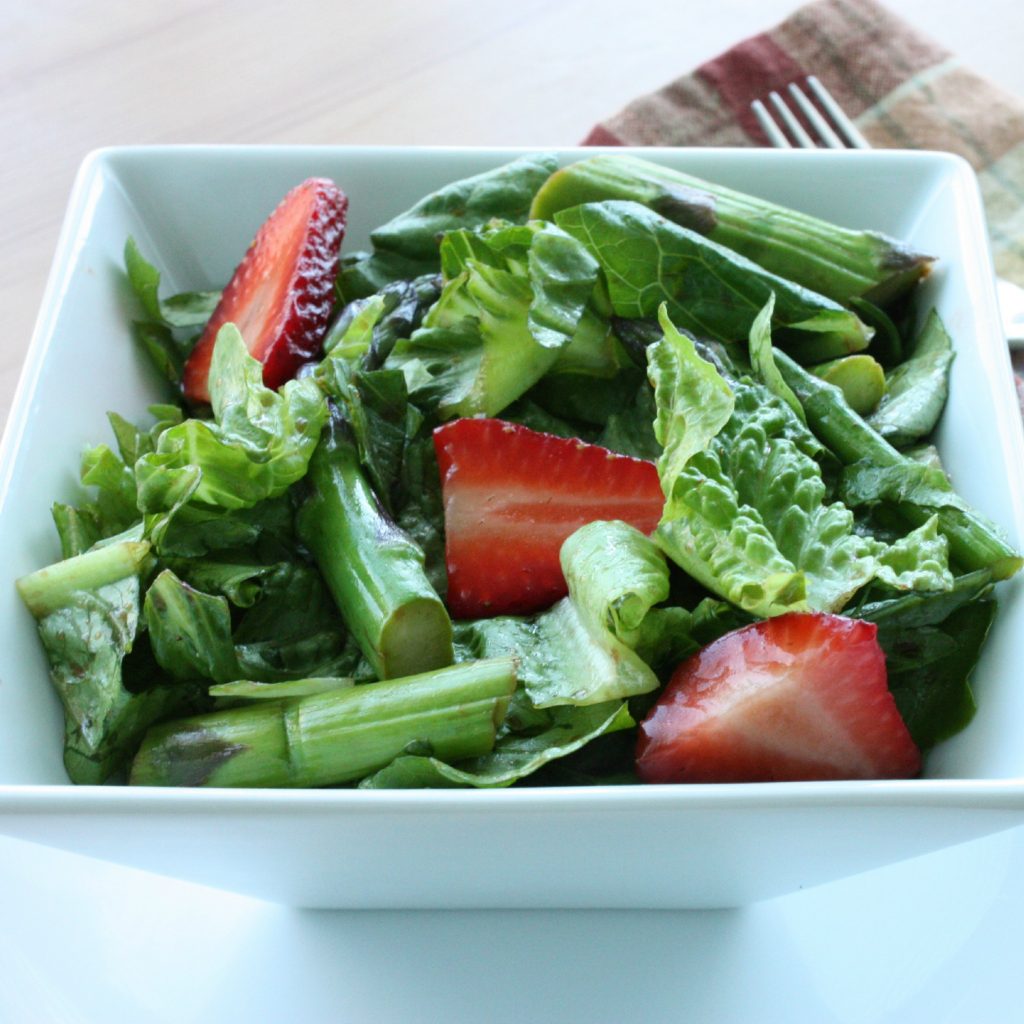 This crispy, sweet, and savory bowl is a perfect celebration of the season. I hope you enjoy it soon.
xo