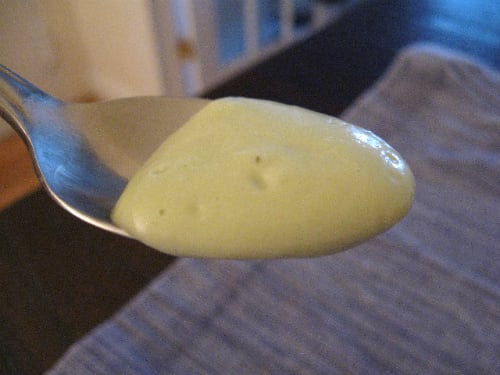 Morning everyone! This post will have to be a bit rushed (it's that kind of day).
After tasting the incredible avo-coco soup at Caravan on Monday night, I decided I had to re-create it for myself at home this week. Last night was my first attempt, and it was a huge success! This soup is unbelievably thick, creamy, and delicious. Best of all, it's also really fast. Here's the recipe:
Avo-Coco Soup
1 avocado, quartered
Meat of 2 young coconuts
1 – 1 ¼ cup coconut water
Sea salt to taste
Sprinkle stevia
Mix all ingredients, minus water, together in a high power blender. Add ¾ cup coconut water and start blending. Keep adding water until soup reaches the consistency you like: I like it really thick and creamy!
This soup is extremely rich: all the healthy fats and fresh enzymes will fill you up quickly. So I recommend a smaller portion alongside a big salad, which is just what I had. Here's the meal from above: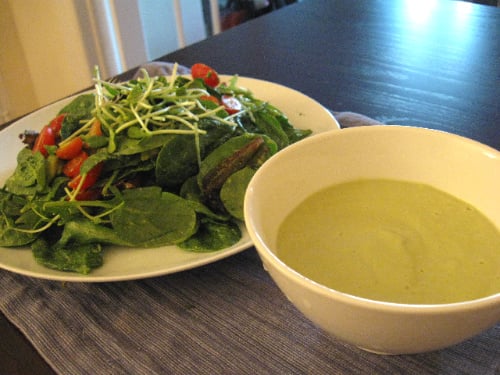 And a close up of my salad, which was spinach and mesclun greens, avocado, tomatoes, and my favorite: sunflower sprouts:
In other news, I got a nice surprise at the office yesterday. The people at NuNaturals were kind enough to send me not only samples of their latest stevia products, but two fresh vanilla beans! I'm excited to try these samples of both liquid and solid stevia powder, especially since the liquid varieties include two that are alcohol free and 100% pure stevia (I don't generally love using stevia brands that include alcohol derivatives or maltodextrin). Thanks so much, NuNaturals!
And finally: today is my one month blogiversary!! I can't believe it's already been a month. In honor of the day, I invite you all to give me feedback! How am I doing? And what would you like to see more of? I plan to share the following in the next few months and weeks:
● Grocery lists and tips shopping
● More tips on meal planning and busy days
● Dehydrator recipes (soon! I promise!)
Anything else on your mind? Recipes? Advice? Health issues you'd like me to talk about? Let me know.
Have a great Friday.
xo