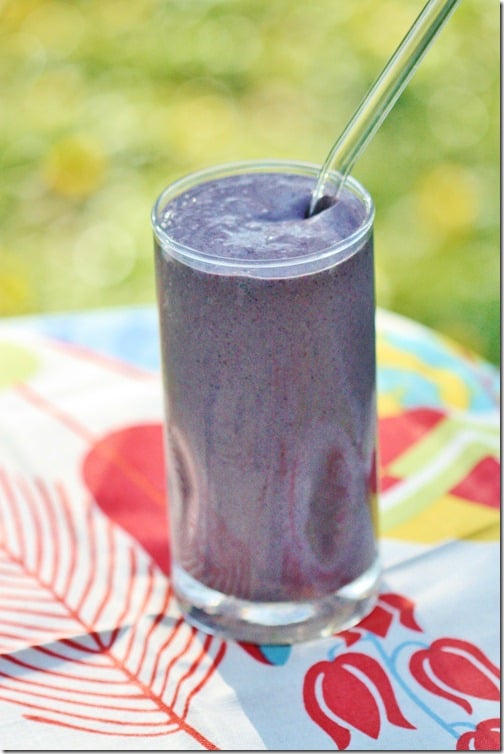 I've spent a lot of time making, enjoying, and posting recipes for smoothies in the four years I have been writing CR. Smoothies are everyday currency in the raw and vegan communities, and green smoothies have more value than most. They can be simple or complex, filling meals or light snacks, savory or sweet, icy or smooth. There's no limit to the combinations of fruits, liquid bases, proteins, fats, and spices you can add to a smoothie. It's this variety that makes them most exciting; as Jasmin recently pointed out over dinner, half the fun of having a smoothie for breakfast is finding a unique combination of flavors and ingredients that suits one's mood.
That said, I'm kind of a slouch when it comes to the variety part of smoothie making. All of my smoothies are nutrient dense, and (I daresay) delicious, but they tend to follow the same template:
1 banana
1/2 – 1 cup other fruit
Fat source (nuts, nut butter, avocado, seeds)
Protein source (usually hemp or rice protein, or a scoop of Vega; sometimes hemp seeds)
1 – 1 1/2 cups almond milk or coconut water
The true common denominator here is the banana—it makes an appearance in nearly every single one of my smoothie recipes (no shock there—apples and bananas are my favorite fruits). And thus it is ironic that the single modification I'm most often asked to make to my smoothies is to find a substitute for banana. I had no idea—though apparently I should have—that banana allergies and sensitivities are incredibly common! And beyond that, some people don't love the taste of banana, or they're following lower-sugar or candida diets, in which case bananas are often discouraged.
After months of emails and comments asking for banana free smoothies, I am finally obliging. This is the only smoothie aside from my cherry vanilla smoothie that I've ever made without banana. Fortunately, this is also an instance where catering to my readers ended up working out in my favor! I didn't miss the banana in this creamy, smooth concoction at all. Instead, I was blown away by the perfect marriage of sweet-tart berries and creamy avocado, with a little hempseed thrown in for extra healthy fat and protein. This is sure to be one of my favorite new breakfasts, and I thank you, CR readers, for inspiring it!
Avocado Berry Smoothie (raw, vegan, gluten free, soy free)
Serves 1
1/2 cup strawberries
1/2 cup blueberries
1/2 small avocado
1 tbsp hemp seeds
1 handful spinach
1 1/3 cup almond milk (or coconut water)
Blend all ingredients till smooth, and serve.
Observe, creamy bliss:
Chef's note: if you like your smoothies a little frosty, use frozen berries. If you (like me) tend to get really chilly from frosty blended drinks, try using fresh fruit instead of frozen; it's a nice option for smoothies in the wintertime!
Between the avocado, hemp seed, spinach, and berries, this smoothie delivers incredible antioxidant and fatty acid power first thing in the morning, along with some natural sugars to get you moving! If you'd like an added dose of protein, use hemp or rice or pea protein as a boost.
I suspect that this will be the first of many banana-less smoothie forays; as yesterday's post goes to show, it's fun to think outside the lines!
What's your favorite non-banana smoothie? How do you like to prepare it?
Till tmw!
xo