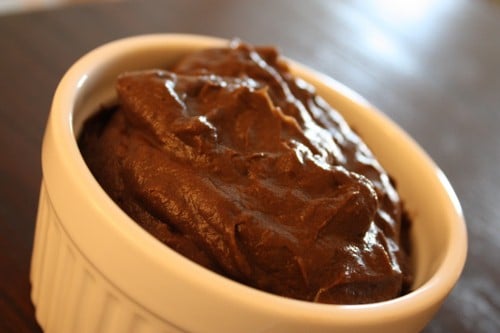 Last September, when I posted my much adored recipe for chocomole, I got a ton of enthusiastic responses. Since then, I've seen many stellar renditions of the recipe around the blogosphere, as well as a few variations. My favorite of these is Ashley's choco-banana-mole, which you check out here!
This week, I made what I think is my favorite variation so far: choco-sweet-potato-mole. Or, to abandon these disgustingly cutesy nicknames, avocado, sweet potato, and chocolate pudding.
The seed of this recipe was planted when a client asked me whether or not chocomole would make for an appropriate breakfast. My thought was, "not exactly." It's loaded with simple sugars and healthy fat–both of which are crucial for energy–but I'd say that it would have a lot more staying power as a breakfast option if it also had some complex carbs. I, and many others, have a hard time making it to lunch without them! An obvious option is to spread chocomole on sprouted grain toast, which I love to do. But how about a breakfast pudding that's got some polysaccharides in it already?
Enter the mighty sweet potato. Full of energy yielding starch–not to mention a ton of beta-carotene, Vitamin C, and Vitamin B6–sweet 'taters are a nutritious and hearty breakfast food. Couple them with the healthy fats in the avocado and the sugars in the dates, and you have a veritable energy powerhouse in a bowl! See for yourself: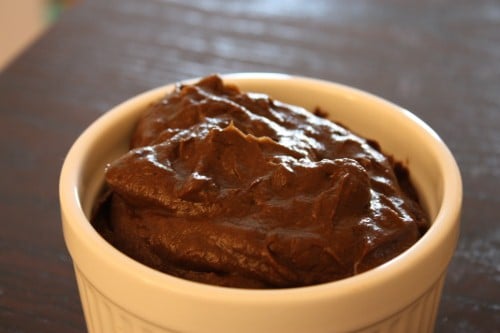 Avocado, Chocolate, and Sweet Potato Pudding (serves 3-4)
1/2 medium sweet potato or yam, cooked
1 medium avocado
4-6 dates, pitted and soaked
2 tbsp carob or chocolate powder
1/4 cup water + more for blending
Combine all the ingredients in the bowl of a food processor and pulse till they're getting mixed. Turn the machine on, and with the motor running, drizzle in more water until the pudding is 100% smooth and creamy.
Serve with toast, with fruit, or alone. Any way you serve it, the stuff is heavenly. I might go so far as to say I like it more than my original!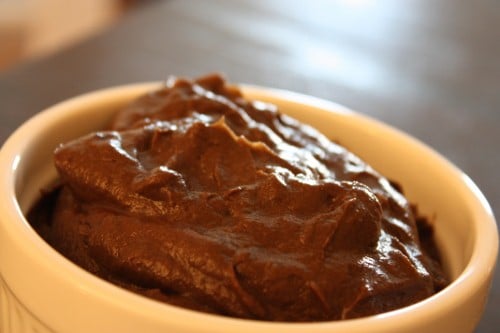 This will be the autumn of potato puddings!
On another note, do you remember a week or two ago, when I wrote up my review of The Pump? I noted in that post that one of my culinary dreams is for omnivorous restaurants to start offering at least two or three vegan entrees on their menus. Dearly though I love to eat at vegan restaurants, I find restaurant segretation a bit counterproductive, because it can contribute to the idea that veganism is "other." What would set a new example would be for all restaurants–including gourmet spots–to show their patrons that meals composed entirely of plant foods are every bit as satisfying and demonstrative of culinary creativity as other foods. I don't think that the public will get comfortable with the idea that a "real meal" doesn't have to revolve around an animal protein until that message is drummed home in restaurant culture. And at the moment, too many chefs and "foodies" do their best to share the opposite message, mocking vegans whenever they can.
Well, one restaurant experience I had this week gave me a lot of hope. It was a steamy night in the West Village, and a friend of mine and I were ready to settle on a dinner spot. We happened upon Smorgas, a Scandinavian restaurant; a quick glance at the menu suggested that it had plenty of salads. Great, I though, this'll work.
What I didn't realize till I sat down was that the vegan options went well beyond salad! There was a vegan burger, a portobello mushroom dish, and–the kicker–a vegan spin on the restaurant's in house Swedish meatballs, made with kasha (for those of you who are on the website, I know it says "vegetarian," but I was careful to confirm that these were, indeed, vegan). Not only that, but the soup of the night was a cold beet soup, and with the simply removal of sour cream garnish, that was vegan, too.
Where do I begin saying how cool this was? For once, I had the luxury of choice at a restaurant; typically, my meal is decided for me by what's available. And I loved that the restaurant's signature dish–meatballs–were offered in an omnivorous AND vegan form. "Look," the menu seemed to declare, "all beloved dishes can be made with animal or plant foods. Which do you choose?"
I really hope that more restaurants start to follow this kind of example. It's no fun when I go out to eat and feel as though the only thing I can have is a grilled veggie plate or salad; it's equally un-fun when my omni friends feel forced to eat dishes they don't enjoy at vegan restaurants with me. Can't we all just get along?
My friend played cameraman for me with his phone. As you can see, the dish was hearty and generous:

As I was eating, my friend asked a good question. "Would you know if it tasted like meat?" he said. Well, yeah, I think I would. I may have stopped eating red meat ages ago, but I haven't entirely forgotten what meatballs are like! Honestly, though, my memories of the texture and taste of meal are really hazy.
Curious, my friend asked to try one of my meatballs. After a short of pause, he burst into laughter.
"Don't worry," he said with a smile. "That definitely isn't meat."
Well. No one said that alike and equal were the same, now did they?
If you're a veg-heavy eater and you're wandering around the West Village in Manhattan, I highly recommend stopping in Smorgas. It's sweet, tasty, and neither you nor your dining companions will feel deprived!
xo