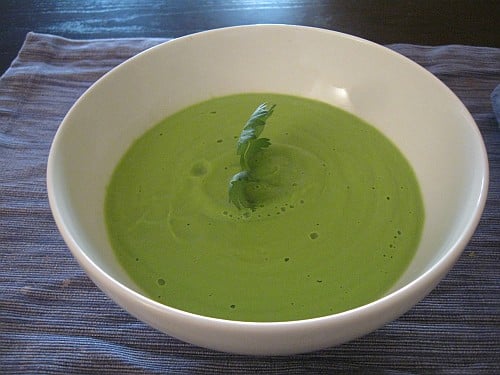 Hi everyone,
I'm home!!!
Here's a confession: I am not a born traveler. I like to travel, and I've had universally wonderful travel experiences (this weekend included). But I am always thrilled to get back to my beloved city. It's my lifeblood, and no matter how exotic or exciting new cities or parts of the world are to me, none can ultimately compete with my lifelong romance with New York. I know that I'd probably be a more cultured or interesting person if I cultivated a bit of wanderlust, but I can't. And won't. So there.
I'm trying to combat a mild panic over my overflowing inbox and what I know will be a mountain of work on my desk at the office tomorrow. In the midst of this, I thought I'd share some additional insights into raw, vegan, and healthy traveling. Some of these are tips I missed in my last travel post, and some occurred to me over the course of the weekend. Without further ado:
•Be prepared. This is especially true if your holiday includes lots of events. I brought a bunch of Larabars with me this weekend, but I neglected to tote any to Chloe's graduation on Saturday. By the end of the ceremony, I was famished, and the cocktail reception after was totally devoid of vegan goodies – nary a crudite in sight! I nearly ate one of the raw veggie garnishes off the table. I pride myself on being an excellent planner, but this was an oversight. The lesson? You never know whether mealtimes will get postponed or how long your travel adventures will take, so come prepared with a healthy snack.
•Be assertive. This weekend, I was lucky enough to stay with a friend who had a full stocked and healthy fridge and pantry. But she was also kind enough to ask me (and I would have reminded her had she not) for a small list of groceries she might pick up for me this weekend a day or two before I arrived. If you're going to be staying with a friend, relative, or even an in-law, don't be afraid to ask if they might pick up some healthy food for you as they stock the fridge for the week or weekend ahead.
This is not a social gaff! In my experience, being honest with family or friends about the best way they can accommodate you is always appreciated; they're probably wondering how they'll be able to feed a vegan in the house, and they'll be relieved for some honest direction. Just be sure to ask politely! Assure your host or hostess that he or she needn't do extra shopping if it's any inconvenience, and be especially sure to offer to pay for all of the items (and insist on reimbursing no matter what). Here's a photo of Chloe's fridge, complete with a coconut! And, um, some bubbly ;-):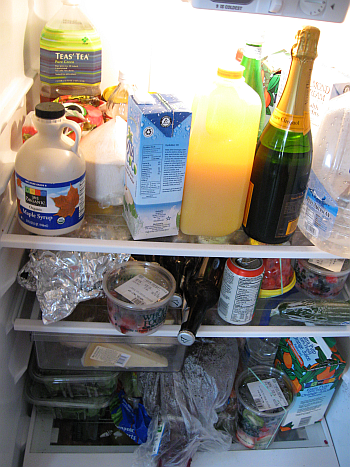 •Eat appropriately on travel days. This is by far my most crucial tip!
Traveling is stressful: it typically entails early wake up calls, shuffling to and from gates and terminals, sweaty palms about making connections, frightening airplane food, and time differences. They last thing your body needs is the added stress of heavy duty digestion or unfit food.
On top of all this, travel means hours of being sedentary and a likelihood of getting dehydrated. Need I say the obvious? Eating and sitting + dehydration = constipation. And none of us like to be backed up on the family vacay to Hawaii.
I personally never eat in airports or on planes. I juice the morning of a trip and pack juice for the moment I land, and I do my best to drink water and tea in the air. I'll also pick up orange juice or carrot juice at the airport if I can. Today, I had six hours of travel time ahead of me, so on my layover in Houston I managed to find a Jamba Juice. I consider most options at Jamba no better than junk food, but they did help me energize with a triple wheatgrass shot and a fresh orange juice: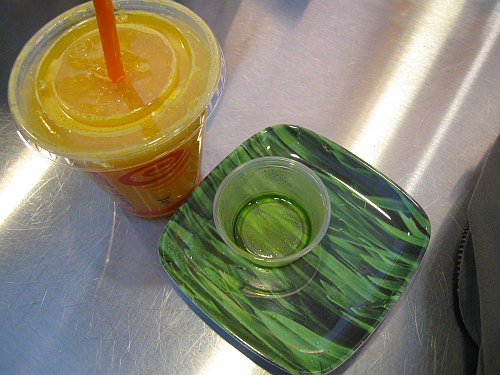 Now, I certainly don't expect you all to do as I do when it comes to travel: I'm comfortable doing this because I'm accustomed to juicing and to short fasts, not because I consider it vital for everyone. I do, however, urge you all to resist heavy foods at airports and on planes. Do everything you can to pack healthy meals for the trip. Don't eat a synthetic airplane meal unless you really want it: pack a sandwich or fruit and Larabar, or pick up something suitable at the airport.
And please, please, take it easy on your belly during a layover! Do not hit the nearest Chili's for frozen margaritas and nachos!! Your system will hate you for it. Hydrate, sip some herbal tea, and find the healthiest option in terms of dining venues. Today, I was delighted to find Larabars sold everywhere in the Houston airport: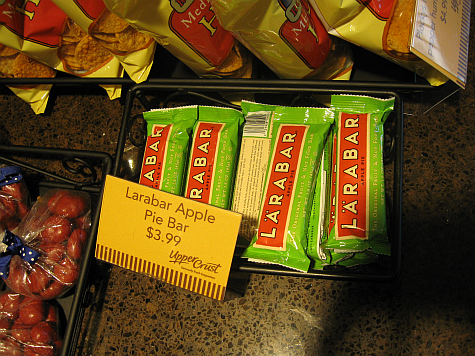 As soon as you land, try to get some fresh juice or healthy, digestible food in your system. This could be a simple salad, a soup, or a light sandwich. For me, travel homecomings often end in simple soups. They're nourishing, delicious, and (most importantly) highly digestible. Tonight, I made a new favorite: Avocado Cilantro Soup.
I based this recipe on a soup by the same name at my favorite lunchtime spot, Bonobos. I can't say it's quite as perfect, but I think it's a pretty decent proxy! Unlike my sweet and rich Avo-Coco Soup, this is unbelievably light. It's kept fresh with plenty of lemon juice and tangy with cilantro. Reminiscent of guacamole, it's ideal for summer. I hope you all try it and enjoy!
Avocado Cilantro Soup (serves 1 or 2)
Ingredients
1 Avocado, chopped
½ bunch cilantro, or about 1 – 1 ½ packed cups (depending on taste; I like plenty)
2 tbsp (more if you like) lemon juice
¼-1/2 tsp salt
1 ½ cups water
Blend all ingredients in a high speed blender. If you need more water, go ahead and add it until the soup reaches a consistency you like. Ditto on the cilantro! As soon as it gets started, this soup blends easily, so you can absolutely make it in a regular blender. You can also make it in a food processor, but I recommend adding the cilantro in small batches. Here's the lovely finished product:
I hope you all had wonderful weekends and Mondays of your own. I look forward to catching up on your blogs! And I'll be back tomorrow with this week's raw question: what sort of kitchen equipment do you need to eat raw?
Stay tuned!
xo