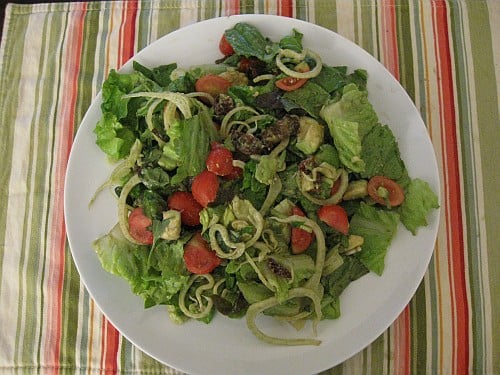 I'm sometimes hesitant to put salad recipes up on the blog; for one thing, everyone seems to have their own salad recipes that they favor at lunch and dinnertime; for another, I like to dispel idea that all raw foodists eat are salads. It's true that I could probably feast on salad three times a day and be happy doing it, but raw food has much more to offer in the way of culinary inventiveness than salad alone.
This said, salads are pretty darn good. And now that summer has officially arrived (well, in theory: New York is still a bit chilly), it's the time to experiment with new and delicious variations!
This recipe is among my top five salad creations. It's hopelessly good. The avocado and sweet balsamic vinegar add richness to the salad, but the flavors are distinctively summery, especially with the addition of fresh fennel (which can be an autumnal vegetable, too, but begins to appear in farmers' markets right about now). This weekend, I was lucky enough to find a head of fresh fennel at my local market, along with the giant heads of lettuce that I associate gleefully with early June. I knew it was time to make this salad, and I'm so glad I did!
Fennel, Avocado, and Cherry Tomato Salad (Serves 1)
Ingredients:
3-4 cups fresh romaine, mesclun greens, spinach, or red leaf lettuce
½ avocado, cut into chunks
½ medium head fennel, sliced thin
½ cup cherry tomatoes, chopped
5 sun dried tomatoes, chopped
10 or so basil leaves, chopped
Drizzle of agave or sprinkle of stevia (if desired; the salad is already quite sweet)
Balsamic vinegar
Sea salt to taste
Mix all of the ingredients together. I find that mixing with my hands distributes the creamy avocado and helps to merge the flavors together. You may want to add a drizzle of oil, but the avocado should give the salad all of the richness it needs. Add as much balsamic as you need or like.
Here's the final creation:
I hope you can enjoy this all throughout the summer months!
Switching topics, a quick word about some rumblings in the blogosphere yesterday. My friend, miss Gliding Calm, wrote an honest post expressing her feelings about soy its place in her diet. Another friend, Chocolate Covered Katie, responded with an equally honest and fair-minded post about her own feelings on soy, as well as a benediction to her readers not to feel unduly pressured to go raw or soy-free. Many of the comments in response to her post were as articulate and balanced as Katie's own post was. A few, though, had some unkind things to say about raw foods in general and about my blog in particular; two (subsequently removed) directly attacked my physical appearance and accused me of encouraging a malnourished readership.
OK. I think it goes without saying—and my readers are aware—that nothing could be further from the truth. I do my best to encourage a guilt-free relationship with food (as my post on fats should have demonstrated) and to encourage personal choice (as my last post made abundantly clear). I do occasionally share my own viewpoint on certain matters of nutrition, but when I do, I try to present a balanced perspective. One of the rejoinders to the anti-soy perspective that's being proffered right now is that Asian populations have eaten it for generations and enjoyed long life spans; this is a point that I made verbatim at the top of my own post on soy. And that's before I went on to state explicitly that, in spite of my own ambivalence about it, I believe that there is a moderate place for unprocessed soy in any healthy diet. I'm not sure which raw blogs were "holier-than-thou" or responsible for making people feel lousy— in my experience, most raw bloggers are a very kind and welcoming bunch!—but it goes without saying that I frown on that kind of behavior.
There are lots of food blogs out there. Each of us has a unique perspective to share. Mine is the perspective of someone who won't, and doesn't, eat any processed food, and who chooses to consume an entirely plant based and mostly raw diet. I started this blog to share that viewpoint with the blogging community, but not with the intention of forcing it upon anyone; as I've said many a time, I don't believe that a mostly or all raw diet is for everyone. I do believe, though, that most of us can experience joy and energy by eating more raw and unprocessed food. And I believe that some people with chronic health conditions can find relief from their afflictions by eating more raw and unprocessed food (that's more; not all, or even mostly).
I'm passionate about this belief. I like to think that it's my passion that keeps you guys reading. It's certainly what keeps me writing. So I'm not going to diminish my ardor about raw foods, or change my perspective, to be more palatable. If I did, the spirit that animates this blog would be totally lost. I do promise that I will always give you a balanced viewpoint and that I will always respect that what works for some does not work for others; this is a point I've made time and time again.
My perspective on food is not mainstream. Raw veganism is a very particular kind of lifestyle, and even though it's growing in popularity, it remains outside of the normative model of of eating and living. I'm here to show my readers that elements of the raw and vegan lifestyles can be enjoyed by anyone who's interested, and to give those interested folks tips and encouragement. If you're not interested in being raw and want a more inclusive diet, there are hundreds of food blogs out there that will help you. Many of those bloggers are friends, and I encourage you to check out my blogroll for a sampling of their work! If raw foods turn you off, there's no reason for you to read my blog; I'm not looking to make converts, and there are numerous paradigms of healthy eating available to you that aren't raw.
For those of you who are rawcurious, keep reading! You know I love having you here, and I'll keep doing my best to encourage and inspire you as best I can.
Have a great day!
xo