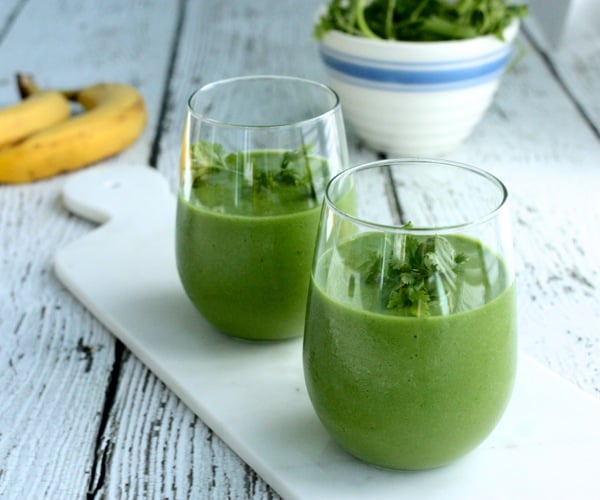 It has been a while since I posted a smoothie recipe on the blog. Smoothies, I think, are the kind of recipes we all start to take for granted after a while. Most of us have a go-to smoothie formula that we use day in and day out (for me: 1 frozen banana, 1/2 cup berries, 1 cup almond milk, 1 tablespoon nut butter, hemp protein, greens) that we sort of forget to mix up the routine, experiment with new combinations, and so on.
The smoothie I'm sharing today actually happened out of necessity; I'd run out of blueberries and almond butter, but I did have some frozen green grapes (because they're a favorite snack lately) and some avocado (because duh). I thought that these ingredients, along with some herbs and spinach, would make a great, summery green smoothie, and I was right. This smoothie isn't as hearty as some of my others, but it's incredibly refreshing and delicious. And who can resist such a vibrant shade of green?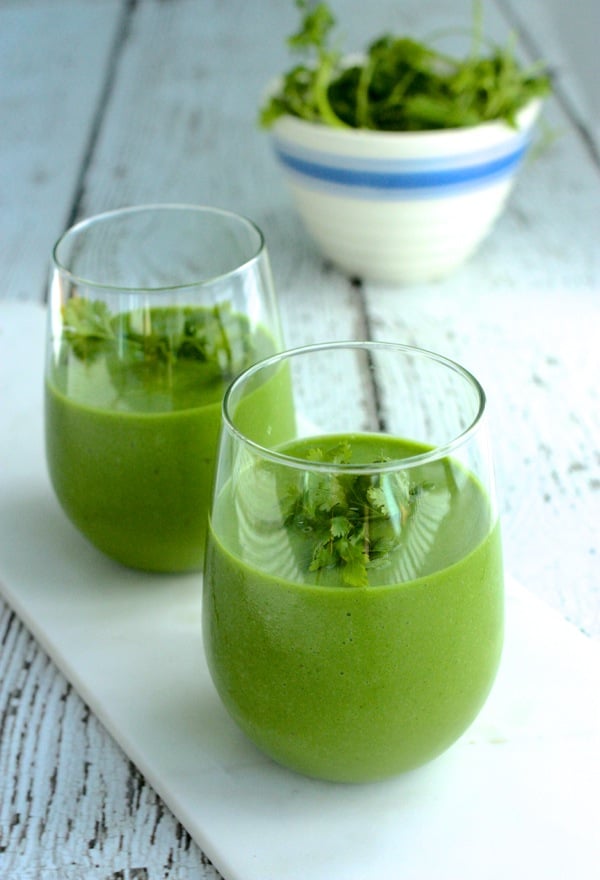 If you don't care for green grapes, then feel free to use the red ones (though the color won't be quite as bright). You can also substitute grapes for frozen mango or pineapple or pear. (The latter is a particular favorite of mine in smoothies, even though it's not seasonal right now.)
Avocado, Grape, Banana, and Cilantro Green Smoothie
Author -
1

small banana

peeled, cut into pieces, and frozen

1

cup

green grapes

frozen

1/2

cup

cucumber

chopped

1/4

large or 1/2 small Hass avocado

1

heaping cup spinach or kale

1/4

cup

fresh cilantro or parsley

washed well and tightly packed

1

cup

coconut water

+ extra as needed

optional: 1 teaspoon freshly grated ginger
Blend all ingredients in a high speed blender till smooth, adding more coconut water as needed. Serve, garnished with herbs.
The addition of fresh ginger certainly isn't necessary, but it does add a lot of flavor to the smoothie. And you'll note that parsley is a fine substitution for cilantro, if you happen to be in the anti-cilantro camp!
Before I go, and at the risk of boring you all with book talk, I have to mention that today is the official publication day of my book! You can now order it on Barnes and Noble, Amazon, Books-a-Million, IndieBound, or iBooks.
This week, I've had the very great honor of seeing the book featured on three of my favorite food blogs. On Sunday, the lovely Emma of Coconut & Berries wrote a review of the book that featured a ton of gorgeous photos–thank you, Emma, for making my food look so pretty!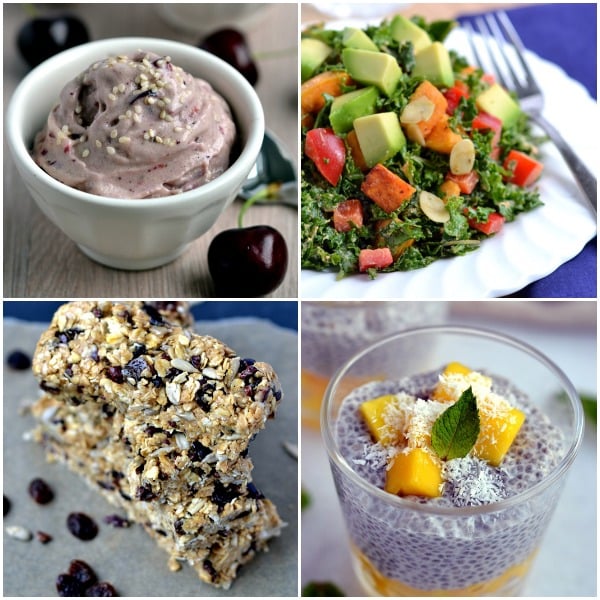 She also featured my recipe for raw hempseed tabouli and carrot falafel, which you can save and print from her review.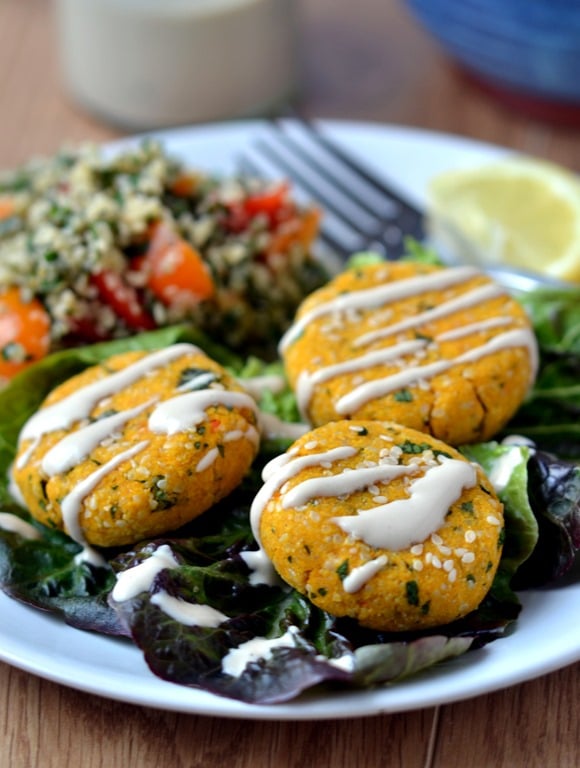 Today, my lovely friend Janet, who was one of the recipe testers for the book, wrote a wonderful review, featuring a lot of her own recipes (and insider thoughts as a recipe tester!):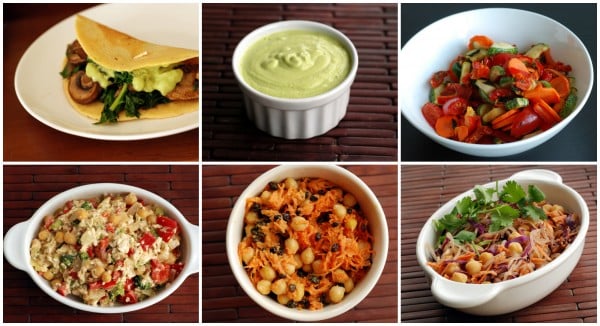 I'm so grateful for Janet's praise, since I have tremendous respect for her culinary talent and instincts. I also appreciate that she liked the nutrition-heavy sections of the book; Janet is in the medical profession, and I've always enjoyed our exchanges about nutrition science and health news. She writes,
"For me, the most important part of a cookbook are the recipes (and the index so I can find the recipes), but the recipes are only a portion of Gena's book. Her first chapters explain "The Why", "The What" and "The How" of a eating a vegan diet that includes raw. Normally I skip over these sections, but Gena makes these sections practical, useful and insightful with her background in nutrition. Finally, a raw cookbook that tells you the theory of keeping your food "enzymes" intact will all get decimated in your stomach's harsh acidic environment anyhow. Likewise, her focus is on nutrients from a plant-based diet.

Gena explains how to properly balance your meals, explaining the importance of fat, protein, carbohydrates, vitamins, and minerals. She debunks myths including "Eating spinach raw is bad for you because it blocks the absorption of nutrients", "Soy disrupts hormones, causes breast cancer and should be avoided", "You should always eat fruit alone and on an empty stomach", and "It's essential to separate proteins and starches, because they require different digestive environments and will cause bloating if you eat them together". To top it off, there are 21 days of worth of meal plans along with tips on how to transition to a vegan diet."
 Janet's sharing my recipe for "classic cheesy kale chips" today on her blog, and she's also giving away a copy of the book, so don't miss her post!
Finally, the wonderful Wendy of Cooking Quinoa wrote a great review of the book yesterday on her blog. Wendy's blog, for those of you who don't know it, is the go-to blog for easy, delicious, and family-friendly quinoa recipes. Quite appropriately, she shared a quinoa recipe from the book: my quinoa breakfast pudding with berries: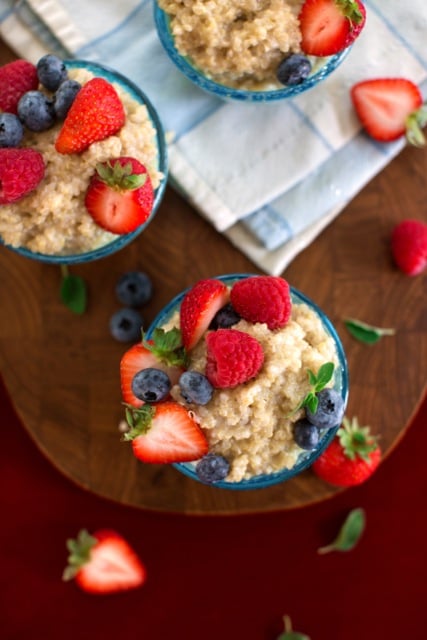 I should say that I was particularly touched by Wendy's response to my ED musings, both here on the blog and in the book (where I share my own story in some detail). She said, "What I love most about Gena is her compassion.  Of course, all vegans have compassion towards animals, but Gena has compassion towards people too.  The biggest thing I've learned from her is to be kind to myself with regards to food.  As someone who struggled with an eating disorder, Gena KNOWS what it is like to struggle.  I can appreciate this, especially as I try to navigate my own relationship with food after my hypothyroidism diagnosis."
I'm glad that my thoughts on body love have touched Wendy as she copes with a health challenge. And of course, I'm happy that she likes the recipes! Head on over to Wendy's blog to check out her review.
It's a busy week here, but I'll be blogging as often as I can, with recipes, more links to my online book tour, and a recap of my book party tonight in D.C. at JRINK juice bar! Till then, drink your greens.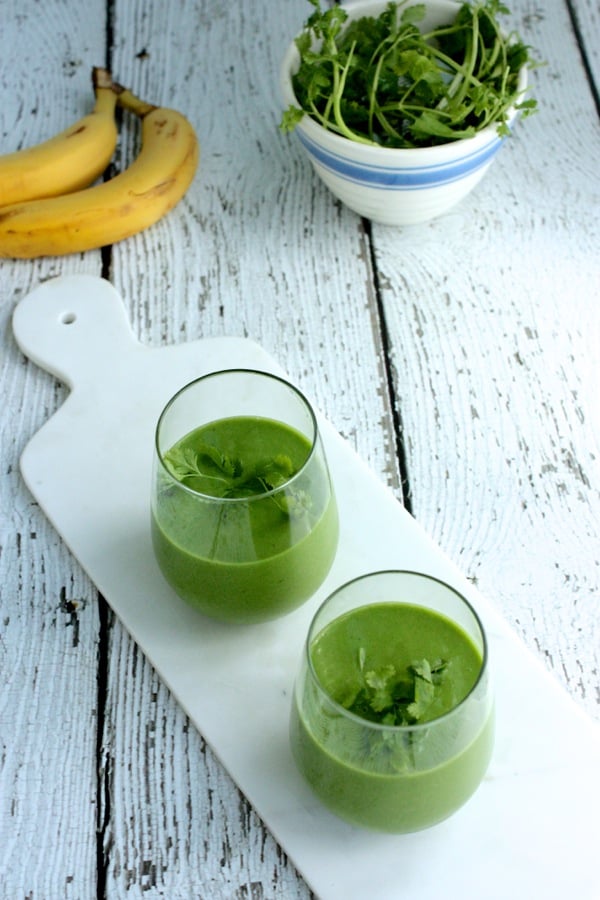 xo