You know, I always said I would never be one of those bloggers who talks a lot about her personal life. I was going to keep it cool, calm, collected, and above all, professional. CR would be informative, educated; never intimate. Yup.
Apparently things change, because in the last two weeks I feel as though I've done nothing but whine about grades, about moving, and about missing my old job. And you should all thank your lucky stars, because I just came very close to drafting a post about how I had a meltdown today when my phone broke and my ISP lost any connection to my blog and my computer froze, all at the same time. Instead, I'm going to feign at least a little respectability and talk about something I'm capable of sounding authoritative about: food.
A while back, I shared a recipe for pistachio pesto with you all. One reader wrote me privately to ask if I had any pesto recipes that were as thick and as delicious as the one I'd posted, but free of tree nuts (to which she's almost always allergic). I said sure, I'd figure something out. In the end, I figured two things out: two pesto recipes that are 100% raw vegan, and 100% nut free. The first is avocado based, which may sound a bit weird, but as Diana recently pointed out, what's weird about avocado pesto? The second, which is more traditional, is sunflower seed based. Both are delicious, versatile, and easy to serve to friends with nut allergies.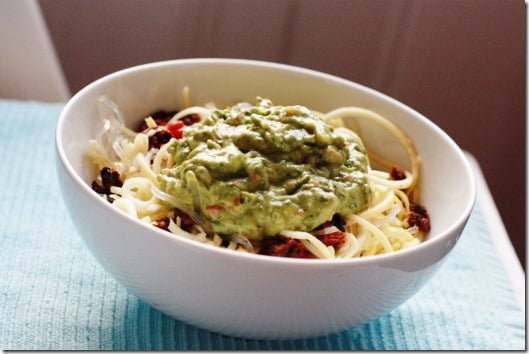 Avocado Pesto (raw, vegan, GF, soy free, nut free)
Serves 4
1 small avocado
1/4 tsp salt (more to taste)
Black pepper to taste
Juice of 1 lemon
1 tsp dried oregano
1 1/2 cup basil, tightly packed
1) Blend all ingredients except for basil in a food processor on high till smooth.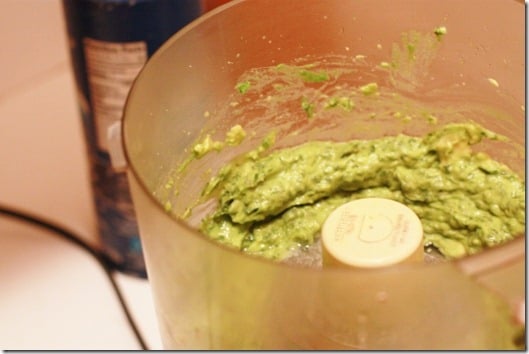 2) Add all the basil and pulse to combine. If the mix is too thick, add a tablespoon or two of water. Serve over zucchini pasta or kelp noodles in the raw; for a cooked version, try this over brown rice noodles or regular pasta! I served mine over zucchini pasta, along with a big salad and some juice pulp crackers.
SO delicious! All those rich, heart healthy MUFA's, but none of the heaviness we associate with oil and nut based pesto. Avocado freak that I am, I was delighted.
A few nights later, the spiralizer came out once again: this time with some sunflower seeds.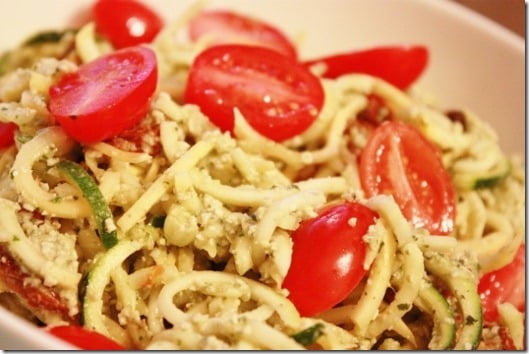 Sunflower Pesto (raw, vegan, GF, soy free, nut free)
Makes 4-6 servings
1 cup sunflower seeds, soaked for at least 1 hour
1 tsp lemon zest
1 tbsp lemon juice (freshly squeezed)
1 small clove garlic, minced (optional)
1/4 tsp sea salt (or to taste)
Dash black pepper
2 cups basil, tightly packed
3 tbsp good olive oil
Water (if needed)
1) Place soaked nuts in a food processor. Process till mixture is very thick but already looks a bit like nut pate.
2) Add basil and pulse till basil is incorporated.
3) With the motor running, add the oil in a thin stream. Check consistency: I like this pesto thick, and soaking the seeds will have already helped thin it all out, but if you want, start adding a little water till it's a perfect consistency. I added a few tablespoons.
4) Serve over pasta or however you like!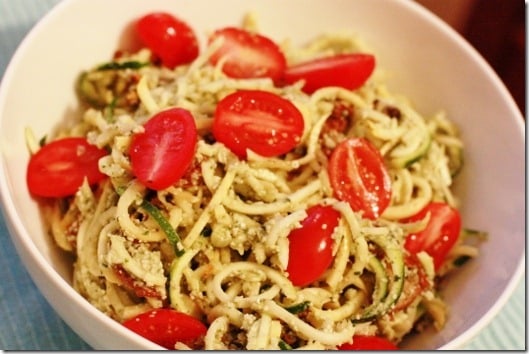 I also tried this over a mix of zucchini AND kelp noodles, which was great:
One of the reasons I like pesto so much is its versatility. It's unmistakable and always delicious—not to mention difficult to mess up—but there are so many ways to prepare it. I can't wait for bushels of summer basil, so that I can keep experimenting!
OK. I think I did a good job of pretending I didn't spend the better part of my day freaking out fretting over technology. On that note, dear readers, I bid you…
xo