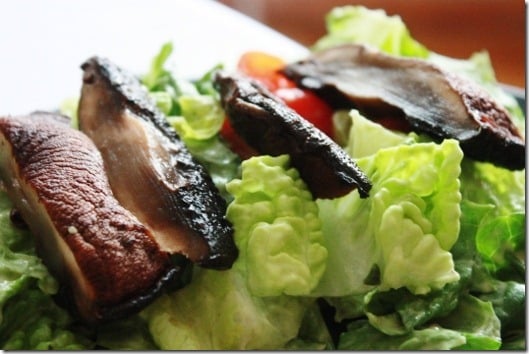 Hey all!
So happy you liked my restaurant tip: I probably described what a lot of you already do, but I hope I also gave some bashful new vegans a little confidence boost when it comes to dining out.
I've had a weekend of packing, cooking, cleaning, and spending some lazy time with M. My apartment is in a state of bareness and disarray, but I absolutely refuse to pack up my kitchen appliances and pantry until the last minute, so you'll see at least one or two recipes on the blog this week, as well as various recaps of the many restaurant meals I've enjoyed in these days before the big move. You'll also be hearing about a lot of salad, because most of my cookware is in boxes.
Case in point: a new recipe for Caesar dressing (you may already have tried my nut-based version!). Since I stuffed this particular dressing full of both nori and spirulina (genius!) I'm calling this sea-sar. Yes. Sea-sar. It's cheesy, but I'm like that sometimes. And since it's a tough slog to get my readers interested in sea vegetables, I like to celebrate the moments when I can with really bad puns.
Avocado Sea-sar Dressing (vegan, almost raw, gluten free, soy free)
Yields over 1 cup
1 large Hass avocado
1 tsp vegan Worsterchire sauce
1/4 cup nutritional yeast
Juice of two large lemons
3 tbsp mellow white miso
1 small clove garlic
1 tsp spirulina
1 tbsp nori, kelp, or dulse flakes (or a mix of all three, which is what I used)
3/4 cup water (or more if needed)
*2 tbsp olive oil (optional)*
Blend all ingredients in a high speed blender till smooth. The olive oil is totall optional, but it lends a little added creaminess and richness to the dressing. I used it, but readers who are avoiding oils for any reason are welcome to omit.
Serve over crisp romaine. I topped my salad with some marinated portobello and cherry tomatoes!
When salad dressing is this rich, creamy, salty, and delicious, there's no excuse not to gobble up the hidden nori, dulse, and spirulina inside. I know a lot of you are sea veggie haters, and that's OK—they are an acquired taste. But there's no denying their health benefits, so why not sneak them into easy, quick, and delicious recipes like these?
Your body and your taste buds will thank you.
How do you guys like to enjoy sea veggies? Any tips for CR readers who can't get down with the fishy taste? I'd love to know!
xo