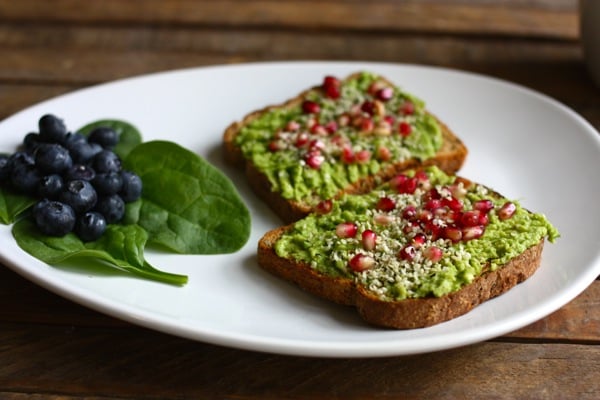 It should be clear by now that I have a bit of a thing for toast. When I moved two months ago, I spent my whole first two weeks here living off of toast, and I was perfectly happy to be. No matter the season, I'm delighted to make breakfast out of two pieces of crispy bread and a couple of my favorite toppings.
A lot of my toast (and other breakfast) creations end up on Instagram, but if you're curious about the toast varieties I've been enjoying lately, here's a perfect example. I'll call it avocado super berry toast because it features both pomegranate arils and hemp seeds, which happen to be exceptionally rich in micronutrients (and, in the case of hemp seeds, macronutrients, too). I don't reserve the expression "superfood" for foods that are marketed as such these days, but any food that's exceptionally high in nutrients meets my standard. Fortunately, that includes a whole lot of plant foods.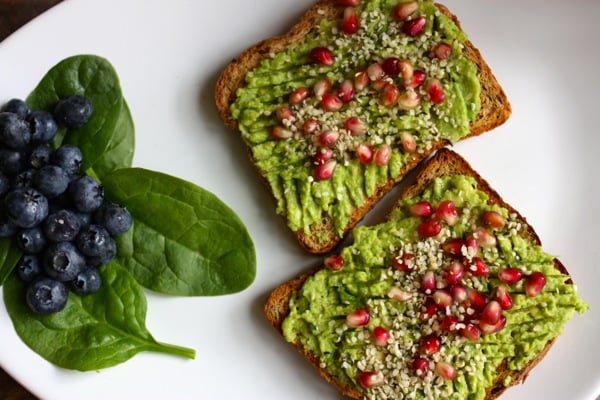 Come to think of it, avocados, with their rich stores of healthy fat, Vitamin E, fiber, Vitamin K, and potassium, fit the bill, too. And I couldn't help a little garnish of blueberries and spinach, so this meal was all sorts of super. If the nutrition bragging points don't convince you, the taste and beauty of it should!
Avocado Superfood Breakfast Toast
Author -
2

slices

of your favorite whole grain toast

my favorites are One Degree Organics, Alvarado St. Bakery, and Bread Alone bakery locally

½

Hass avocado

2

tablespoons

pomegranate arils

2

tablespoons

hemp seeds

Salt & pepper
This isn't much of a recipe. But isn't it pretty? With coffee, of course.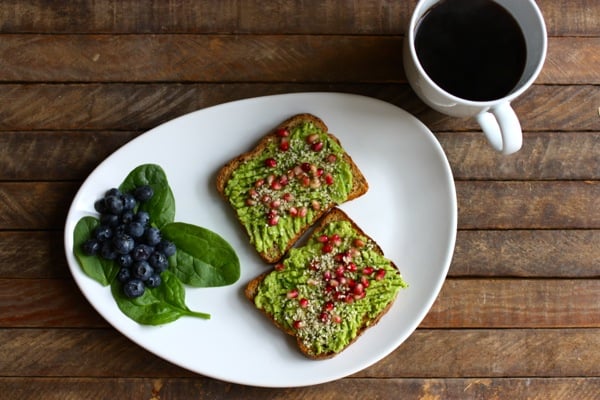 I may need to institute a "toast of the month" recipe. What do you guys think?
Before I go, I wanted to say that I had a lot of wonderful comments on last Thursday's post, but this one, left by a reader named Elizabeth today, really stuck with me:
"It's been roughly two years since I've recovered from a 5-year eating disorder, and every once and I while I have "bad body days." Sometimes they're brought on by an especially heavy meal, sometimes it's triggered by seeing a girl that is thinner or fitter than I am, and sometimes it's brought on by stress at work that I can't control.
Whatever the cause is, I like to repeat a mantra: this feeling will pass. Feelings are ephemeral, not indelible, and no choice that we make is permanent. My body is not radically different than it was yesterday, and it won't be radically different. tomorrow. On my bad body days, I remind myself to take comfort in the joy that my long term choices bring me – the choice to take care of my body, eat a vegan diet, and take pleasure in eating and sharing meals with loved ones – instead of focusing on the fleeting guilty or negative feelings that surface after short term choices.
For me, it's all about repositioning myself and my actions within a greater context and remembering that the journey to recovery is a mosaic of good and bad days. And when you take a step back, gosh, it's a beautiful big picture."
And my gosh, what a wonderful comment, and sentiment. Thank you, thank you.
Till soon,
xo