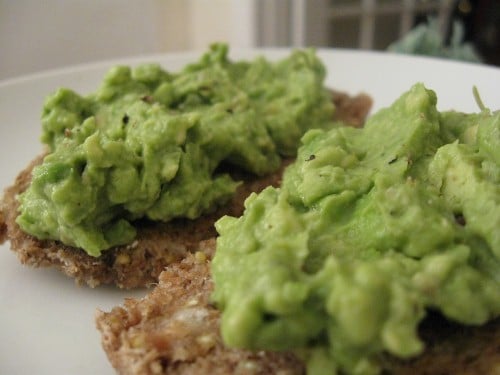 Over the last few months, a number of you have written in to ask me what I eat for breakfast. Good question! Though "raw till dinner" is a very popular and handy approach to transitioning into a semi- or mostly raw lifestyle, it doesn't work for everyone. In fact, it didn't work for me, as I began my own forays into the raw world! Different strokes for different folks: some people need or want warm foods at dinnertime, others in the morning. While I found it incredibly easy to eat raw or partially raw lunches and dinners — after all, I'd almost always eaten salads at lunchtime and dinners that incorporated at least one or two raw components — the notion of forgoing a hot, steaming bowl of oats in the morning was practically inconceivable.
My answer? I didn't stop eating oats. I just decided to experiment with raw or less processed options several days weekly. This is a reflection of my main mantra when it comes to raw experimentation: add a little, add a lot, subtract later! Over time, I grew so fond of raw or semi-raw mornings that my habitual oats felt less desirable than they had before. Today, I still eat hot grains on very cold, or very active mornings. But for the most part, I'm happy with some of the more light and digestible breakfast options with which I fell in love during my courtship with raw foods.
On many–I'd say most–mornings, I'm happy to sip juice throughout the morning hours, until my appetite is active. At that point, I'll have a light snack, or (sometimes), it's already lunchtime. Is this a rule? No. Do raw foodists have to have liquid breakfasts–juice or smoothies? No. This is what some raw foodists do; it's not what all raw foodists do. On mornings when I'm hungry upon rising, or when I've just had a sweaty pre-work gym run, or I simply crave something a little more filling than green juice, I like to help myself to one of these tasty options. Many of them aren't raw, but they're all minimally processed, vegan, and incredibly nourishing!
1) Hot quinoa, millet, or brown rice (this is a great way to use up leftover grains!) warmed up on the stovetop with almond milk, cinnamon, and stevia
2) Baked potato topped with coconut oil and cinnamon (sometimes I have a bit of steamed kale with this)
4) Raw "porridge": leftover almond pulp, mixed with dried chopped fruit and almond milk
5) 1 banana, chopped and mixed with 2 tbsp chopped dried fruit and nuts, and topped with almond milk and a drizzle of agave.
6) A blended salad (creamy zucchini is my favorite!)
7) Young coconut shake
8 ) Steamed veggies and root veggies, topped with a sweet nut butter or tahini dressing.
9) Soaked and dehydrated buckwheat (soak the buckwheat, rinsing frequently, for several days, and then dehydrate for at least 12 hours), topped with almond milk
10) Larabars, Pure bars, or another raw bar of choice
Other options include chia seed pudding, root veggie mash, or the usual rundown of vegan baked goods: vegan pancakes, muffins, etc. If they're made with quinoa or almond flour, so much the better. And of course, the most obvious and simple option for a raw breakfast is fruit! Fruit, fruit smoothies, green monsters: however you want to prepare it, fruit makes for an ideal and hassle free breakfast option. Many raw foodists munch on fruit right until lunchtime — a quick, digestible way to start your day.
Me? I'm not a fan of fruit, so with the exception of my berry smoothie, or a scoop or two of banana soft serve, I'll rarely opt to eat it for breakfast. But it's always my go to when I'm traveling, and I can't concoct breakfast options I like more.
Speaking of fruit, LOTS of you have written in to ask me why you don't see more fruit on my blog, or why I don't eat it often. Why? Cause I don't like it. And no, it's not a health choice! One of the downsides of being a healthy living blogger is that each and every one of one's likes/dislikes are assumed to represent nutritional positions. Sometimes, we simply don't like the way something tastes! My dislike of most fruit is not unlike my dislike of onions or garlic: just a taste/texture I'm not fond of. Bananas are OK, and I like a nice, crunchy Fuji apple in the fall. But on the whole, I've never liked fruits. Pineapple, mango, kiwi, melon? Ick! My Mom still recalls (with a shake of the head) at time when I was five years old, and she and my father insisted finish a bowl of blueberries before I could go out to play with my cousins. I sat, and sat, and sat till dinnertime. It wasn't until tears and arguing had subsided that I was allowed to forgo the fruit (by the way, I like berries way more, now that I'm older).
Anyway. There's nothing categorically wrong with fruit if you like it. Just ain't my thang.
So there you have it: raw or minimally processed options with which to start your day. All of them are well combined, you'll notice: while I do believe that a hearty breakfast can be a good thing on a busy day, I do believe that it's best to eat relatively lightly in the morning, when our bodies are gently breaking the previous night's fast. So easy digest, well combined foods are optimal.
On that note, I want to share breakfast option #11: one of my very favorites! It's my own take on scrambled eggs and toast, and it invites some Dr. Seuss reminiscences to be sure. It's mashed avocado on manna bread, and I absolutely adore it.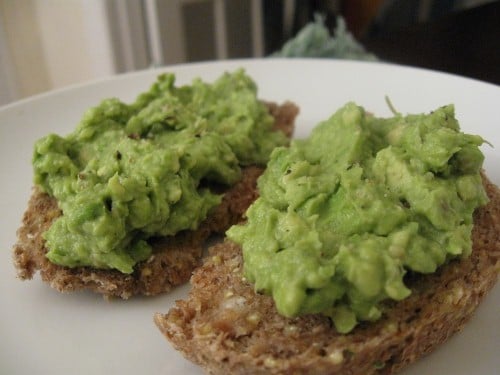 Raw "scrambled eggs" and toast (serves one very hungry person, or two regularly hungry people)
1 large avocado
Sea salt/Himalayan salt
Ground pepper
2 slices manna bread or Ezekiel bread
Mash avocado flesh with salt and pepper till it achieves a guacamole-like texture. Serve it over the bread, and enjoy!
You could serve this filling and simple breakfast over raw bread, rice cakes, or raw crackers. However you serve it up, it's full of healthy fat, vitamin E, and plant-based goodness.
Hope that helps you all navigate the idea of breakfast within a semi raw, vegan lifestyle. Remember: there's no shame in saying that breakfast isn't your time of day to be all raw. But no matter what, do your best to eat foods that are plant based, minimally or totally unprocessed, well combined, and gentle. Your body will thank you for giving it a break as you ease into the day.
xo