I'm back!
That's right. I, Gena Hamshaw, otherwise known as City Mouse, survived my very first camping trip. I hiked through forest, scurried up a boulder or two, waded across streams of water, and even spent a night in a tent. And I loved every moment of it. Backpacking, as readers assured me on the eve of my departure, combines so many of the things I love: it's physically challenging and athletic, it's intimate, it demands focus and patience, it's drenched in natural beauty, it's full of small moments of excitement, and it lends itself to peaceful contemplation. In all, it's a magical experience.
On Friday, when I shared my hemp cacao energy bites, I promised that we'd be capturing eats and snacks on camera. You can imagine my guilt, then, when I realized at lunchtime that M and I had left all cameras and phones and other appliances behind us. Ah well—truth be told, I was overdue for an electronics fast, and I can't say that it wasn't tremendously refreshing (if sometimes really weird) to go two days without gmail, Twitter, and blog commentary. I don't unplug often, but when I do, I try to do it wholesale.
In fact, one of the nicest things about backpacking was the experience of being stripped down to necessity. No idle tweets, no social media distractions, no furnishings, no fashion. And—this was a big one for me—very little in the way of food luxuries. I'm a picky and a spoiled eater: I have strong likes and dislikes, I tend not to eat things I don't absolutely love, and I'm used to having numerous specialty ingredients and vegan luxuries at my fingertips. I write a blog that enables me to be exacting and precise about my food choices, and I love it. For at least 24+ hours, though, it was refreshing to be reminded that simple food is delicious on its own, that I don't need a pantry of exotic ingredients to be happy, and that food really is precious. Everything we ate on our trip tasted more delicious and exciting because we'd carried it around on our backs, and because there wasn't an endless supply of it.
And what, you're wondering, did we eat? In all, the tally was thus:
1 giant bag of trail mix (almonds, dates, raisins, cashews)
1 container kale chips
1 bag quick oats
1 bag freeze dried blueberries
1 bag mixed dried fruit (apples, pears, mangos)
3 apples
3 pears
4 packets almond butter
1 jar raspberry jam
4 Vega bars
1 bag hemp cacao energy bites
2 bars dark chocolate
1 avocado
1 ziplock bag baby carrots
2 boxed soups
2 coconut waters

A ton

couple packets of Starbucks Via instant coffee
Yes, this was for about 2 days. And yes, we ate most of it. Our dinner—a mix of lentil soup and vegetable soup from Dr. McDougall's Right Foods, mixed with 2 primal strips and smothered in noochy kale chips—was hot and filling and basically amazing. Our breakfast—quick oats cooked with dried blueberries, almond butter, and a touch of jam—was just the fuel we needed. And our snacks and midday meals along the way were nutrient dense and sweet. M deserves the credit for planning all of this, but we both loved our eats and treats. I found that my veganism and love of raw foods lent themselves naturally to the strictures of camping, and I'm actually excited to use future trips as an excuse to break out the dehydrator and find some wonderful ways to preserve veggies.
Of course, the one thing that's tough to take camping is an obsession with salad. So my first order of business when I got home yesterday was to make a trip to Sweet Green. And since one giant salad is never enough, I used today as an opportunity to make another: this time, with one of the specialty ingredients I couldn't tote with me on the backpacking trip.
Umeboshi plum vinegar, if you aren't familiar with it, is an incredible, salty/sour vinegar made from pickled plums. It's a wonderful way to dress up salads without adding too much fuss or fat, and it's absolutely unique. Since the sodium content is colossal, I tend to use it in conjunction with another vinegar—usually red wine. Lately, though, my friend Julie inspired me to try it with apple cider vinegar instead, and I loved the results. In fact, this whole salad is inspired by Julie, whom I like to think of as my favorite California chef. The salad is a fresh, varied, and delicious way to welcome the summer—or to celebrate a return to one's produce-rich kitchen.
Gena's Back From Nature Salad (raw, vegan, gluten free)
Serves 1
3 cups chopped romaine lettuce
8 cherry tomatoes, quartered
1/3 cup chopped cucumber
1 small diced carrot
1 sheet untoasted nori, ripped into pieces
3 large button mushrooms, thinly sliced
5 sundried tomatoes, chopped
1/2 avocado, chopped
1 tsp umeboshi plum vinegar
1 tbsp apple cider vinegar
1 tsp agave syrup
Dash each dried oregano and and basil
Mix all ingredients together. Devour in your apartment, using non-aluminum flatware, and try not to miss the woods too much.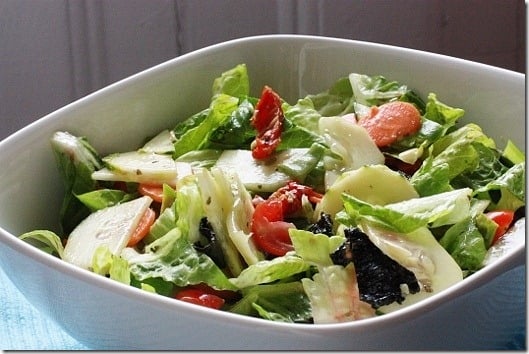 With that, it's off to study. This is my reading week before finals, so my posts may be on the short side. Hope you'll all bear with me. Happy Monday!
xo