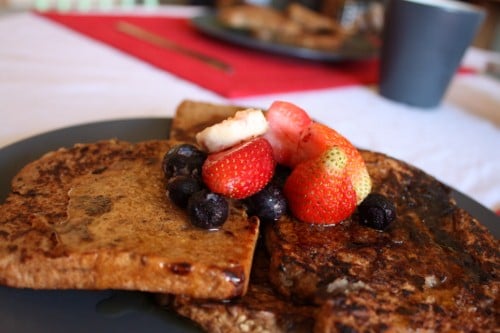 Happy Friday!
I, for one, am glad that this week is over. Between holiday gatherings, work, more work, studies, clients, blogging, and my overwhelming desire to test out new holiday recipes, I'm beat. Thankfully, I have a visit from M to look forward to this weekend. In the meantime, and before I bombard you with brunch porn, I wanted to let you know about a promotion going on at one of my very favorite online boutiques: Ecolissa.
Ecolissa specializes only in eco friendly and vegan women's clothing and accessories. As any vegan lady can tell you, it isn't always easy to find sustainable, eco-friendly, and vegan garb that's also fashion forward. I'm hardly a fashionista, but my job does demand that I look at least presentable every day, and I like expressing myself with clothing as much as the next girl. As my comittment to veganism deepens–and with it, my efforts to veganize my wardrobe–I struggle to find vegan apparel that suits my taste. Ecolissa is helping me, one garment at a time.
For instance, check out this adorable dress from Toggery, which Melissa, Ecolissa's generous owner, sent me to review. As you guys know, I do not like photos of myself, but I figured I'd just have to suck it up and play mannequin for a few shots. The dress is worth it!
My kind (and decidedly confused) intern agreed to be my photographer: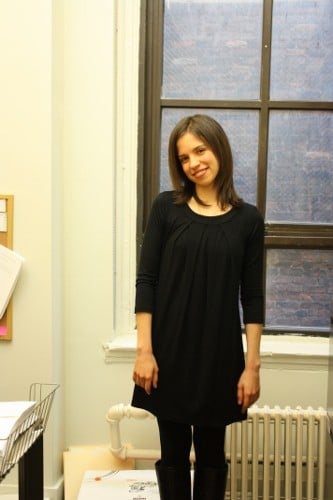 Emma, this was just as awkward for me as it was for you. I'm sorry.
So yes, I'm awkward, but do you see how adorable the dress is? It's also soft, easy to wear, and will transition nicely between spring/fall (with flats) and winter (with tights and boots, as in the photo). I love it, and I love supporting a store that supports veganism. For all CR readers who are interested, Melissa is offering you guys a 20% shopping discount–perfect for you, or for your holiday shopping needs! Just enter coupon code "eco20" at checkout, and you'll recieve your 20% off!
Back to breakfast. I loved the enthusiasm over yesterday's pancakes (and over carob–glad to know so many others love carob the way I do!). I also noticed that breakfast recipes happen to be the ones that M gets most excited about. In keeping with that, I thought I would share the other brunch success that M and I had over Thanksgiving weekend: my first experiment with vegan french toast.
I have to give myself some credit: when I decide to do or learn something, I take it pretty seriously. Lately, inspired in part by my breakfast-loving boyfriend, I have resolved to expand my breakfast repertoire of smoothies, chia puddings, avocado pudding, and oats, and get some vegan brunch classics under my culinary belt. Yesterday's carob chip pancakes were a part of that, and so was the french toast I'm sharing now. But before I made it, I got really ambitious, and whipped up some gingerbread flax muffins (hey, tis the season) from the PPK first. Muffins and french toast in a single morning? A bit much, and we didn't eat them both, but…I aim high.
The recipe for the muffins can be found here. They were tasty, and the texture was great. My only admonition would be that they're heavy on spice, so if you have a more mellow palate, you'll want to tone down the ginger, maybe. I mixed and I stirred: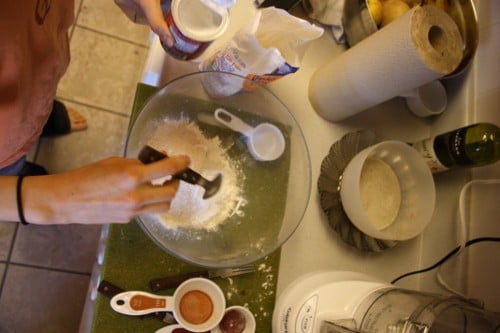 …and I added some blackstrap molasses…
…and after some time in the oven, we had these moist, spicy, sweet little muffins to put aside for snacks and breakfasts hence:
Delicious:
But that came later on. Our main order of business was a French toast breakfast. After perusing some recipes online, I cobbled together one that I hoped would be simple, easy, and tasty. And it was.
Vegan French Toast (serves 2-3)
1 cup almond milk
2 tablespoons flour of choice
2 tbsp agave
1 tbsp nutritional yeast
1 tsp cinnamon
4-6 stale* bread slices
*If you don't have stale bread, just leave four or six slices out overnight by a radiator. Stale bread always works better in French toast, and the dryness of it soaks up a lot of the coating! I used a hearty whole grain bread that M buys at a local health store in D.C.: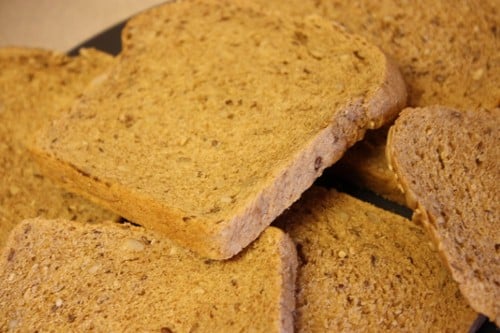 1) Mix all ingredients save the bread together in a food processor or simply with a whisk.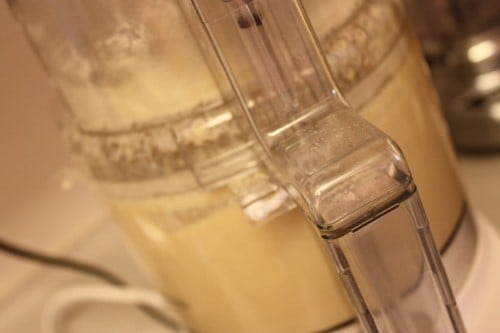 2) Heat a tbsp of earth balance in a skillet over medium-high heat, or simply spray a skillet with coconut oil to coat it. I would probably make it the latter way at home, but on this morning I wanted the toast to taste killer, and I knew the EB Would help me along 😉
3) Dip each slice of bread in the batter and submerge it well, making sure it soaks up some of the liquid. Lay the bread two slices at a time in your skillet, and fry them until they're a little crusty and golden on the bottom. Flip, and repeat on the other side.
4) Keep repeating until all the bread is used. Serve with berries, and enjoy!
As you can see, I like my french toast *very* golden.
M and I tried to decide what was a more successful brunch: the pancakes or the french toast? M voted french toast, hesitantly, and I voted the opposite way, hesitantly. Both meals were tasty and perfect for a lazy and indulgent weekend brunch, and I hope to make them both again soon (when I have another lazy and indulgent weekend brunch–wishful thinking?).
On that note, I wish you all a great start to your own weekends, whether you plan on brunching, lunching, or working!
xo