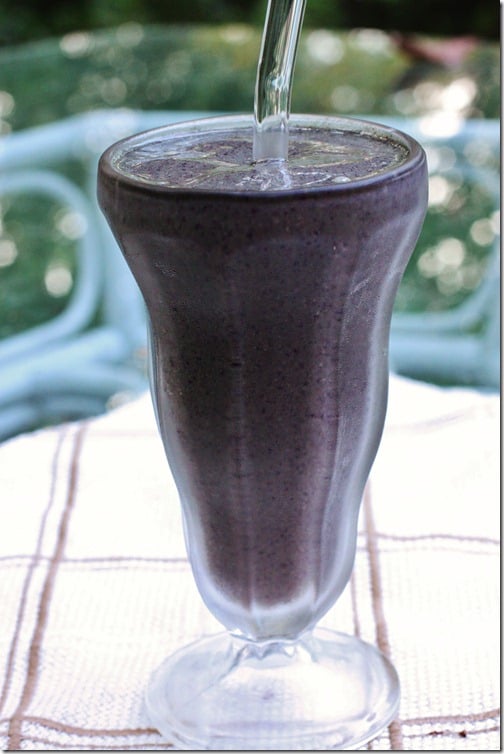 "Back to basics" isn't a term I use a lot with regard to food, because the food I eat is so basic already. Especially lately: pretty much everything I've eaten for the last three weeks has been of the snack, salad, smoothie, grain bowl, or sushi roll variety. There's little time for kitchen experimentation when time is as short as mine will be this semester. Lucky for me, you, dear readers, don't seem to be tiring of my simple, easy eats: if anything, you show more enthusiasm for "hurry up" recipes than any others!
Smoothies are the epitome of "hurry up" food. They're an easy and delicious to way to pack unbelievable amounts of nutrition into a convenient, easy-to-digest package. Though I confess that I don't usually like to "drink my meals" (I really like texture, and I like chewing), big, nutrient dense smoothies were lunchtime staples for me this summer. One of my post-bacc friends said that he could tell how busy I was at any given moment by the rate of smoothie appearances on Choosing Raw.
A lot of my favorite smoothies feature ingredients known as "superfoods"–hemp, chia, spirulina, cacao, or (occasionally) maca. Though I use these costly ingredients very sparingly, I do appreciate their singularity in terms of taste and nutrition. Take maca: once you warm up to the taste of it (which can take a little while), you start to appreciate the unique flavor it lends to a banana smoothie, and you also appreciate the fact that this tuber has been shown to have positive effects on hormone balance and inflammation. Lucuma has a caramel-like flavor that I really can't compare to anything else. And dried mulberries? Once you've tasted one, it's hard to go back to snacking on raisins. "Superfood" is not a regulated term, and the health benefits proclaimed about this class of foods are sometimes exaggerated, but I do love superfoods from a culinary standpoint, am hopeful about some of the health benefits they offer, and delight in using them when I can.
My go-to source for superfood ingredients is Navitas Naturals. The company's mission statement about nutrition and health really appeals to me:
Nutrient rich whole foods are best produced using organic agricultural methods with minimal processing. Focusing on both food safety and nutrition, we handle our premium superfoods with care. This includes third party testing for all our products. Our facility is Organic, Kosher and GMP/HACCP Certified. In addition, we utilize methods such as freeze-drying and low temperature processing to ensure maximum nutrition and safety.
I also appreciate their approach as a business:
Our company is committed to socially and environmentally responsible business practices. We source our premium functional foods through direct partnerships with farming communities around the world. An essential part of our mission is to create economic opportunities among indigenous people in developing countries, and our support of native agriculture helps expand development of global organic farming practices.
Navitas has always generously given me the chance to taste their specialty ingredients and put them to use in creative, delicious recipes. This month, they asked me to participate in their "Back to Basics" Smoothment–an initiative to encourage more consumers to experiment with healthful superfood ingredients, and add more nutritious smoothies to their routines. In return for joining the "smoothment," you get tips, smoothie recipes, chances to win prizes, videos, and product discounts. It's a great chance to explore blended nutrition and taste.
The folks at Navitas sent me a bunch of new and tried-and-true ingredients with which to concoct delicious, healthful smoothies for the smoothment, which launches this week. I'll be sharing them periodically in the coming four weeks, but today, I wanted to share a recent highlight: a blueberry hemp shake, made with Navitas hemp seeds, hemp protein, and maca, along with blueberries.
Thanks to the blueberries, it's an antioxidant powerhouse, but it's also a rich source of complete protein and plant-based Omega-3. I can't think of a better way to support body and brain as school gets underway!
Blueberry Hemp Shake (for Navitas Naturals Back to Basics Smoothment)
Serves 1
1 cup frozen blueberries
3 heaping tbsp hemp seeds
2 tbsp hemp protein powder
1 cup almond milk
2 pitted dates
1 cup spinach
1 tsp cinnamon
1 tsp maca
Blend all ingredients in a high speed blender. Add more almond milk if the texture is too thick. Enjoy!
This smoothie is so energizing and nutrient rich. And there's something magical about the combination of berries and cinnamon.
If you're interested in joining the smoothment, you can find more details here. And if not, I hope you simply take the time to enjoy some delicious smoothies for back-to-school September. Come November, temperatures may be a bit too chilly for blended breakfasts, so let's carpe diem and experiment with all sorts of new flavors!
xo