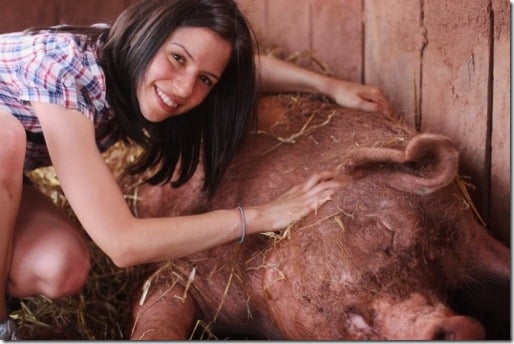 So happy that you all responded to my post on the little lessons of veganism. Also impressed to hear that so many of my readers were already in the habit of treating insects humanely! Wish I could say I've always been so conscientious. What a wonderful community this is
Friday was a good night to talk about animals, because I had a trip to Poplar Springs Animal Sanctuary, where I sponsor a pig named Hamlet, on Saturday, for their annual Montgomery County Farm Tour. The last time I wrote about Hamlet was April, right after I met him for the first time:

Hamlet, I'm told, was destined to be killed by a local farmer—not for sale, but for a family pig roast. The farmer's children fell so desperately in love with Hamlet that the farmer couldn't bring himself to kill him, and offered him up to Poplar instead.
In spite of sweltering heat on Saturday—truly, face-melting heat—Hamlet was doing well, half-submerged in a mud puddle. His friends were trying to stay cool in the pig barn, occasionally being misted by one of the considerate Poplar helpers:

Such contentment, in spite of the heat. I was even inspired to set aside some of my sweaty malaise and seek relief in the hay:

The fun surprise of the day was that two new baby piglets had arrived on the farm. They were so adorable, I could barely stand it:
Such peaceful little babies. I loved keeping them company for a while.
Other highlights of the trip included the strange, yet beautiful sight of some overheated cows taking respite in the clearing of the nearby woods. It was as if they were a band of wild horses:
And indeed, a horse or two was keeping them company:
I also paid a visit to the goats, who were also being good sports about the summer heat. This particular fellow had found a comfortable perch:
And for a while, I perched below him:
The leader of the goat pack had lost a horn while trying to escape a local farm, but he's no less majestic for the loss:
And the goats are soon to be joined by Poplar's newest resident: a tiny baby sheep who was recently rescued by the Humane Society and brought to Poplar. She was born blind, and wasn't wanted by the farmers who were keeping her, but it's hard to imagine how anyone could not want to offer this creature a good home:

These visits to Poplar remind me of how grievously we've failed to extend our humanity to farm animals. Here in America (and around the world) we celebrate and heap love upon our companion animals (dogs and cats) while simultaneously turning our backs on the 56 billion or so animals who are killed each year, simply because we like the way they taste.
Perhaps more people would stop accepting this moral dissonance and start making connections between the animals they love as pets and the animals on their plate if they could spend a day or at a place like Poplar, where animals are cared for as equals, and given the freedom to enjoy full and rich lives.
I'm personally grateful to all of the folks at Poplar—and at America's ever growing list of farm sanctuaries—for giving these animals a new chance to be alive, and safe.
If you're interested—and especially if you're exploring an animal-friendly lifestyle—I encourage you to look for a farm sanctuary in your area, to sponsor an animal, and to visit or volunteer. It's well worth it.
Happy Monday!
xo