(Image courtesy of Erica)
I'm glad that people enjoyed the message of my last post, but for the most part I've been scatterbrained blogger this week. My twitter feed has been a sporadic series of "new post!" alerts. In the middle of writing this post, I lost my photo card reader and spent twenty minutes wandering aimlessly around my apartment in search of it (my apartment isn't immense, by the way.) And today, I realized the reason I almost never do giveaways: I always forget to pick and announce a winner. If you happen to have entered my Hippocrates video giveaway, let me say this: I'm really, really sorry. I forgot about you. About all of you. With sincere remorse, I'm giving my readers one more day to enter the giveaway, and tomorrow night or Monday morning I'll tell you who won. Yeesh.
Today was another reminder of my blogging imperfections. I met up for lunch with Alexandra, who is Chloe's little sister (Alexandra is a grown woman; I say "little" because I've known her since she was born, and I'm allowed). If Chloe is a sister to me, spiritually and practically, then Alexandra is the younger sister I never had.
Which means I get to do all sorts of annoying things to her, like mention how adorable she is on the internet:
…or call her "Ali," which she does not love.
Most of the time, though, I try not to annoy Alexandra, which is why she chooses to hang out with me. Today, we were celebrating the end of her summer internship and her return to Boston for the fall semester. Our dining spot was Blossom, one of my favorite vegan lunch spots in New York, and also one of the city's most inconsistent. Sometimes it's amazing, and sometimes it's a serious flop. You never know what you're going to get. I suppose that keeps things exciting?
What I can always rely on at Blossom is the berry iced tea: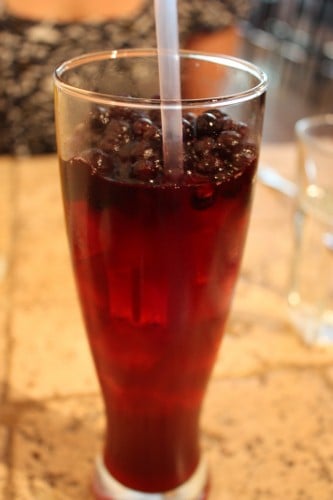 Topped with frozen 'bloobs: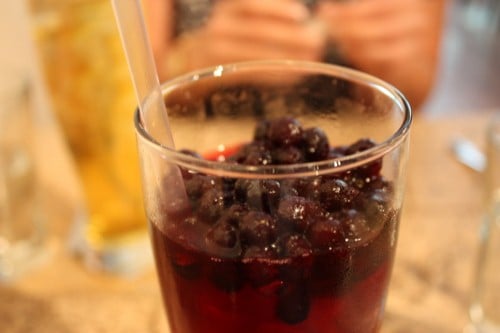 And the raw sweet potato rolls, which are stuffed with jicama, avocado, young coconut, and red pepper, and served with an almond ginger dipping sauce that has too much garlic for me, and thus is always swapped for the smoky mustard vinaigrette:
Delicious.
I had every intention of taking a photo of my entree, which was the red quinoa salad (red quinoa, navy beans, guac, and red peppers served with watercress), but I forgot.
Here's my main area of blogger weakness: I almost never remember to have a camera with me at restaurants. And if I do, I'm halfway done with my meal before I remember a photo, or else I forget to finish the photostream once I start. Pathetic.
But you see, Alexandra and I were deep in conversation, and my food was really good (mostly), and I was really hungry. And I was doing what one should be doing at a restaurant with a good friend and a good plate of food: savoring the experience. There seem to be a lot of dialogs on food blogs about eating to live vs. living to eat, and how blogging can complicate it all. I've weighed in on the fundamental issue recently: I live to eat because I love food and everything to do with it: cooking it, feasting on it, talking about it. But my love of food doesn't get in the way of my otherwise full life. I feel the same way about blogging: I love to do it, and I also don't feel (as other bloggers seem to) that it "takes over."
Yet I do enjoy days like today, when I get so caught up in my meal that I forget to document it for public consumption. It's a happy reminder that blogging is still less important to me than my unabashed and unhindered enjoyment of food. Yes, I take pictures of what I eat and put them on the internet, and yes, I create recipes with an audience in mind, but I also go to restaurants and dig into my food and forget that there is such a thing as www.thefullhelping.com. And, once in a while, that's probably a good thing.
So forgive me, dear readers, if I sometimes post half of a meal review, or talk about cool giveaways and then forget to actually give the stuff away, or I skip a few days here and there, or recede from twitter like a bird in flight. It only means I'm living or eating with passion–and in the end, that passion is what I really like sharing with you.
What about you, bloggies? Do you enjoy your blogger fails, or rue them?
xo