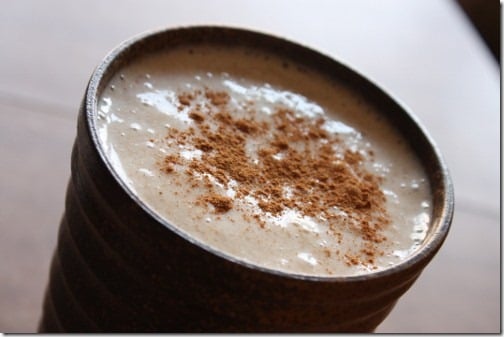 Sweet responses to my lunch date with Emily!
Chai. It's a word that gets tossed around a lot, isn't it? We all think we know what it means—it's a sort of tea, right? Maybe just a liquid spice mix we see swishing around at Starbucks? Cinnamon, ginger, that sort of thing?
We're all partially right. Masala chai is a hot tea, indigenous to India, that's made by brewing black tea with a special blend of spices and herbs (also indigenous to India). In various parts of Asia, chai is so ubiquitous that the word has become synonymous with tea itself, though it really does refer to a particular type of tea. I learned all of this when Chloe went to Southern India for five weeks a few years ago, and returned with wide-eyed stories of the marvelous chai she'd had throughout her travels. "It's soooo good, Gena!" she exclaimed. "Nothing like the crap stuff at Starbucks."
Chloe may have been right, but I'll admit it: I remember my first Starbucks (soy) chai latte a little more than fondly. I had no idea what chai really was—I just suspected it would be sweet, and tasty, as (let's be honest) most Starbucks beverages are. It was love at first sip. Since then, I have managed to wrest myself away from the sugary liquid mixes at Starbucks, but my love for chai flavors has yet to abate. I love buying chai teabags and brewing them in almond milk and stevia. I love them in my chia pudding. And now, I love them in my smoothies.
I've wanted to make a banana chai smoothie since I fell in love with my friend Brendan's vanilla chai Vega smoothie optimizer. The chai+banana combination is a winner. I was curious to see, though, how it would be to use real chai spices in a banana smoothie, so I began to research the actual components and proportions of chai spice. I found this recipe for chai spice mix, and decided I'd modify it a tiny bit—most notably to omit the sugar. The result was the spice mix below, which you can toss into smoothies, puddings, cookies/muffins/cakes, or anything else you'd like to taste chai-like. It would be a great addition to a cup of hot almond milk!
Chai Spice Mix (yields about 1/3 cup spice mix)
2 tbsp. ground ginger
1 tbsp. ground cinnamon
2 tsp. ground cloves
2 1/2 tbsp. ground cardamom
2 tsp. nutmeg
2 tsp. allspice
1/2 tsp. white pepper
Mix all spices together, and store in tupperware or a sealed plastic bag. Use to taste!
Since there's no sugar in this particular chai mix, you'll probably want to add some healthy sweetener to anything you use the spice mix with. But the benefit here is that you can absolutely control how sweet things get.
Next, it was smoothie time. I began with a heaping teaspoon of my new spice mix, and the following was born.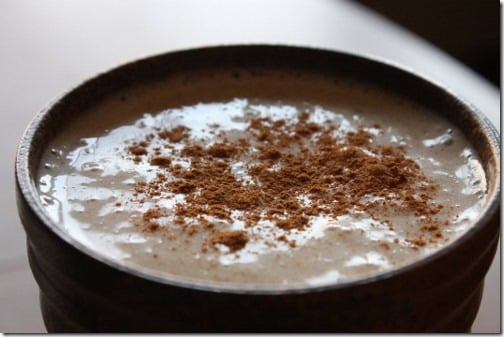 Banana Chai Smoothie (serves 1)
1 heaping tsp. chai spice mix (recipe above)
1 1/2 large bananas, frozen (or 2 small)
4 ice cubes
2/3 cup almond milk
1 tbsp almond, cashew, or coconut butter (optional!)
Combine all ingredients in a blender and blend till smooth.
I topped mine with a sprinkle of cinnamon, and all was right with the world.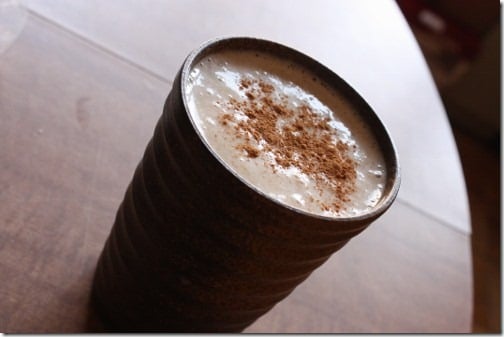 I always love figuring out how to make a favorite food at home. Now I have a fragrant little bag of chai spices at the ready at home, and I see many almond milk chai lattes in my near future! Hope you guys try this smoothie out soon.
And now, I'm preparing to tuck in and rest up for a jolly weekend here in D.C.—which will include a vegan cookoff dinner party! That'll be a fun recap. For now, I'm curious to hear what's on your weekend agendas? Whether it's a lot or a little, I hope you enjoy it.
xo