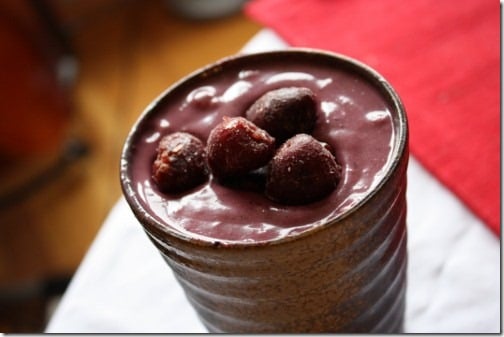 You'd never know it, given his modesty, but M is a great cook. He is, as we know, master of the pressure cooker. And he's also pretty incredible with stews, grains, soups, and beans. The last time he told me he had "made breakfast" while I was at the gym, I walked into the apartment to find scrambled tofu, vegan hash browns, English muffins with natural jam, vegetable juice, and hot oatmeal. That's not a breakfast. It's four. We should all hope to be as easygoing and effortlessly gifted in the kitchen as he.
M is also pretty handy with a blender, and makes what might be my favorite smoothie—dare I say it—ever? I know I've probably said that before. After all, I do love my mellow green smoothie, my sinful smoothie, and my butternut squash smoothie. But M's morning smoothie, which is a mix of bananas, peanut butter, mixed berries, and—the magic ingredient—frozen cherries, almost puts all other smoothies to shame. It's rich , delicious, and full of nutrition, and it's made from the simplest ingredients. For two people, simply…
Begin with 2 cups of frozen mixed berries: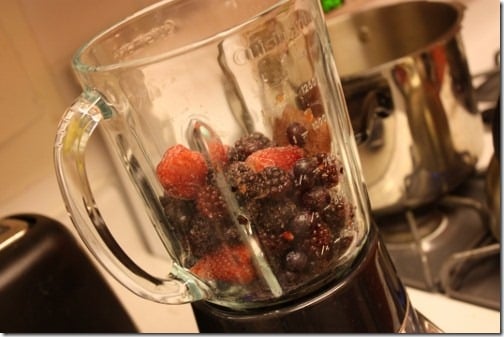 And add 2 frozen bananas, 2 cups of almond milk, 2 teaspoons of cinnamon, and 2 heaping tablespoons of peanut butter: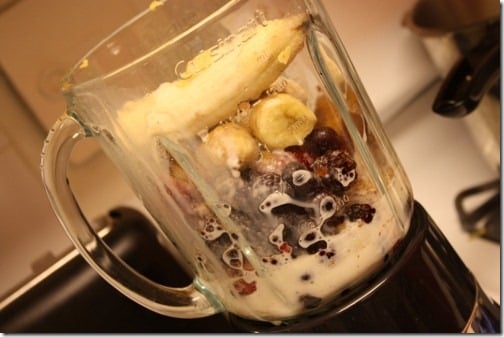 Blend, adding more almond milk as needed. When the mix is blending well, add about a cup of frozen cherries, and keep going until the mix is this smooth and creamy: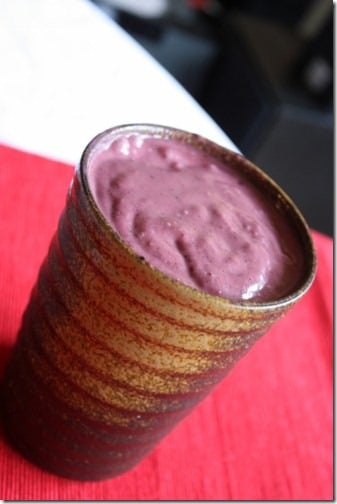 For those of you who don't have Vita-Mixes, this may tax your blender a little, but as you can see from the photos, M makes his smoothies in a regular blender. So those of you who are scared of raw food prep sans Vita should take heart: it's perfectly possible to make delicious beverages without one.
I like to top mine with frozen cherries, which are so delicious: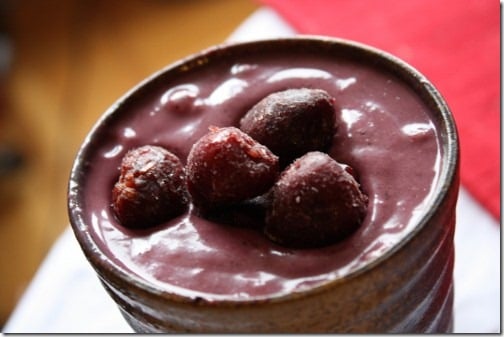 I can guarantee that it tastes as incredible as it looks! Try it soon, and prepare to be amazed.
And now, it's early on a Monday, and I'm preparing myself for the rocky transition back into the work week. It's tough recovering from holiday weekends. I do, though, have plenty of food porn to share throughout the week, so I'll be back bright and early tomorrow!
In the meantime, happy Monday to you all.
xo