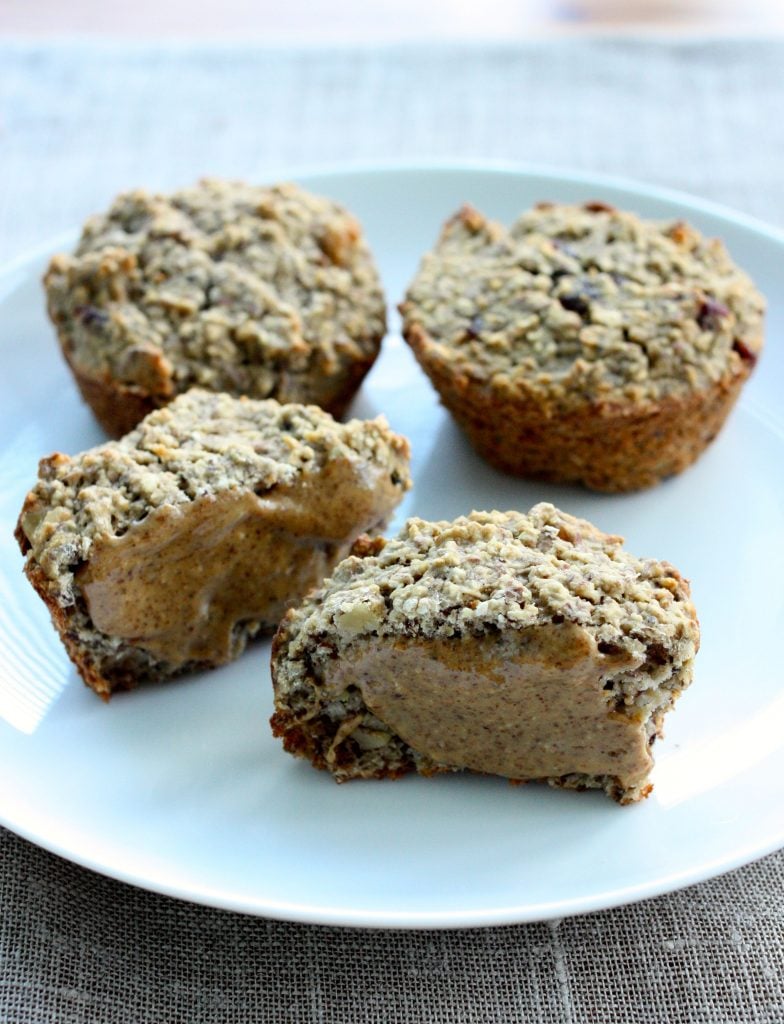 Had it not been for a little friendly Instagram inspiration, this recipe for banana oat muffins wouldn't have come about at all. I'm not a very good baker, and I don't love baking as much as I do cooking, which means that it happens pretty rarely around here. As I was scrolling through the Insta the other day, though, I saw this image: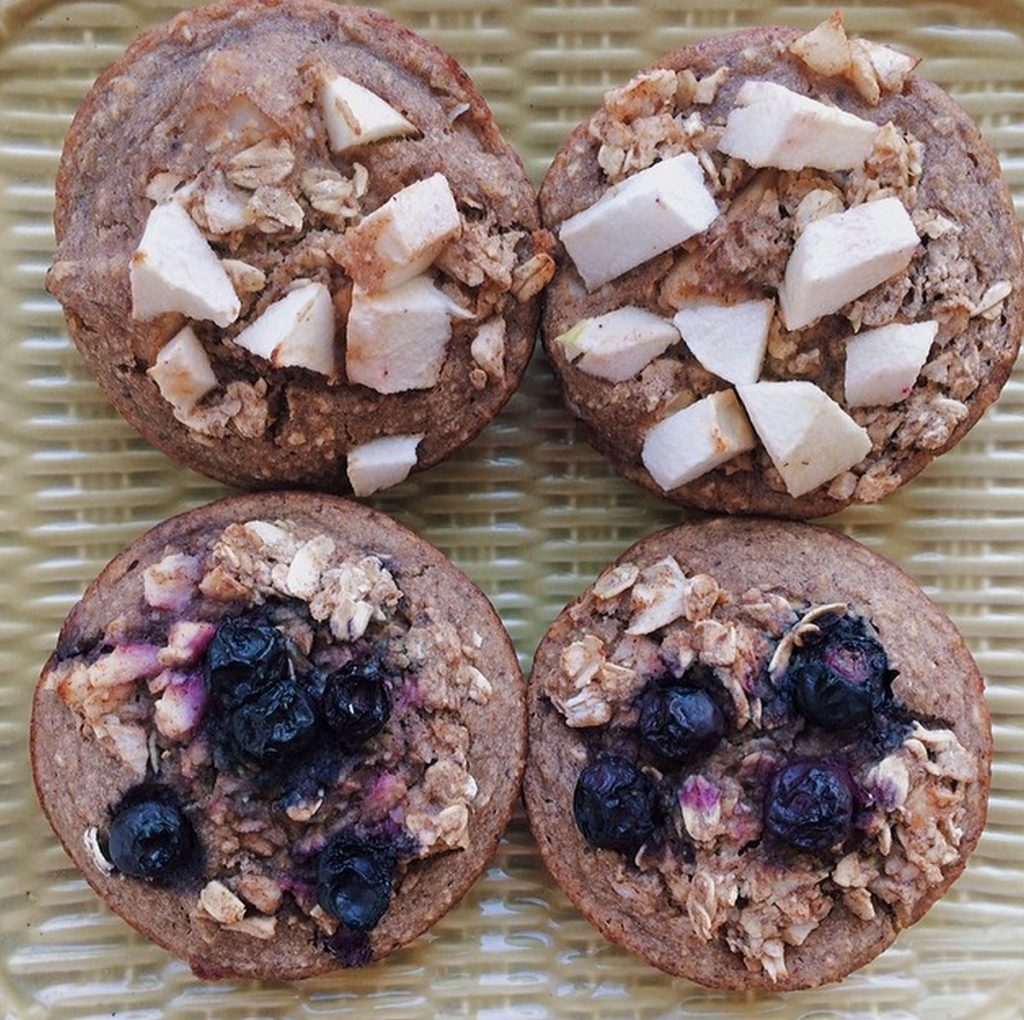 If you guys don't follow Running on Veggies already on Instagram, you should! She has a ton of real food, whole ingredient recipes that are pretty, creative, and ideal for the veggie-obsessed athletes among us. Or the non-athletes like me, who just love to see pictures of pretty food! Most of her recipes are incredibly simple, especially her baked goods. Which may be why they always catch my eye. When I saw the muffins above, I noted that they didn't demand any fancy flours or other baking materials. I had everything I needed for them: ripe bananas, oats, almond milk, baking soda, flax, applesauce. And since it was a Sunday, and I was feeling a little more inspired than usual, I decided to preheat my oven.
I modified the original recipe (which you can find here) a little. For one thing, I omitted maca and added some vanilla protein powder instead–about a scoop and a half, just for a boost. Protein powder doesn't always work in baked goods, but I knew it would be fine in this sort of ultra-simple and forgiving recipe. I also added a little bit of melted coconut oil (the original recipe is very low fat because it's intended as a pre-racing meal) and some raisins. The rest is about the same, and it turned out really well.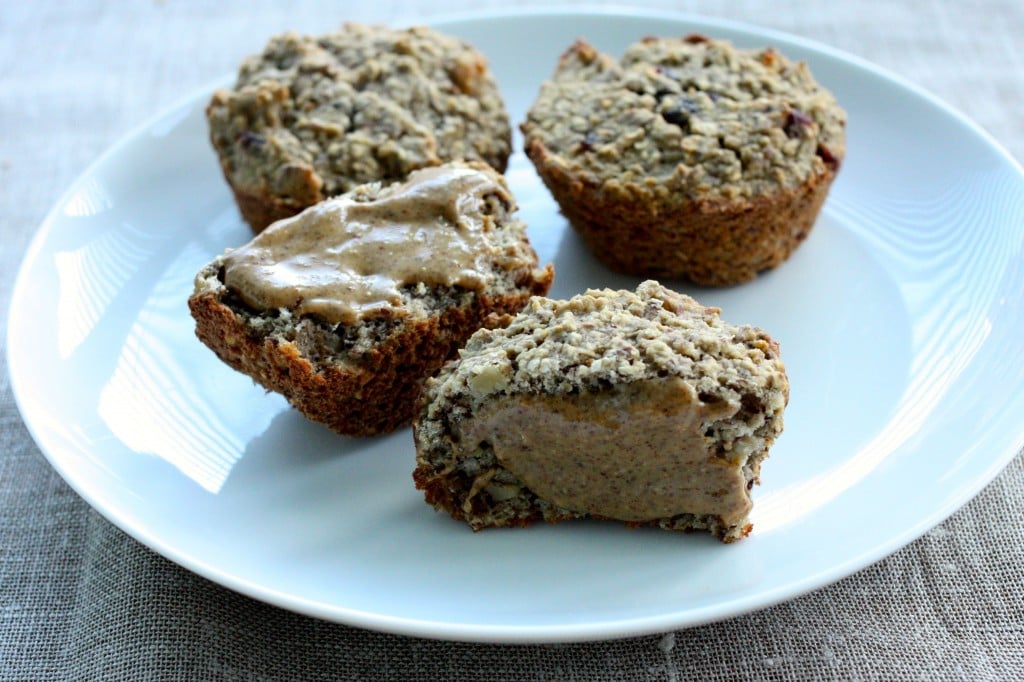 Vegan Banana Oat Muffins (gluten free, higher protein option)
Author -
1 3/4

cup

rolled oats

ground or processed in a food processor till they turn into oat flour

1/2

cup

rolled oats

unground

1/2

cup

flaxseed meal

1

tablespoon

baking powder

1/2

teaspoon

cinnamon

1 1/2

scoops vanilla protein powder

rice or pea or a blend of rice, pea and/or hemp

Pinch

sea salt

3

large

ripe bananas

1

cup

almond milk

1/2

cup

apple sauce

1

teaspoon

vanilla extract

1

tablespoon

melted coconut oil

1/2

cup

raisins
1. Preheat oven to 350 F. Mix all of the dry ingredients in a large mixing bowl.

2. Place the bananas, almond milk, apple sauce, vanilla and coconut oil into a blender and blend well.

3. Mix wet ingredients into dry till just incorporated. Fold in raisins (or any other dried fruit). Pour dough into lined muffin cups (I got 10, Running on Veggies got 8).

4. Bake muffins for 18 or so minutes, or until lightly golden. Serve.
Almond butter, not surprisingly, makes a really nice topper.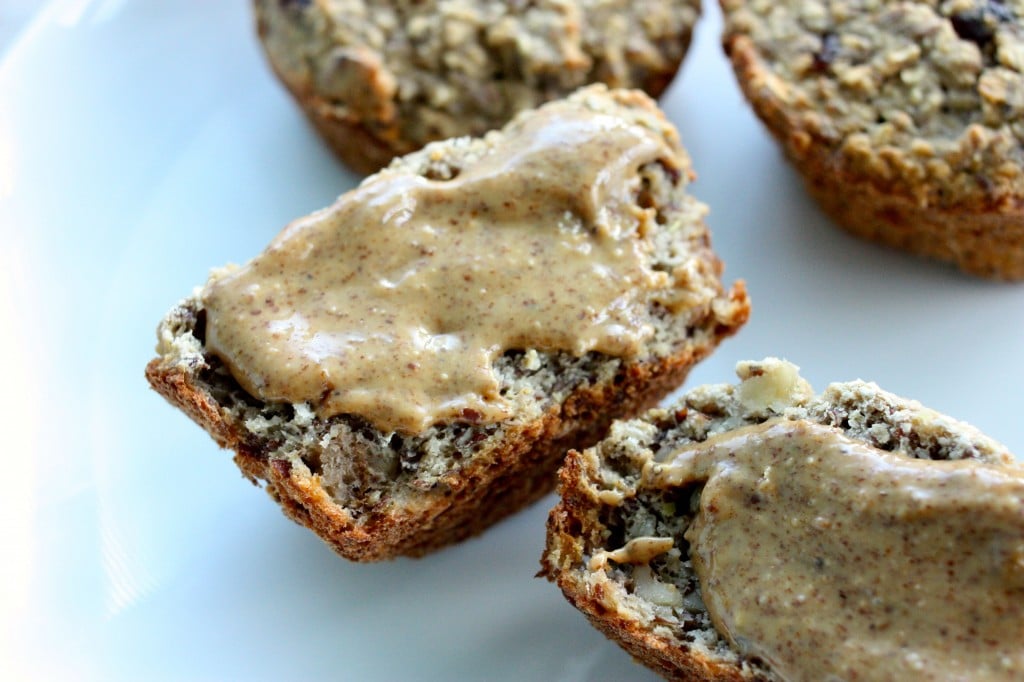 Obviously, the protein powder can be left out. In its place, you can use maca, as per the original recipe, or nothing at all. No matter what, these muffins make for perfect snack food or breakfast. I immediately enjoyed two of mine with a green smoothie. And Sunday morning was complete.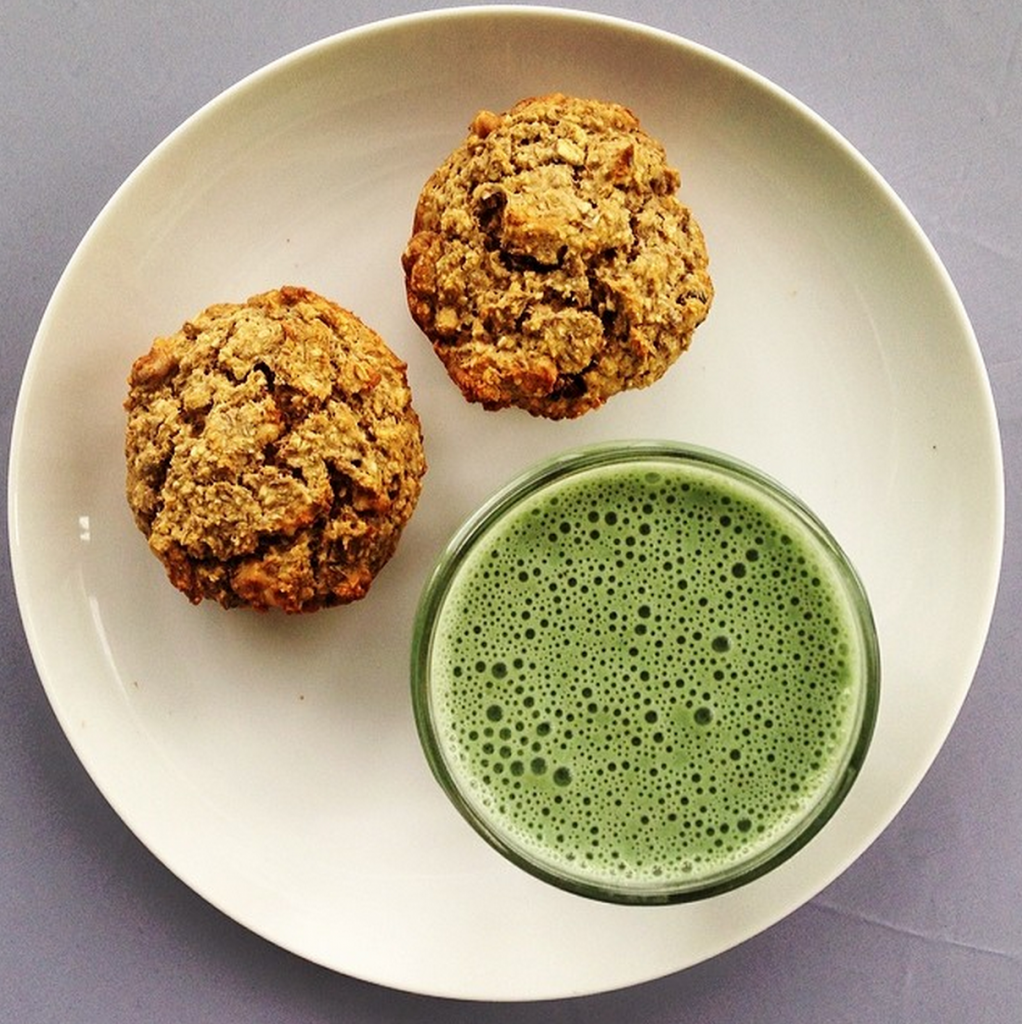 Big thanks to Running on Veggies for the inspiration! I'm always happy when I manage to put the bakers mitts on, and this was a worthy project. Enjoy the muffins, and I'll be back soon.
xo