Soon after I started CR, I made a bold promise: this post will change your life. The post was about a trick I'd learned in the raw foods community—to whip up frozen bananas in a food processor—and the claim, while bold, was not outlandish. In the years since I wrote that post, a lot of folks seem to have had their lives changed (their culinary lives, anyway) by the recipe. That's not just on my account: banana ice cream is now popular all over the world wide web, thanks to nutritionists, health enthusiasts, and discerning eaters alike. It always makes me happy to see that so many people can derive so much pleasure from a simple bowl of frozen fruit.
When I first posted the banana soft serve recipe, I mentioned that its incredibly easy to modify. Interesting enough, I've failed to post a lot of my favorite modifications here on the blog. Making banana soft serve is so customary and second nature to me that I rarely think to blog about it! Not, that is, until I recently tried a new variety: roasted peach and cinnamon soft serve. As you may have guessed, it all started when I roasted a batch of peaches for yesterdays roasted peach and ginger chia pudding.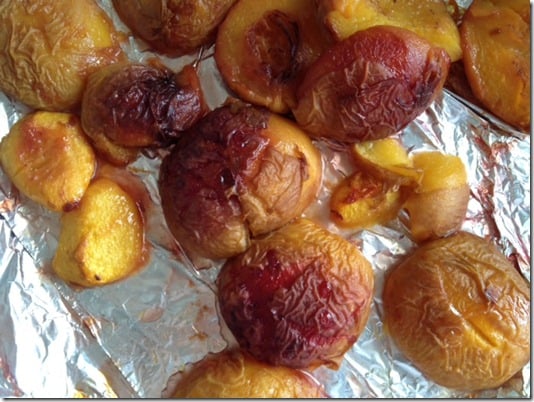 I had some leftover, and though I could have eaten them all plain, it occurred to me that they'd be just incredible in a bowl of banana soft serve. And so this delicious dessert was born:
Banana soft serve, decorated with ribbons of sticky roasted peach and cinnamon? Yes please.
In this post, I also give you my favorite banana soft serve recipes of all time: my greatest hits, if you will. These include cocoa soft serve, mint chip soft serve, peanut butter soft serve, hemp seed soft serve, and cinnamon raisin soft serve.
To get these wonderful varieties, and the peach ice cream, simply head on over to Food 52 for today's post!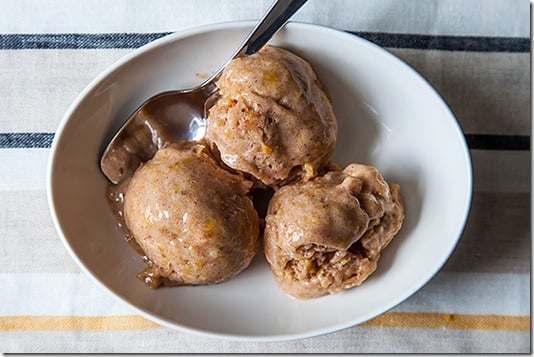 And I'll be reporting from New Orleans this weekend.
xo