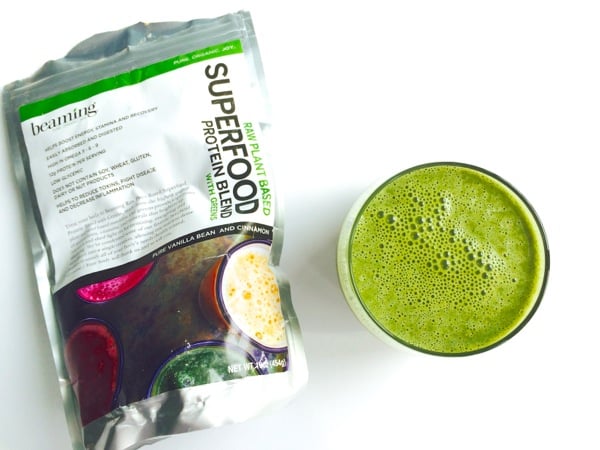 In 2012, Lisa Odenweller–a self-described "ex corporate climber" whose health had declined between the pressures of parenting and her fast-paced career–opened a health and wellness retail outlet called "Beaming" in Del Mar, California. The shop sold smoothies, pressed juices, salads, soups, and acai bowls, as well as superfoods and smoothie materials. It specialized in a number of cleanse programs, most of them food-based, to help folks taste plant based diet for the first time, ease out of problematic food patterns or addictions, and realize how satisfying nutritious food and drink can be. Lisa used her own experience–the experience of having undergone a major health transformation thanks to plant based food–as a springboard for helping others.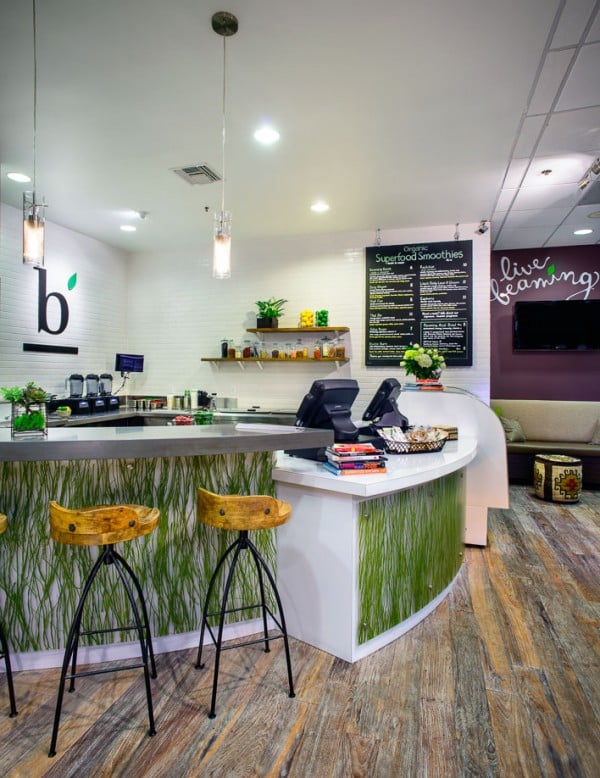 Today, this flagship location is bustling with customers who come in for smoothies, juices, acai bowls, and salads, but who stay for community and a shared experience of healthy, satisfying food. The menu routine features such goodies as coconut ceviche and raw lasagna, as well as the signature line of smoothies, which include such enticing combinations as the "sexy mayan" (almond milk, protein, raw cacao, banana, date, maca, vanilla, cayenne, cinnamon, and nutmeg) or the "euphoria" (sprouted almond milk, coconut water, protein, cherries, chia powder, banana, lucuma, coconut butter, date, and vanilla).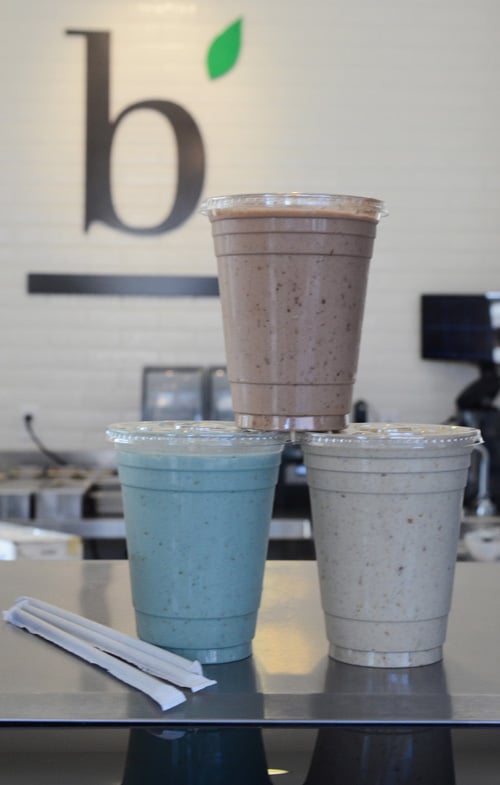 I've heard great things about Beaming. People are remarkably loyal to the brand, which now ships its smoothie kits and cleanses nationwide. It seems that folks appreciate both Beaming's products and the store's mission to empower and educate patrons about the benefits of the foods they eat. I was delighted, then, when Beaming reached out to me and asked if I'd like a chance to try the company's signature protein powder blend.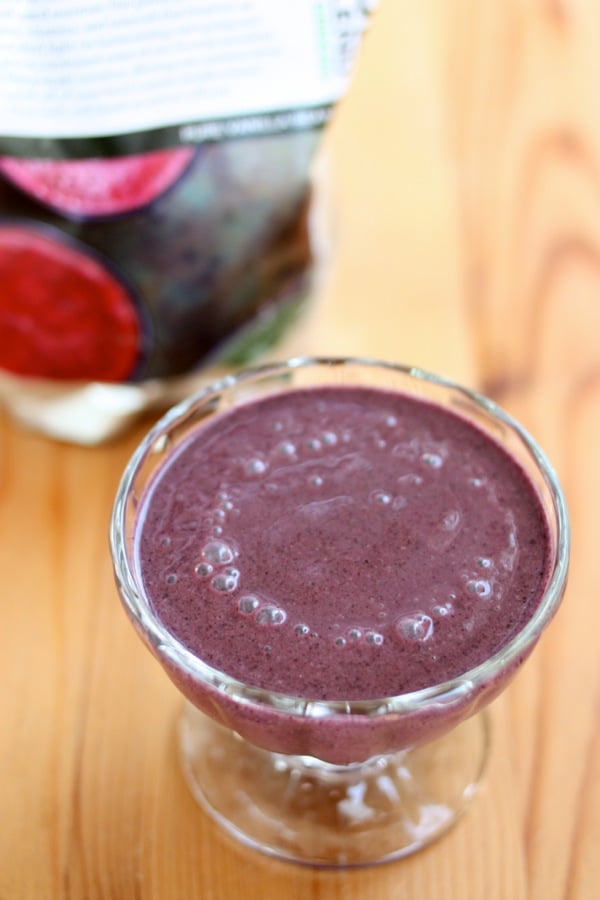 It's a mixture of rice, hemp, and pea protein, along with a custom blend of superfood ingredients (lucuma, maca, white chia, mesquite). Here's a full ingredient list:
Organic Raw Brown Rice Protein, Organic Raw Pea Protein, Organic Raw Hemp Protein, Organic Raw Lucuma Powder, Organic Raw Maca Powder, Vanilla Bean, Organic White Chia Seed Powder, Organic Cinnamon, Organic Coconut Sugar, Organic Raw Mesquite Powder, Organic Jerusalem Artichoke, Organic Raw Spirulina, Organic Blue Green Algae, Organic Raw Chlorella, Himalayan Pink Sea Salt, Stevia.
And here are the nutrition facts:
22 Servings
Calories: 80
Protein: 12 g
Fat: 1 g
Sugar: 2 g
Carbohydrate: 8 g
The protein is gluten free, soy free, and dairy free. I like that it uses a mix of protein sources (hemp, rice, and pea); variety is always a good idea when it comes to source any macro or micronutrient. I especially like the taste, which I'll describe this way: you know how hemp protein powder is appealing because it's plain and simple and not overly artificial, but sometimes you have to admit that it's a little gritty and, well, hemp-y? And meanwhile, vanilla flavored rice proteins are super tasty some of the time, but the rest of the time they're almost sticky sweet–packed, no doubt, with a little too much stevia? This protein powder is right in the middle. There's a distinct vanilla flavor, and some stevia, but there's nothing overly sweet about it. And although the hemp isn't too prominent, you'll definitely taste it in there, along with that characteristic bit of grit. (In a good way.)
The first smoothie I made with my Beaming powder was a mixture of blueberries and raspberries, half of a small avocado, coconut water, and the beaming protein powder. It was fluffy and rich and very good: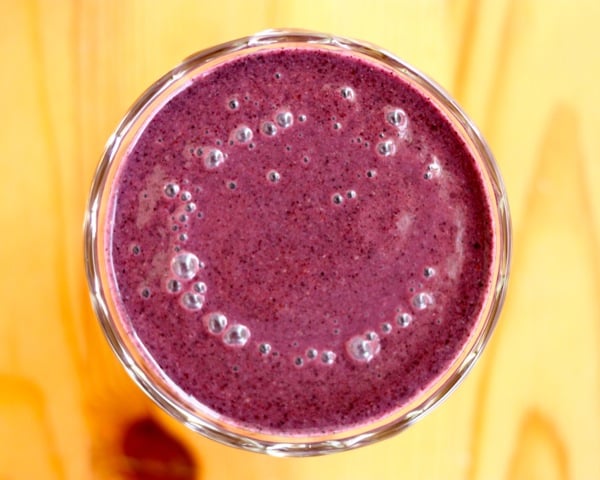 The second was a mixture of frozen banana, flax meal, beaming protein powder, homemade almond milk, a pitted date, and some curly kale: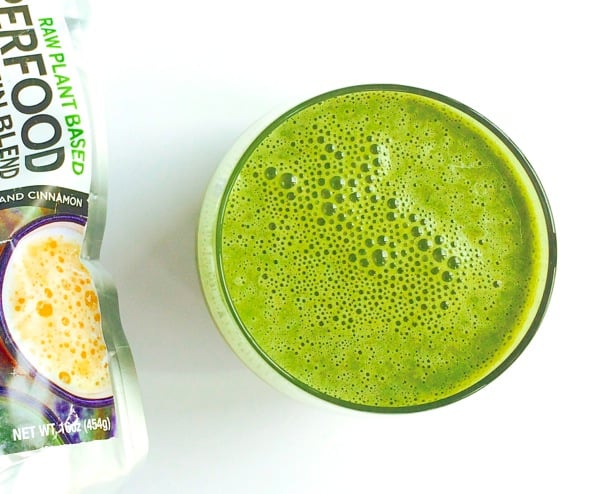 Also delicious. I especially like how the hints of cinnamon, lucuma, and vanilla in the powder enhanced the sweetness of the smoothie.
Beaming organic protein powder retails for $36.00, and it can be purchased through the Beaming website. The cost is about $1.63 per serving (but a bit more if you take shipping into account). I'd say that the price is comparable to many protein powders, especially those that include some "superfood" supplements (chia, maca, mesquite) as well as the protein itself. For me, I think the cost is best justified by the wholesome and homemade quality of the powder. It really does taste like a blend of flavors and proteins that might have been hand-mixed just moments before packaging; there is nothing artificial about it. And I really did appreciate small details of quality, such as the fact that real vanilla bean is used. In all, I really enjoyed the powder, and would happily purchase it myself.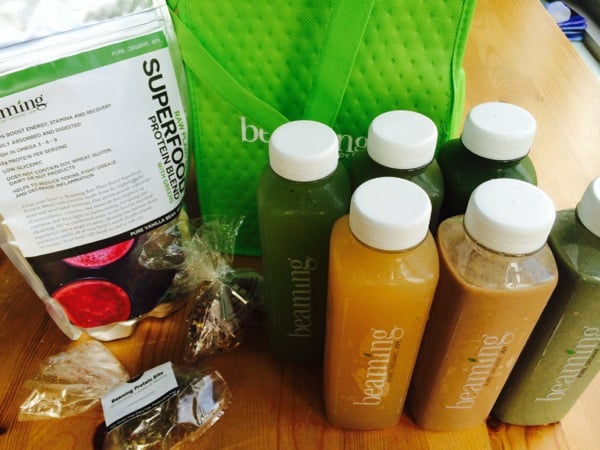 Along with the powder, Beaming gave me a chance to sample a few of the smoothies (including the Sexy Mayan, which is delicious), juices, and their wonderful protein balls, which include their signature blend, as well as coconut flour, almond butter, pumpkin seeds, sunflower seeds, hemp seeds, lucuma, goji berries, and coconut sugar. I really, really loved all of the products. I even froze some of the juices so that I could make everything last a little longer!
I'm so glad to have gotten to know this special brand and it's mission. If you're curious, you can peruse the Beaming website, check out the company's Facebook page, or follow them on Twitter. If you're a smoothie enthusiast, a vegan protein powder dabbler, or interested in some of their goodies, I definitely recommend that you put Beaming your radar!
And I'll be back tomorrow, for Weekend Reading.
xo