Ah, seasonal food. How sweet it is. How sweet, especially, at this time of year. Tomatoes and peppers still linger from August, while kale, carrots, and broccoli arrive by the bushel, and winter squash are just beginning to appear. There's nothing quite like autumn.
In spite of the wear and tear that the impending holiday season can make on cooks, this remains my favorite time of the year to entertain. It allows me to showcase my favorite foods (dark greens, winter squash, broccoli, apples, carrots, beets – the list goes on and on) in all of their seasonal splendor, and with temperatures dropping outside, cozy dinners at home seem all the more appealing.
In honor of my favorite season, I'd like to start a new Choosing Raw tradition: the raw seasonal dinner party menu. With the advent of each new season, I'll spotlight a high-raw, seasonal menu that you can use to entertain for friends, family, or just your roommate/companion. And I'll do my best to ensure that they're as accessible and tasty as they are 100% vegan, high-raw, and healthy.
I'll begin with the dinner below, which I had the honor of serving to my pal Diana a few weeks ago. This meal was a true winner: comforting, cozy, and light at the same time. It began with a new soup creation that's quickly rising to the very top of my list of favorite soups, and culminated in a half-cooked, half-raw beet "ravioli" that had Diana and I swooning in our stools (yeah, stools. I live in New York; high table dining is par for the course). It would be a perfect dinner to serve to anyone, raw or cooked, since it utilizes familiar flavors (root veggies, cinnamon) and textures (thick soup; crisp salad; tender ravioli). In short? It's a winner. So much so, that I'm seriously contemplating making it for me and my mother on Christmas Eve (which, in practice, will mean a few bites for my intrepid mother, and the rest for me)—though I do try to concoct a new recipe each year for that occasion.
Without further ado, I present the Raw Autumn Dinner Party.
The Menu
Butternut Squash and Apple Soup
Kale Salad with Red Cabbage and Carrots
Beet "Ravioli" Stuffed with Sweet Root Vegetable Mash
The dinner begins with the soup, which I've been making nonstop since I first perfected the recipe. I serve it cold, natch, but you could absolutely warm it on the stovetop if you like!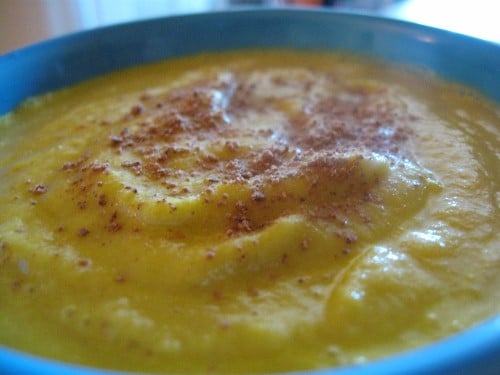 Gena's Raw Butternut Squash and Apple Soup (serves 2-4, depending on the appetites in question. If you're making it for a group of four or more, you may want to double the recipe to be safe!)
4 cups butternut squash, chopped
1 cup fresh apple juice or cider
1/3 cup orange juice
1/3 cup water (a bit less if you like a very thick soup)
2 large stalks celery
1 tsp cinnamon
1/2 tsp nutmeg
4 pitted and soaked dates (or 2 tbsps agave)
1 tsp salt
Dash of soy sauce
Dash of onion powder (or some fresh onion, if desired)
Blend all in a high speed blender till smooth and creamy.
If you don't have a high speed blender, raw squash will really be a pain, so I recommend steaming the squash and celery very gently first. Then, blend away. You can serve it cool, or reheat on the stove post-blending.
Next up is the "ravioli."
Begin with a simple root vegetable mash. This one was:
Sweet Potato and Turnip Mash
4 sweet potatoes, peeled and chopped
2 large turnips, peeled and chopped
1 heaping tbsp Dijon mustard
1 ½ tbsp coconut oil
2 tbsps agave
1 generous tsp cinnamon
¼ tsp nutmeg
½ tsp salt (adjust to taste)
Pepper to taste
Steam the root vegetables for about twenty or thirty minutes, or until very fork tender. Put them in a food processor with the remaining ingredients and blend till very rich and smooth – you may have to stop often to scrape the sides of the bowl.
To assemble the "ravioli," slice red or yellow beets very thinly on a mandolin or by hand (it will be hard by hand, but not impossible!). You can also try a really great peeler or box grater.
Top each round of beet with about 1-2 tbsps of the warm veggie mash. Put another beet on top, and voila: a sweet, savory, and sumptuous half-raw pasta creation that will leave your guests smiling.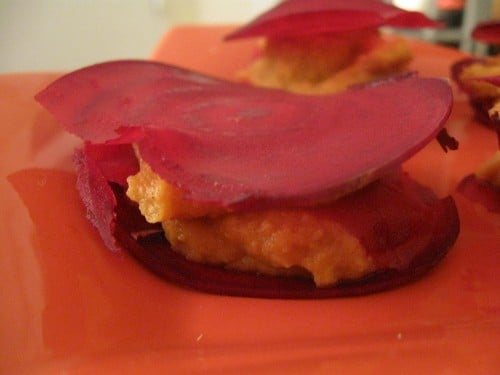 Finally, the salad:
Massaged Kale Salad with Red Cabbage and Carrots (serves 4 modestly)
1 head kale, washed, de-stemmed, and chopped finely
1 ½ cups thinly sliced red cabbage
3 large carrots, grated
2 tbsp olive oil
1 avocado
¼ cup lemon juice
Bragg's Liquid Aminos
Begin by massaging the oil into the kale with your hands. Stop when it's slightly wilted down and tender. Then, chop up half of the avocado and smoosh it into the kale, too. Add the remaining veggies, the other half avocado, lemon juice, and season it all with Braggs to taste (you could of course use salt or nama shoyu here).
Chew and savor!
Dessert could be anything you like. Avocado pudding or banana soft serve are always in season; you could also treat yourself to some fresh medjool dates (nature's candy!) or dark chocolate. Ms. Diana was lucky enough to bring me a giant chocolate macaroon that fed two happy girls.
As far as procedure goes, I recommend the following:
Up to three days before the party:
Peel, chop, and store the butternut squash in an airtight container.
Day prior to party:
1)    Make the root vegetable mash. Put it in an airtight container and refrigerate.
2)    Slice the beets for the ravioli.
3)    Shred the carrots and cabbage for the salad; wash, spin, and chop the kale
Day of the party:
1)    Pre heat the oven to 125-150 degrees (or so). Put the root veggie mash in an oven-safe container and put it in the oven, covered in foil, to warm gently.
2)    Prepare the soup. If you want to, keep it in the oven in a pot while you make the salad.
3)    Assemble the kale salad.
If you take these steps, you should find that prepping for dinner on the day of the party takes no more than thirty minutes.
And the results, I promise you, are fabulous.
I hope this post shows you that you needn't go crazy with raw cookbooks and dehydrators to put together a high-raw meal that guests will love. The best raw food—the best food of any kind—is simple, no-nonsense fare that highlights in-season produce without a lot of fuss.
And now, I'm off to contemplate what dinner party menus winter will afford me. Stay tuned!
xo
Edited to add: My friend Katie is hosting a very special, very worthy November mission at her blog. It's called Operation Chocolate-Covered Kindness, and it's helping her to raise money for two worthy charities. You can help her simply by going over to the blog and checking out some of her wonderful recipes (including a recent slew of raw desserts and sweets). Please join me in supporting her!