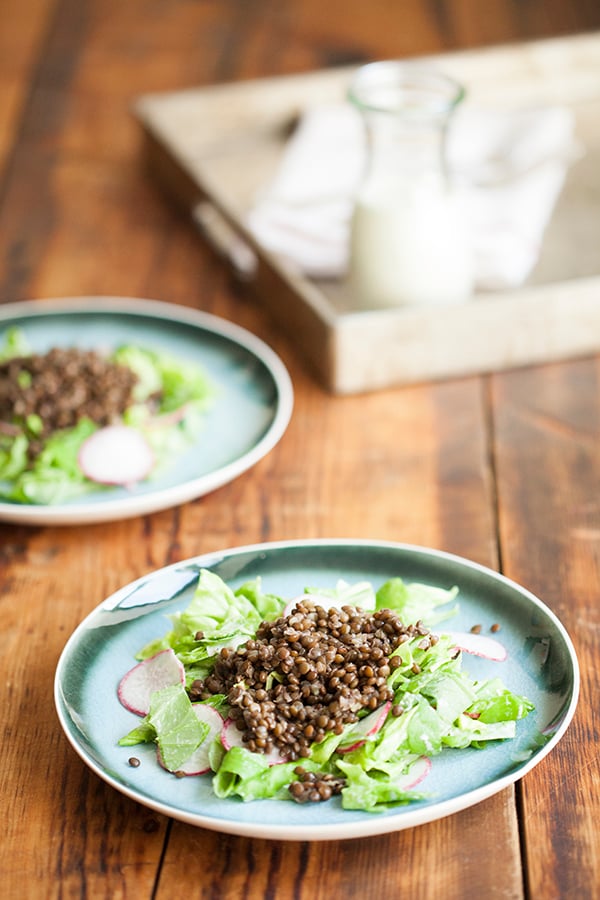 This is a simple, no fuss, no frills salad. Only three ingredients — lentils, lettuce, and radish — which for me is rather sparse as far as salads go. I'm so accustomed to the meal-sized salad paradigm that it feels odd for me to put together a salad that's intended as an accompaniment or a first course or a component of a larger meal. But sometimes salads are intended to play well with others, and with that in mind, I created this springtime concoction. It's still nutrient dense, but it's also light and elegant, the perfect thing to serve with a bowl of creamy curried cauliflower or carrot, turmeric and ginger soup. It's also a nice appetizer option for a spring dinner with friends or family.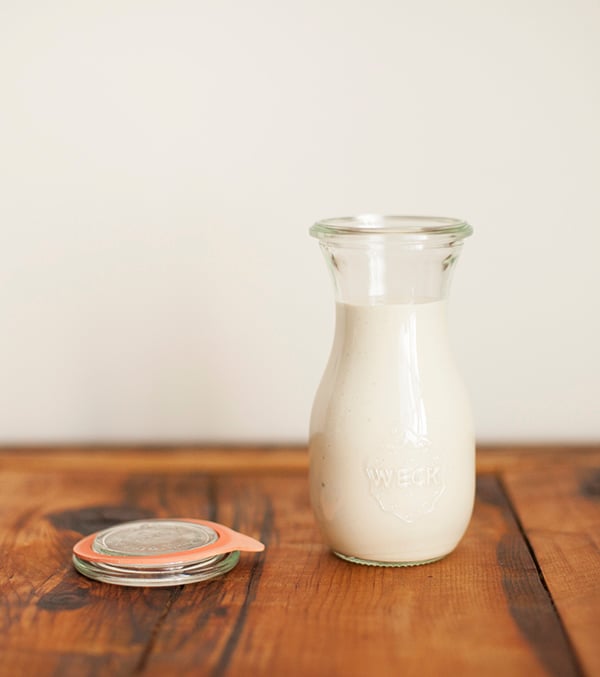 As with most of my salad recipes, what makes this salad special has nothing to do with the greens or the vegetables. It's all about the dressing.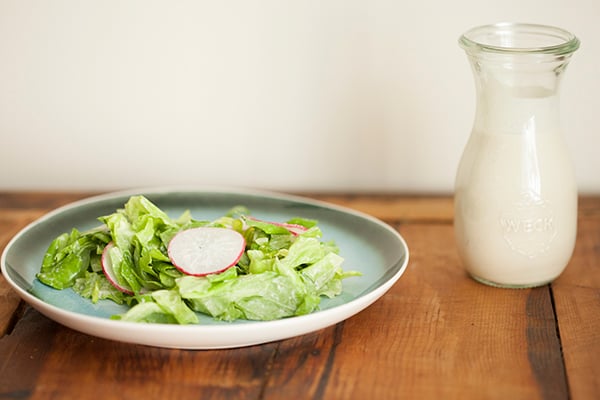 Cashews are perfect salad dressing base. They blend up easily and create creamy texture without any need for added fats or emulsifiers. They're also mild in flavor, which makes them a good alternative to nut butter or tahini dressings. I'm guilty of relying on tahini a little too much when it comes to my dressings. When I use cashews, I'm reminded that it's nice to have a neutral-tasting base ingredient (tahini is many things, but neutral it's not; the taste is so distinctive). From there, you can allow herbs, spices, or other seasonings to shine.
In the case of this particular dressing, what shines through is bright notes of lemon, a touch of sweetness, and shallots. I've been using shallots in dressings a lot lately; it's so much more mild and neutral than garlic, yet it imparts a savory quality that's unmistakable and really enhances any salad. I like it best in vinaigrettes, but it's also a crucial ingredient here.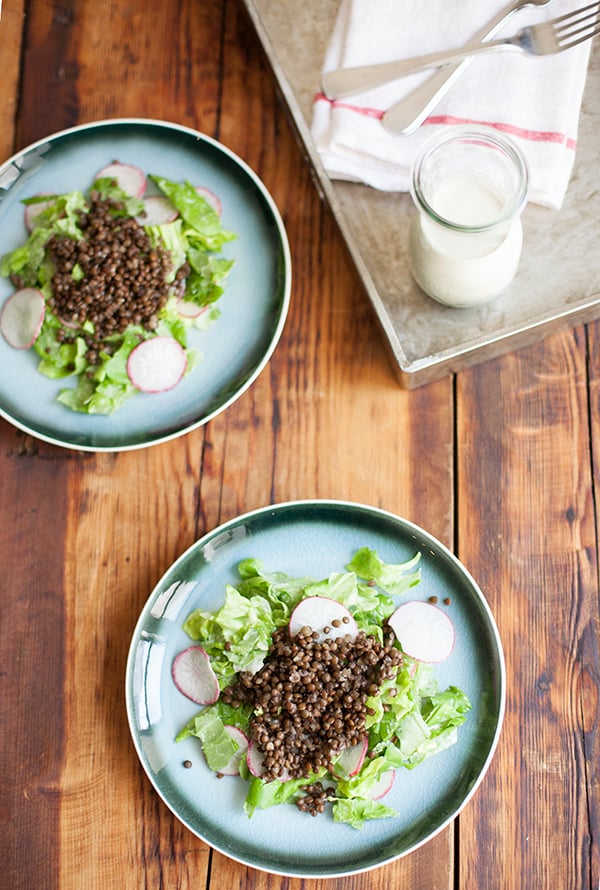 To prepare this salad, I toss the greens and radishes in the dressing first, spoon the lentils on top, and then drizzle additional dressing over them. You could dress it all together, if you like.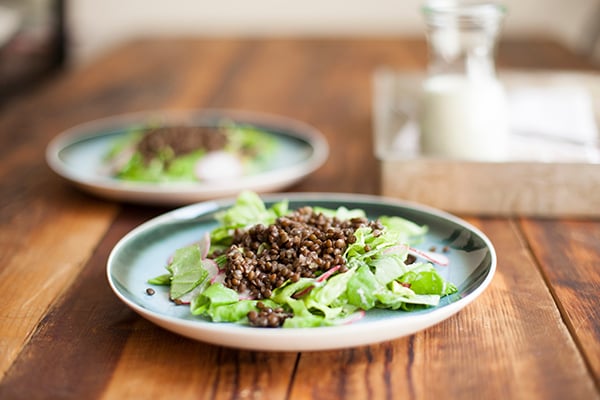 Beluga lentils are a pretty terrific salad ingredient, as far as pulses go. Like French (or Le Puy) lentils, they're firmer than green or brown lentils, which means that they'll impart a pleasant chew to your salad. They also cook up quickly, and like all lentils, they're rich in protein, iron, and magnesium. So much nourishment in such a small, humble package!
Here's the recipe.
Beluga Lentil, Butter Lettuce, and Radish Salad with Creamy Lemon Cashew Dressing
Author -
Yields:
4
servings and 1 2/3 cups dressing
*For the salad*:
4.5

ounces

4-5 cups washed, dried, and chopped butter lettuce leaves

4

large radishes

thinly sliced

1 1/2

cups

cooked Beluga or French lentils
*For the creamy lemon cashew dressing*:
1/4

cup

fresh lemon juice

1

teaspoon

lemon zest

1

cup

cashews

soaked for 2-8 hours and drained of soak water

3/4

cup

water

3/4 - 1

teaspoon

salt

I like to use a whole teaspoon; once you combine the dressing with other ingredients, you'll see that the saltiness is mellowed out

3

tablespoons

chopped shallots

2

teaspoons

Dijon mustard

2

teaspoons

maple syrup
To prepare the dressing, combine all ingredients in a blender and blend till smooth. Dressing will make 1 2/3 cups.

To prepare the salad, toss the butter lettuce and radishes together along with 1/2 cup of the dressing. Lay the vegetables onto serving plates and top each with a quarter of the lentils. Spoon additional dressing onto the lentils and serve.

Leftover dressing will keep for up to 5 days in the fridge.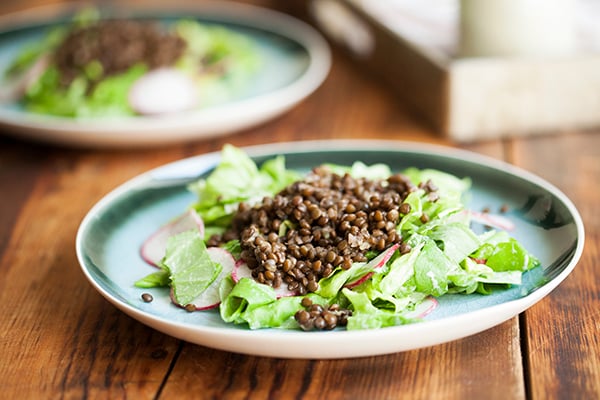 I hope you'll try this simple, springtime dish soon. Even if the salad doesn't speak to you, try the dressing. It's really lovely, and I can attest to the fact (having worked on leftovers for a few days now) that it's great on steamed greens, quinoa, rice, cooked chickpeas, and roasted sweet potatoes as well as on salads.
I'll be back soon. I wish you all a nice Tuesday!
xo