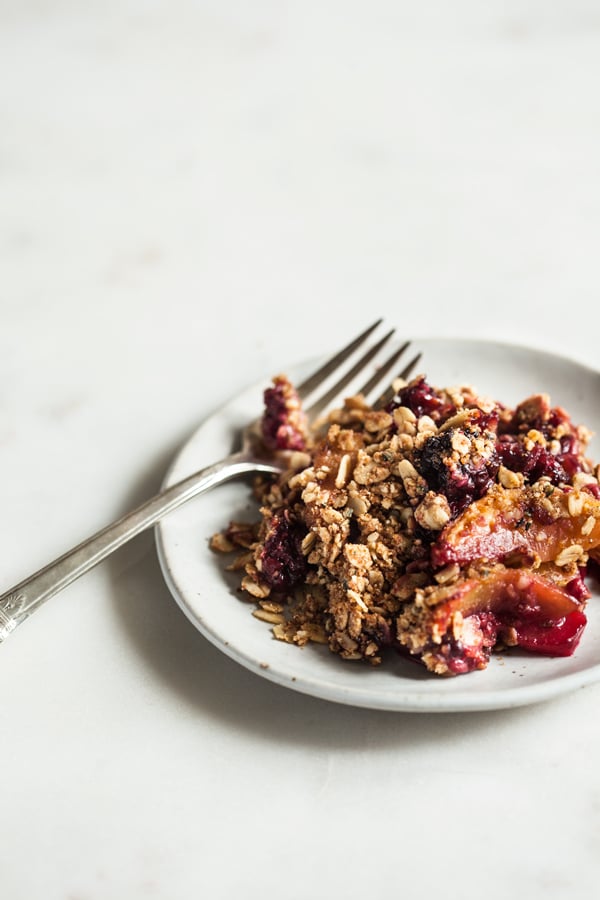 For most of the summer I've been posting on Tuesdays–just a routine I've settled into–but I'm so excited about this recipe that I want to share it just as the week gets underway. I touched on returning to class in yesterday's weekend reading post, and perhaps it's appropriate that I should be posting a breakfast recipe today, because the "back-to-school" theme somehow always gets me thinking about breakfast.
Most of my breakfast memories from childhood involve not slow and leisurely weekend mornings, but schooldays. They include the memory of toasting up bagels, simmering cream of wheat (my favorite childhood breakfast, and one of the earliest things I learned how to make) and topping it with little dollops of butter, or–later on, in high school–warming up corn muffins in the oven. It was all simple stuff, but it was what I loved to eat. I'm certain that I'd have flipped out over this berry peach breakfast crisp if someone had shared the recipe with me back then, and I'm very happy to have discovered it now.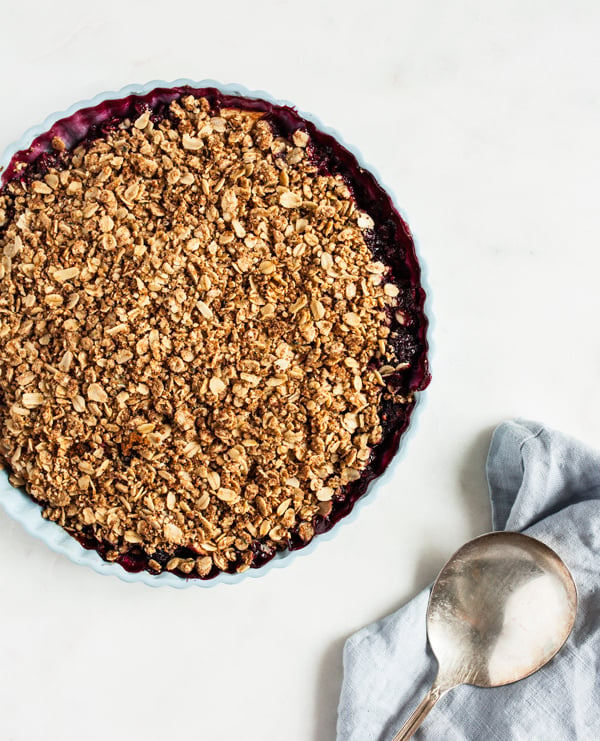 This has been a summer of leftovers-for-breakfast, mostly because there's a lot of surplus food from cookbook testing. In the last few weeks, though, especially as berries and peaches and plums and figs come into season, I've been craving sweeter morning meals, and I've been thinking about some sort of breakfast-worthy cobbler/crisp/crumble creation. One of the nice things about baked breakfast dishes is that leftovers, if you have them, will usually last for a few days and can serve as on-the-go options as the work or school week gets underway.
What in particular about this crisp makes it breakfast-y, you might be wondering? Aside from my deep conviction that most crisps are perfectly suitable breakfast food, nothing in particular, except that it's a little less sweet and a little more nutrient dense than some of the crisp recipes I've tried. There's also a pretty even ratio of topping to filling, which gives the crisp some staying power.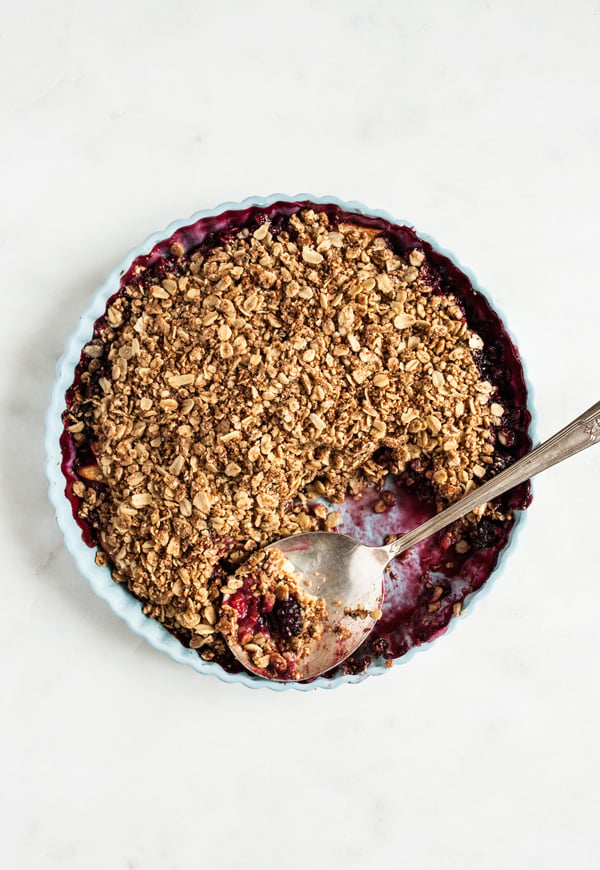 One of my goals in creating this recipe was to infuse the crisp topping with a little extra protein, rendering it both sweet and satiating. I did this by mixing some hemp seeds with my oats, and also by using chickpea flour in place of regular flour.
Chickpea flour, also known as besan, is richer in protein than many other types of flour, and it's suitable for those who eat gluten free or wheat free. It tastes bitter prior to cooking, but one of the reasons that I love and use it so much is that, once cooked, it has a very neutral flavor—perfect for both sweet and savory recipes.
Using chickpea flour in baking is one example of the versatility of pulses and pulse-based foods. I'm always impressed by the sheer number of culinary uses for beans, lentils, and dry peas, and lately I've been spotting these ingredients in cookies, cakes, crepes, and snacks—proof that they're not only suitable for savory fare.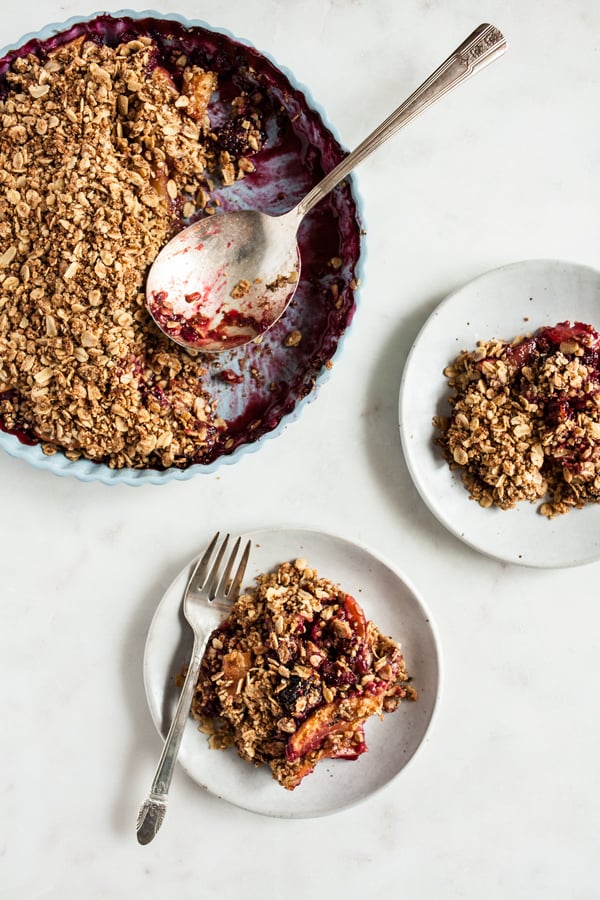 This breakfast crisp is one of my contributions to the Pulse Pledge, a movement that celebrates the UN's recognition of pulses as a sustainable, economical, and nutritious protein source. If you're curious, the Pulse Pledge encouraged everyone to commit to eating pulses at least once a week for 10 weeks (not a very daunting challenge when the options include crisp!). The Pulse Pledge website contains information and resources about pulses and how to cook with them, plus tons of recipes from bloggers, including a number of desserts and breakfasts.
Of course, you needn't enjoy this recipe for breakfast; it's also a fantastic, not-too-sweet dessert, and it can also be served with tea or coffee for an afternoon pick-me-up. If you do serve it in the morning, you may want to add a scoop of soy yogurt (which is what I did) for a little extra protein and texture contrast, or sweet cashew cream, if you're keen on something richer!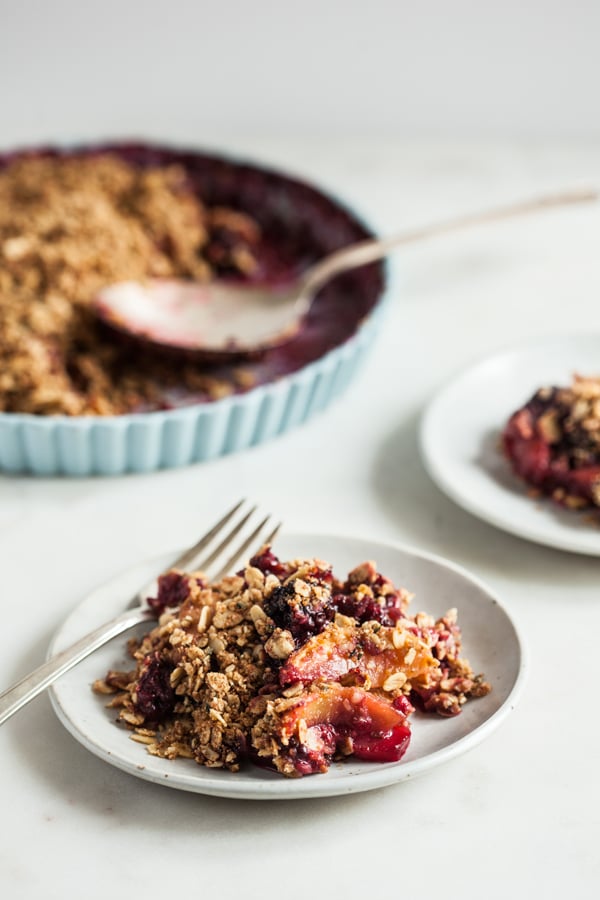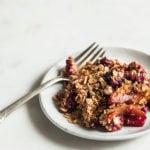 Berry Peach Chickpea Flour Breakfast Crisp
Author -
For the crisp topping:
3/4

cup

rolled oats

1/3

cup

chickpea flour

substitute whole wheat, spelt, oat, or all purpose flour

1/4

cup

hemp seeds

1/4

cup

brown sugar or coconut sugar

1/4

teaspoon

fine sea salt

1

teaspoon

cinnamon

4

tablespoons

vegetable oil or melted Earth Balance
For the filling:
2

heaping cups ripe peaches

peeled and cut into slices

2

cups

berries of choice

I used a mix of raspberries and blackberries

2

teaspoons

cornstarch or tapioca flour

1-3

tablespoons

sugar

totally optional, and you can adjust the amount of sugar to suit your taste

1

teaspoon

vanilla extract

Pinch

fine sea salt
Preheat your oven to 350F. To prepare the filling, toss the peaches, berries, cornstarch, sugar, vanilla, and salt together in a large mixing bowl. Transfer the fruit filling to a lightly oiled 8 x 8 square baking dish or a pie plate.

To make the topping, add all ingredients to a medium sized mixing bowl and use your fingers to crumble and mix them together, until you have a clumpy, well-mixed topping.

Sprinkle all of the topping over the fruit filling. Bake the crisp for 35 minutes, or until the fruit is very bubbly and the crisp topping is golden brown. Serve with soy or almond yogurt, an extra sprinkle of hemp seeds, toasted nuts, or whatever other toppings you like!
Crisp leftovers will keep for up to 4 days in an airtight container in the fridge.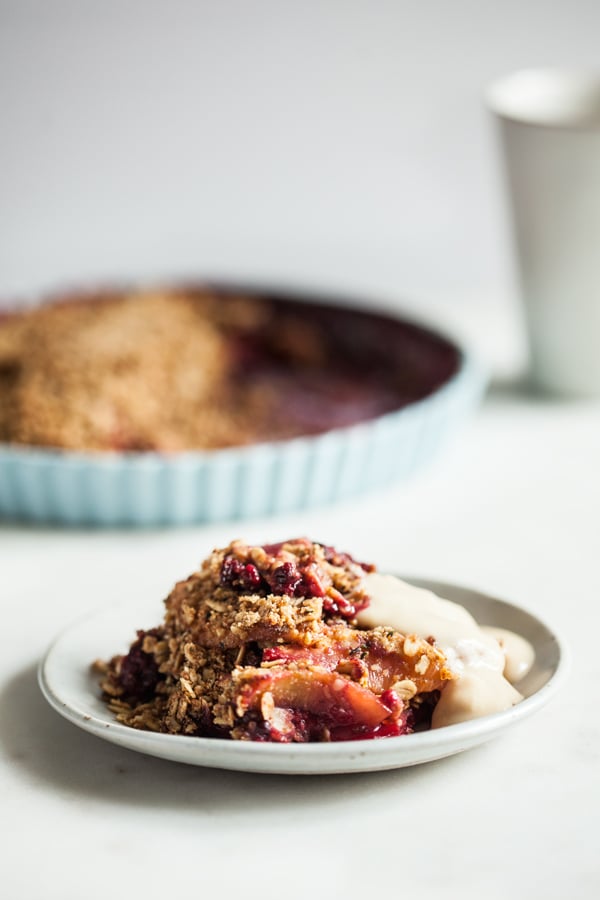 This is a perfect dish to prepare in advance of having friends over for breakfast or brunch; it'll keep nicely for up to 3 days if you cover it and keep it in the fridge, and you can pop it into the oven quickly to reheat prior to serving.
As fall approaches, I'm already thinking of trying the crisp with apples and pears in place of the berries and peaches. Like most crisps, this one can be made with nearly any fruit filling you like. It's simple, forgiving, and the results feel so special and rewarding. I hope you give yourself a chance to experience the recipe as a wonderful morning treat. Let me know what you think, as always, and enjoy.
xo
This post was created in partnership with the USA Pulses and Pulse Canada. Opinions are my own. Thank you for your support! To learn more about the Pulse Pledge, visit www.pulsepledge.com.