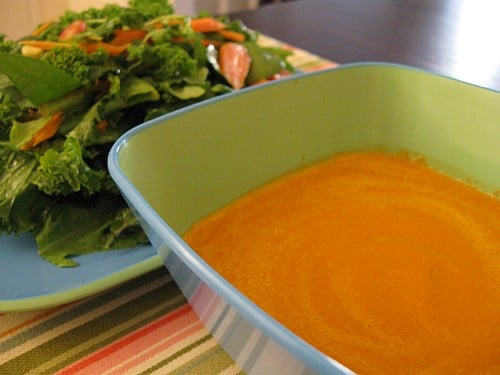 As you may have noticed, I'm a big fan of raw soups. This is funny, given that traditional soups were never my favorite. Or, to be more precise, any broth based soup was never my favorite: I've always been partial to blended soups (root vegetable soups, for instance), which is probably why the smooth and creamy textures of most raw soups please me so much.
The recipe I'm about to share is, without a doubt, my favorite raw soup. Why? Because it's fast, simple, and sweet enough to be rightly called dessert, yet it's totally guilt free. This soup is also loaded with enzymes, nutrients (such as beta carotene), and natural carbohydrates; I actually recommend it to my more athletic clients and friends as a great pre-workout drink in lieu of a smoothie. Best of all, this soup incorporates one of my favorite flavors: pumpkin pie.
Yes yes, I know, this is probably the least seasonal post I'll ever write. It's 85 degrees here in New York, the sidewalks are littered with bare shoulders, and I slept with my AC last night. But who cares? Pumpkin pie doesn't stop tasting good in summertime. And to be fair, this recipe doesn't really use pumpkin: it simply borrows the flavors of the classic dish.
The original recipe for this dish appears in Natalia Rose's  Raw Food Life Force Energy. Her recipe calls for raw sweet potatoes; I usually use raw butternut squash instead, and I substitute Stevia for the original dates. The soup typically comes together in 10 minutes or less, and it never disappoints. Without further ado:
Pumpkin Pie in a Bowl (adapted from Raw Food Life Force Energy)
Serves 1 generously, 2 as a small appetizer
Ingredients:
2 cups carrot juice (fresh if possible, bottled if not)
¾ cup chopped butternut squash
¼ avocado
½-3/4 packet of stevia
Generous sprinkle of cinnamon, a small sprinkle of nutmeg, and a dash of salt
Blend all ingredients in a high speed blender till smooth and creamy (and a little warm, if you like to serve soup that way).
If you don't have a high speed blender or Vitamix, you could substitute steamed squash for raw and use a regular blender.
Here's the bowl I devoured on Friday:
And a shot of my meal:
It's been a hot and industrious weekend. I hope you've all enjoyed some early summer weather! I have some exciting posts planned for this week, including a special round up of low-sugar desserts, my musings on restaurant dining, and my very first giveaway! So stay tuned.
Finally, and on a more somber note, I want to extend my sympathy to Jenna and her family, who are mourning the loss of Jenna's brother, John. Jenna is in the hearts and minds of so many of us in the blogging community right now, and I hope our good wishes bring her some solace.
xo