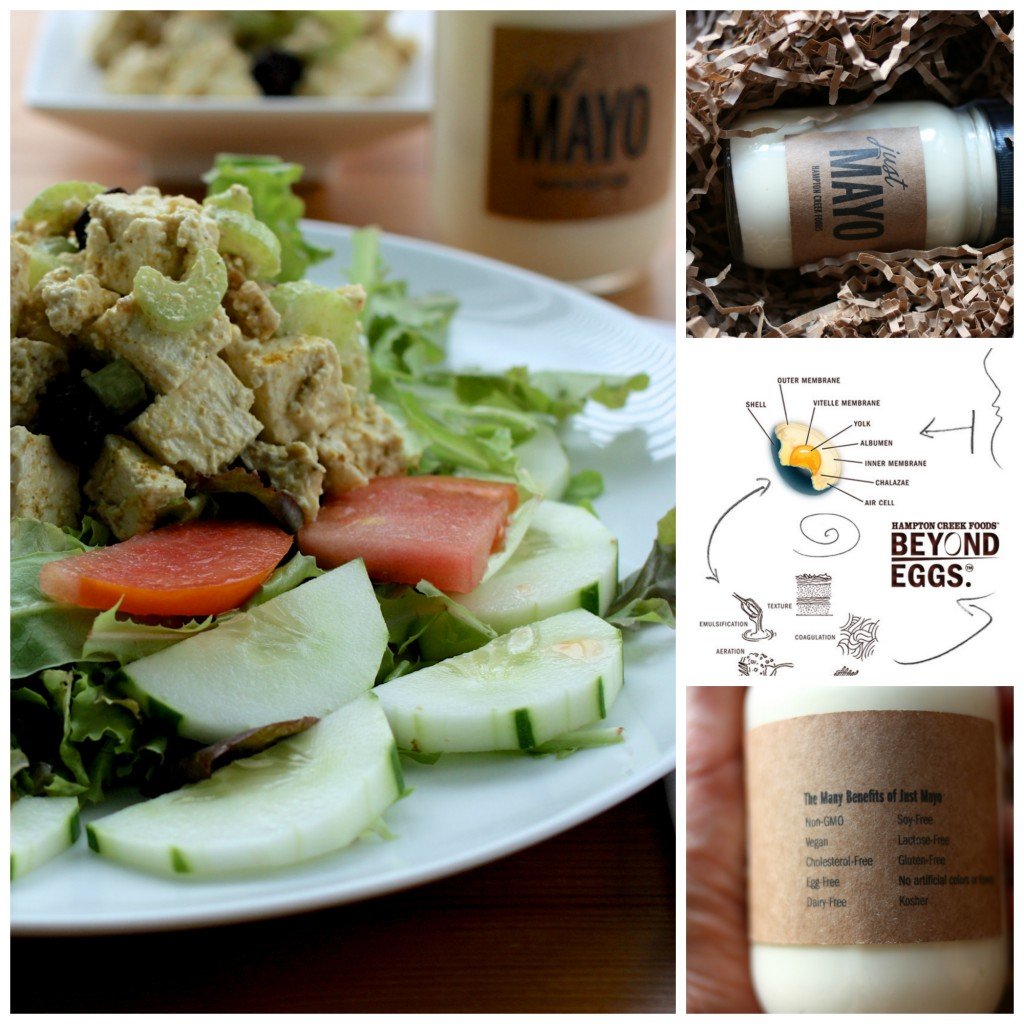 I was recently given the opportunity to profile a very special company: Hampton Creek Foods. Hampton Creek was started by Joshua Tetrick, a social entrepreneur, writer, and speaker. Josh got his start working in subsaharan Africa; he led a United Nations business initiative in Kenya, worked for both former President Clinton and the president of Liberia, Ellen Johnson-Sirleaf, and taught street children as a Fulbright Scholar in Nigeria and South Africa. Now he's turned his efforts to our food system, and to offering sustainable, plant-based egg alternatives to major food manufacturers. The moment I heard about Josh's work with Hampton Creek, I knew he'd be an inspiring person to chat with, and I was right.
Josh and I put aside some time last week to discuss Hampton Creek and its mission. It was a delight to hear about the company, and now it's a delight to give you a peak into what's coming from them. I hope you'll be as excited about their work as I am.
Josh's inspiration seems to have come from two places. The first is his experience in Africa, where he says he realized that corporations have the power–and therefore the responsibility–to make changes. The second was his own evolution as an eater. Committed to making responsible food choices, Josh says that he got exhausted of trying to figure out which meats were sustainable, local, grass fed, and so on — instead, he liked the idea of supporting a plant-based model, and inspiring others to do the same. He became vegan, and as time went by, he started to think about ways he could influence corporations to make more compassionate, sustainable, and healthy choices.
Image of Joshua Tetrick courtesy of NPR.
This is how Hampton Creek Foods came to be. Their mission was to create a low carbon footprint, sustainable, plant-based, healthy, and truly authentic egg replacer. After testing and studying more than 217 kinds of plant proteins (including soy, spinach, and carrot), their team of chefs, biochemists, and food scientists started working with a yellow pea protein that yielded perfect results.
All infographics and images in this post courtesy of the Hampton Creek Foods website.
Beyond Eggs is the result of this exhaustive and meticulous process. It works in baked goods, emulating foaming, emulsification, coagulation, and color attributes of eggs. It replaces whole eggs or egg yolks in salad dressings and mayonnaise products (and gave rise to Just Mayo, which I'm reviewing today), rendering the same mouthfeel and taste. The Beyond Eggs team is developing a product that will improve the cooking quality of pasta. It'll work perfectly in commercial and homemade baked goods. And–perhaps most exciting of all–Beyond Eggs will function in scrambles and omelettes.
The goal of Beyond Eggs–and all Hampton Creek products–is to create an egg alternative that is compassionate, eco-friendly, and cholesterol free. So far, this sounds like something all of us do with flax eggs or Ener-G. But here's where the interview got interesting: Josh's focus is not only on products for the home cook. In fact, his primary target consumers are not individuals, but corporations. Josh wants to persuade large food manufacturers–think General Mills, or Frito Lay–to consider using an egg replacer. He dislikes the idea that right now, it's cheaper to use conventional eggs, which are produced with tremendous cruelty, than it is to use a replacer. So his goal is to make Beyond Eggs cheaper for the companies who rely on eggs in baked goods, Mayo, and so forth. They'll get the same results without the cages, the feed, the greenhouse gases, or the transportation cost.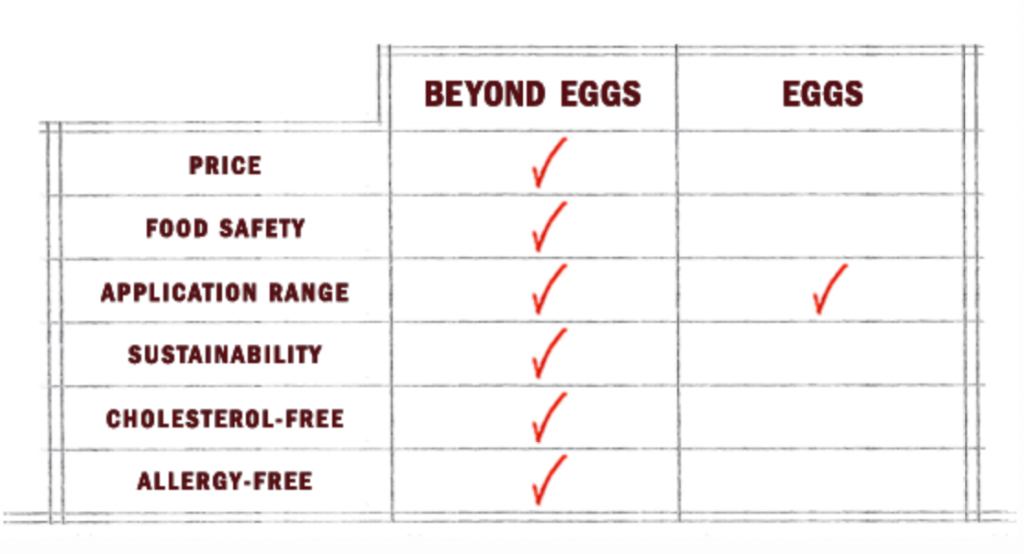 As a food blogger, I spend a ton of time considering how new products might benefit me in my own kitchen, or how they'll be of use to my readers. I give less thought to major food manufacturers. Change begins with each of us, but of course, food companies wield tremendous power, too, and the bigger they are, the greater their influence. Just imagine how many less eggs would be used each year if a major cookie, cracker, or pastry manufacturer switched to Beyond Eggs? And since Josh's goal is to make Beyond Eggs more affordable for food manufacturers than eggs, these companies will benefit as well.

Speaking of companies, when I asked Josh about his company values, he said they were these:
Everything matters
Giving back: Hampton Creek works with Boys and Girls Club in San Francisco, and they're also working with USAID to provide food to Nigeria
Any of Josh's personal profits from the sale or IPO of the company will be allocated to a trust will go to a non-profit committed to solving global problems
Again, I was inspired by how sincerely Josh wants to give back to the world around him. Beyond Eggs is a vegan product, and farm animals are clearly on Josh's mind, but to anyone who has ever claimed that vegans are too busy helping animals to care about other human beings, I'd say that Hampton Creek demonstrates that compassion can be directed in many directions at once.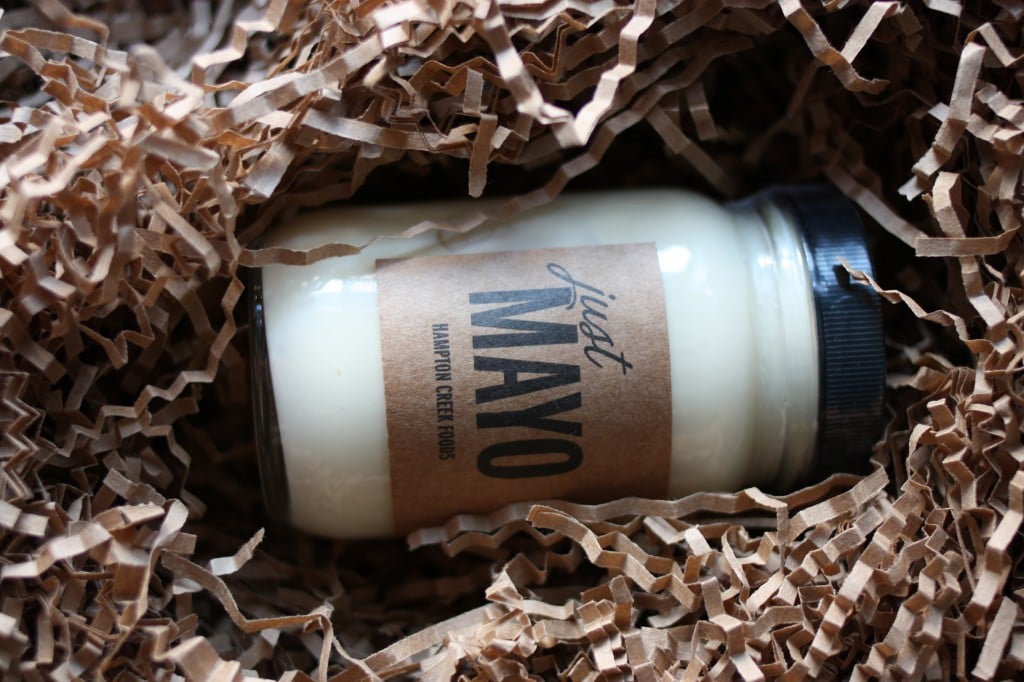 In order to give me a sense of how authentic and useful Beyond Eggs can be, the Hampton Creek team sent me some of their Just Mayo. It's a full fat mayonnaise that uses Beyond Eggs (and its magical yellow pea protein) in place of egg yolk in the emulsification process. It's also
non-GMO
vegan
cholesterol free
dairy free
egg free
gluten free
soy free
kosher
…and contains no artificial colors or flavors. Phew! That's one very special vegan mayo!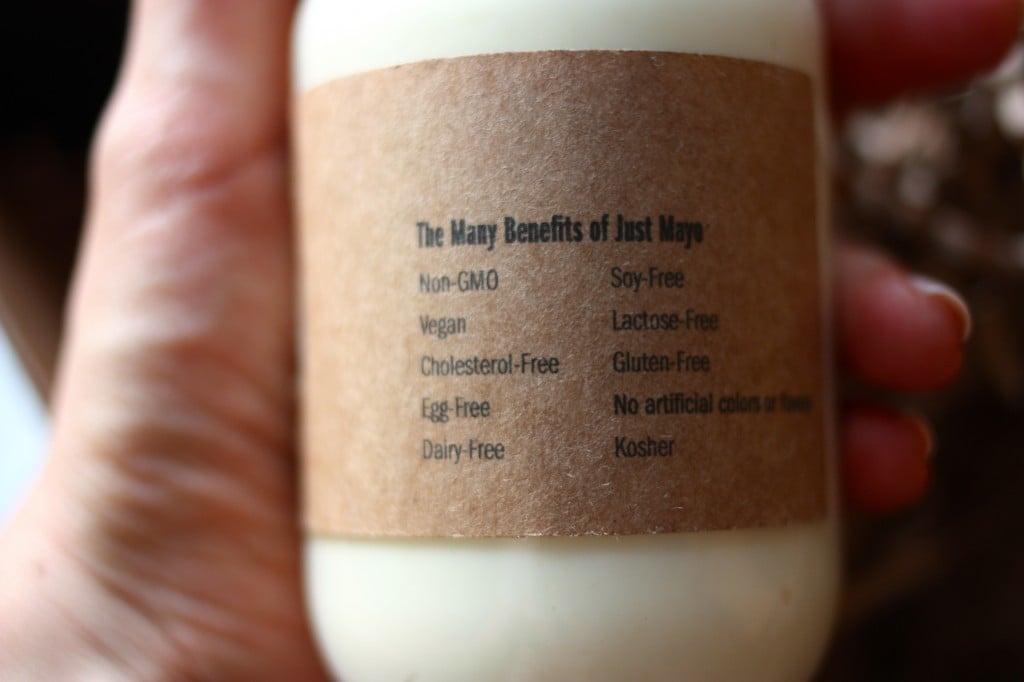 Here's how it compares to the "real" thing, nutritionally speaking.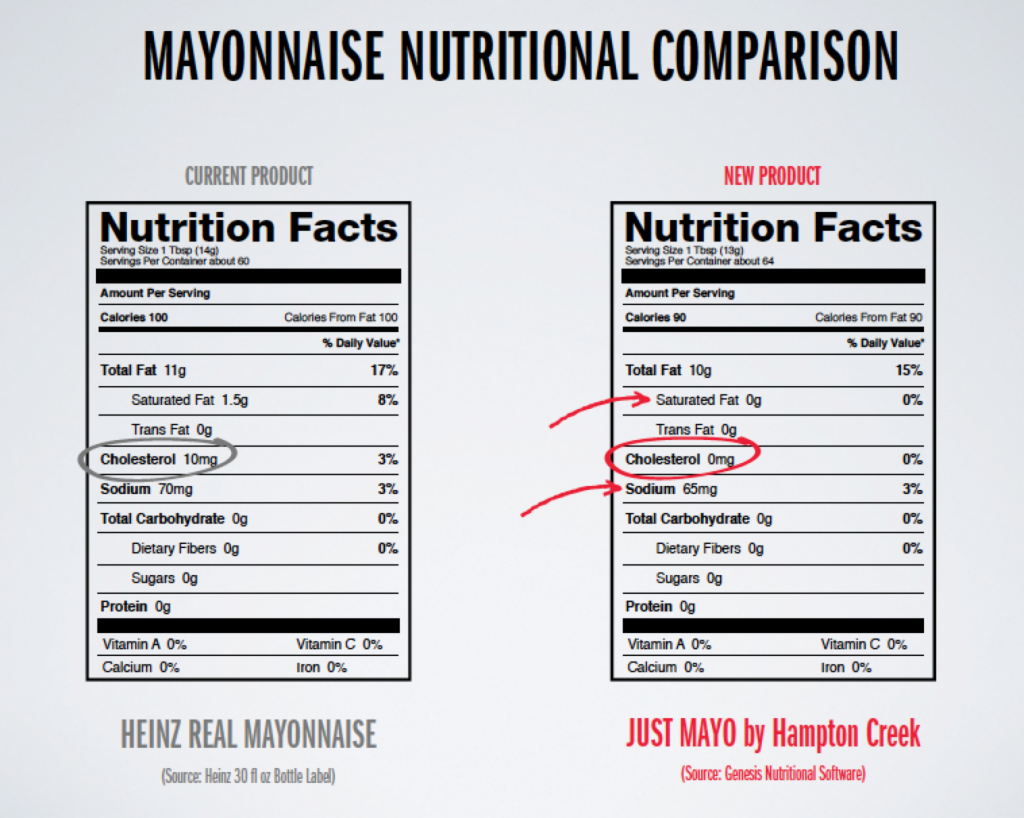 I've been a fan of Vegenaise for a while; they make a great product, and I've even gotten my mom to use them, which means they pass the omnivore taste test. That said, it's always good to have more options on the market, and I must confess that Just Mayo won my personal taste test! It was so, so good–just the perfect amount of tanginess, and the texture is spot on.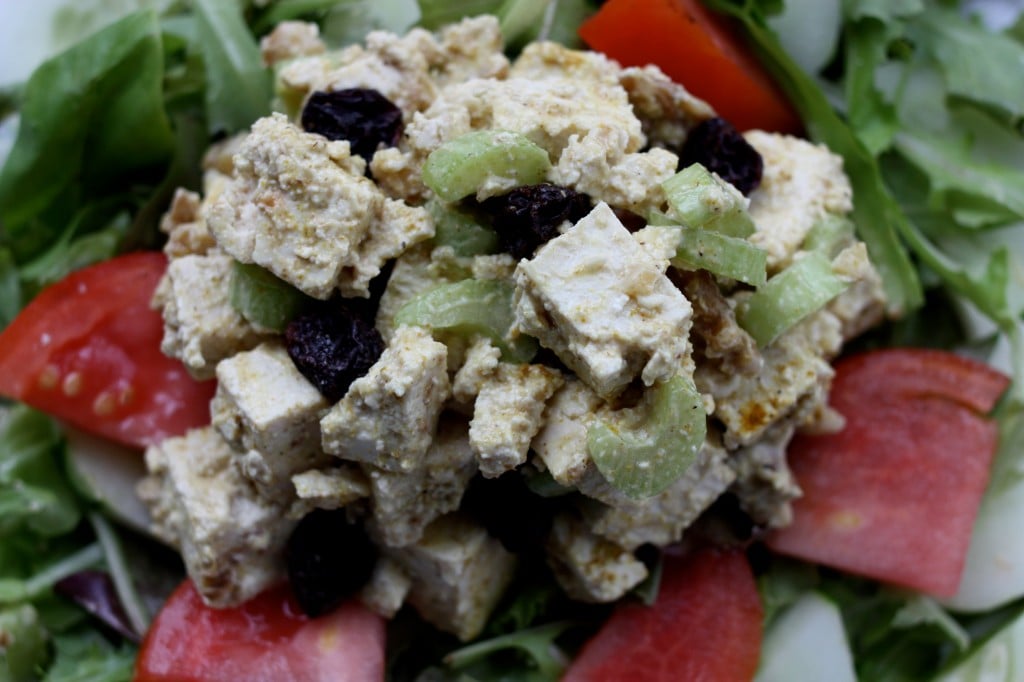 My favorite use for mayo is probably curried tofu salad: this was a staple for me when I first went vegan and was packing up a lot of work lunches. I've loved the dish ever since, and it still holds all sorts of nostalgic appeal for me. These days, I make it with tahini, rather than mayo, but I was really excited to try it with this new product. Here's the recipe I followed. Since Just Mayo isn't commercially available yet, I've included instructions for making the dish with a vegan mayo of choice, or tahini.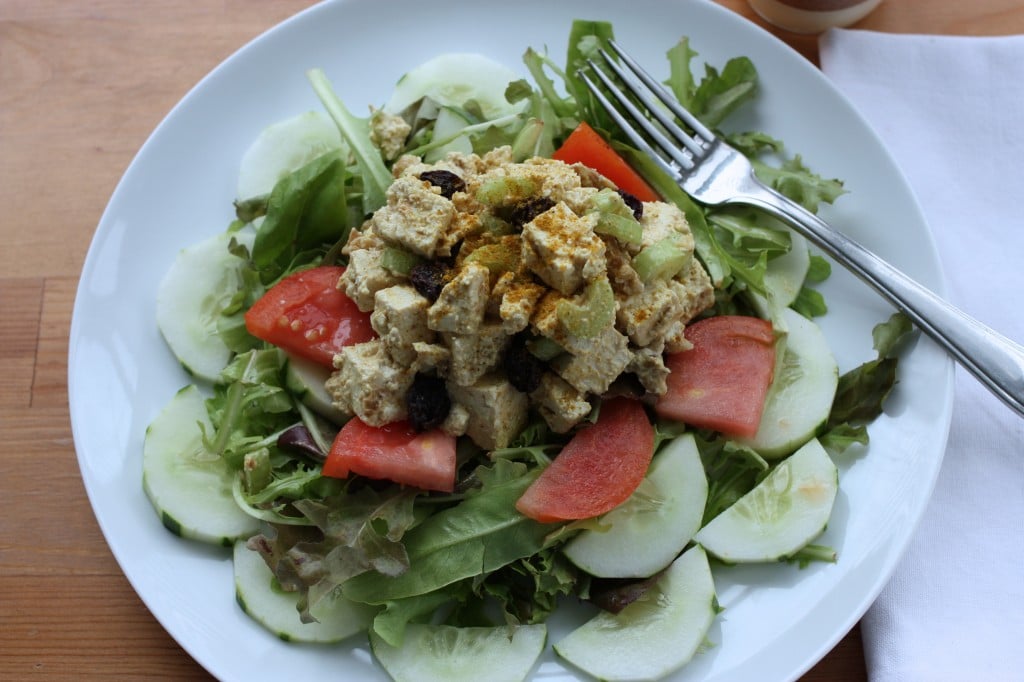 Curried Tofu Salad (vegan, gluten free)
Author -
5

tablespoons

vegan mayo of choice or 4 tbsp tahini

1 1/2

tablespoons

Dijon mustard

Pinch

sea salt

about 1/8 teaspoon

1

tsp

mild curry powder

1

tablespoon

apple cider vinegar

1

package

16 ounces sprouted extra or super firm tofu (I like Nasoya sprouted super firm or Twin Oaks sprouted original), cut into 1/2 inch cubes

1/2

cup

diced celery

1/4

cup

raisins

1/4

cup

toasted or raw walnuts

chopped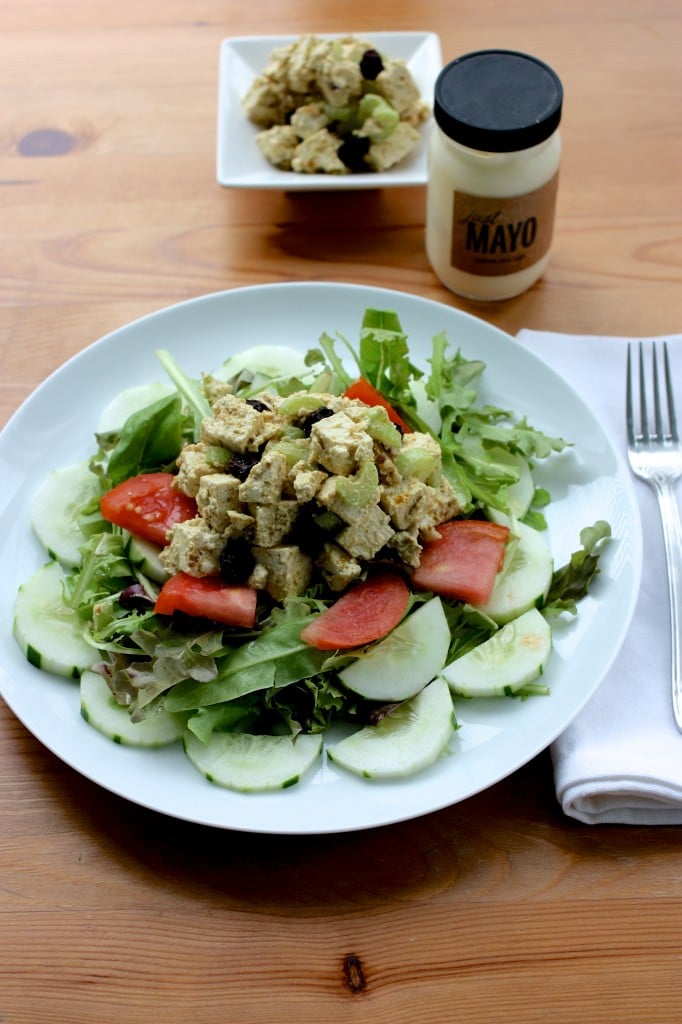 So what's next for Hampton Creek Foods? Soon, Just Mayo will be replacing Whole Foods' mayo in the prepared foods in select regions. Within the next four to six months, a consumer-facing version of Just Mayo should be available. Meanwhile, Beyond Eggs for cookies should be available in the next three to six months, and more versions of the product will be release after that. The price point of Just Mayo is TBD.The scrambled egg product that Hampton Creek Foods is working on will feature an ingredient native to South America–super secret for now. And the team is also working on a product called "Eat the Dough"–a vegan, gluten free, and totally edible cookie dough that uses sorghum as a primary ingredient.In all, it was very exciting to chat with the Hampton Creek team about their upcoming work. It's great to see socially responsible, passionate, and committed brands like this emerging in the vegan food world, and I'm also struck by their sourcing of non-GMO, gluten free ingredients. I look forward to giving you more info on what the company is up to–and you can be sure I'll announce it when Just May or Beyond Eggs is hitting stores!
For now, you can: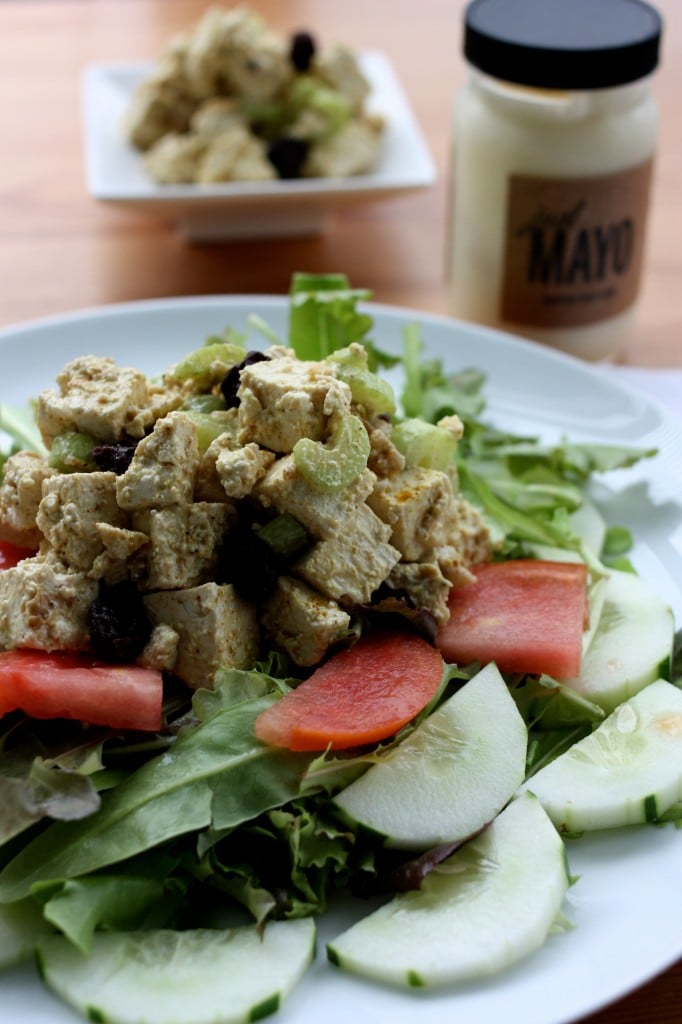 Till tomorrow, I bid you happy Sunday!
xo