Thanks, everyone, for all the feedback to my travel posts so far! Since a ton of you have asked: the dress yesterday was Anthropologie, purchased on eBay. The boots are vintage vegan (pleather from the 80's, in other words), which I got on Etsy.
Today was another stellar day in Fog City. Whereas yesterday had greeted us with gray skies, I pulled open my curtains bright and early this morning to find a sunny, clear horizon. Which was a good thing, since we had a bike excursion planned.
I went downstairs to the hotel gym for a terrific morning workout, then came back to my room to change. By the time that I met Chloe and Knud, and we all made our way to Ghiardelli Square for our bike rentals , I was beyond hangry! It didn't have the most vegan friendly menu, but The Buena Vista was close to our location, so we just decided to park there for breakfast.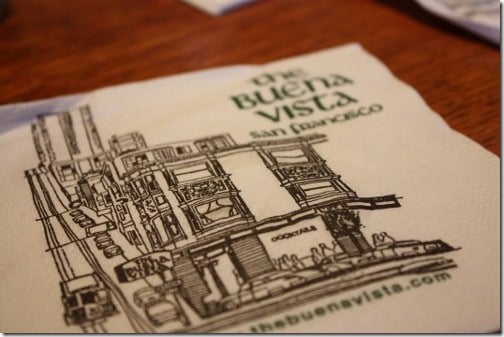 I started with coffee, fruit, and a spot of fresh OJ:
…and was surprised at how decent the coffee was, for a touristy spot. Since oatmeal, granola, and other vegan friendly items were nowhere to be seen, it was time to fall back on some of the breakfast staples I had stuffed into my purse: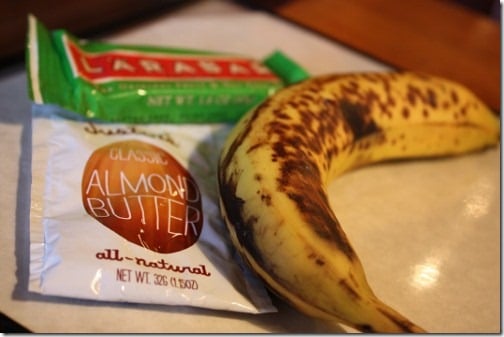 Fresh toast was on the menu, so I decided to do banana, nut butter, and toast. Normally I would order whole wheat, of course, but I figured I had to sample some of the famous San Francisco sourdough before I went home! Most sourdough recipes I've seen (and unsuccessfully tried—I'm a terrible bread maker) have been vegan, and our waitress confirmed that this stuff was milk- and egg-free, so we were good to go. Ironically, my first serving came slathered in butter. (I'd forgotten that it's commonplace outside of NYC for bread to automatically be buttered.) The waitress very kindly brought me a dry order of toast, and I got to making my brekkie: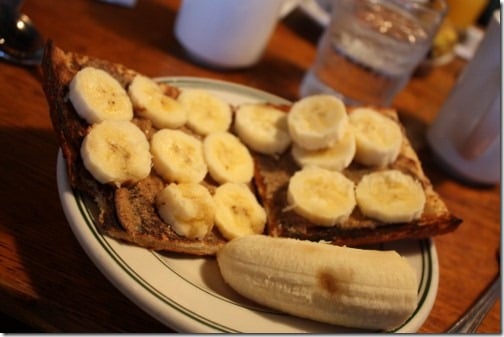 And now, came the fun part of our morning: biking riding across the Golden Gate Bridge and into Sausalito. This was Chloe's idea, and when I heard it, I was excited. There was, however, one small problem: I'm scared of bikes. Like, really scared. I haven't been on a bike in years, maybe ten or fifteen. I kid you not–all things involving speed tend to scare me: fast cars, amusement park rides, running at a pace above 5 miles per hour (OK, maybe that one is just laziness). There's no valid reason that I should be able to rollerblade regularly (which I do) and yet harbor a terror of biking, but I do. Can't you tell from that nervous look on my face?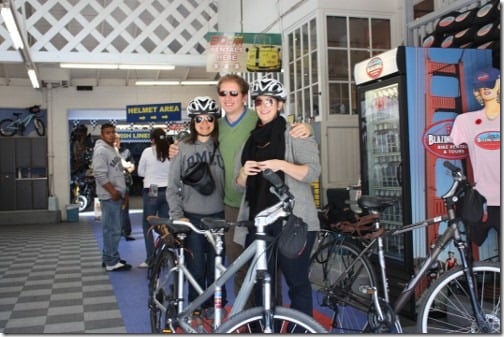 It's appropriate that I should have my first bike experience in years on a vacation with Chloe, because I think the last time I rode a bike was also with Chloe. We were kids, and she and her family used to spend each summer in Nantucket. I'd go out to visit them, where bikes were the main method of transport. I was always too scared to ride my own, so Chloe would let me ride on the back of hers.
Chloe has always been fearless in ways that I'm not. When we were little, she did all of the things that frightened me: sleepaway camp, varsity sports, travel abroad. She was even socially fearless in ways I wasn't (thankfully, my inner social butterfly emerged in college, and no one who met me now would ever believe I was once shy). I always regarded Chloe—as did other peers—with an awe at her intrepid nature. I still do: after all, she did move to a new state a few years ago, and I can barely make it out of the 10024 zipcode.
I'm not getting down on myself, trust me. I'm fearless in ways that are indirect: I'm fearless in my career, fearless when it comes to meeting new people, fearless in pursuing the things I want. But still, I look to Chloe when I need a push in the direction of everyday courage and spunk. So it was mighty appropriate that she and I decided to recreate the Nantucket days of yore by renting a tandem. Yes, a tandem: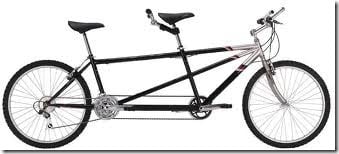 Even Chloe was scared to navigate this thing. That was actually a little comforting. But navigate she did—all along this stunning bit of shoreline:
I was scared half to death for the first mile or so, but watching Chloe's purposeful and steady pedaling made me feel better. What an adorable, cheesy metaphor for the way I look up to her.
Here's the brave bike rider, smiling for the camera:
Soon enough, we got to the really scenic part of the trip: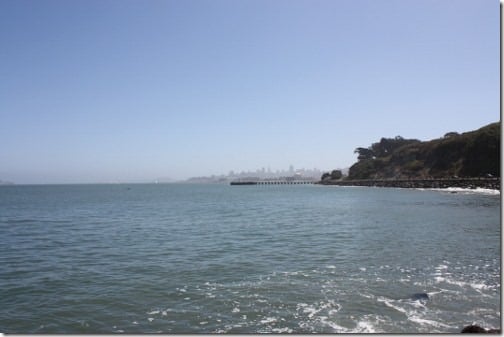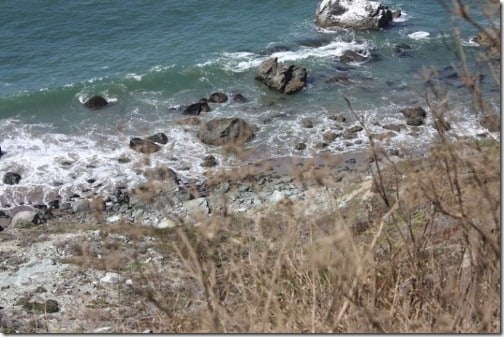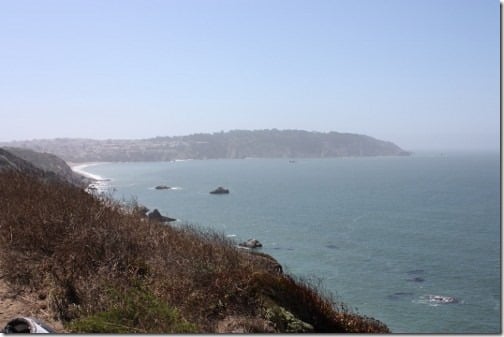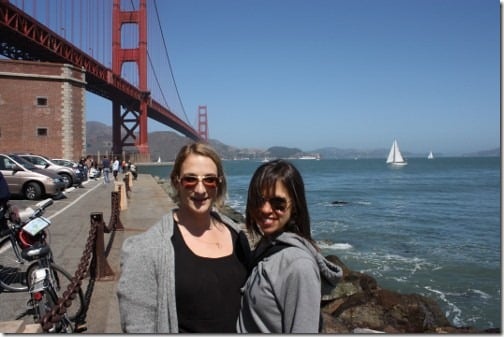 We were trying really hard not to hum John Phillips. We weren't successful.
After some uphill huffing and puffing, we finally made it over the bridge. From there, it was a series of winding downhills (thank goodness) to the quaint, touristy town of Sausalito. Needless to say, our first order of business upon arrival was the procurement of lunch. STAT.
None of us had the patience or energy to be very picky about where we sat, so we settled quickly upon Poggio. This was one of those menus that looks deceptively vegan: lots of salads, lots of cotorni involving veggies. Look a little closer, though, and you see that all of the salads include cheese, and then you get to wondering how abundant they'll be without it.
I did what I always do with most restaurant lunch menus, which was to order two salads. One was butter lettuce, tomato, and carrots, hold the cheese please, and the other was frisee, nectarines, and candied walnuts, hold the chicken, please. Both were decent, but the portions were iddy biddy, and neither was stellar.
For that reason, I added the Larabar I'd had with me to the butter lettuce salad. It helped keep me sated. Chloe got a corn pudding that was more custard than pudding, arugula with parmigianno, and a bruschetta with baccala and egg: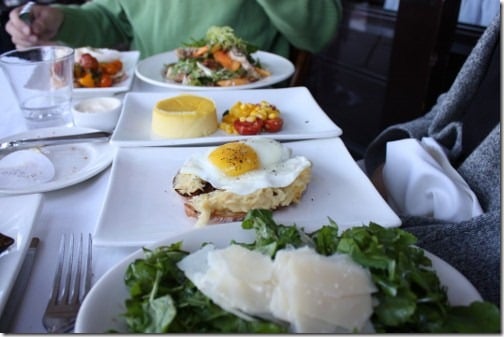 Knud got a pasta dish, the same frissee salad I got with the chicken, and an egg dish, from which I stole his delicious cherry tomatoes: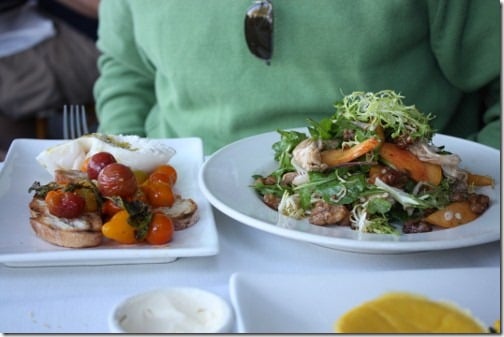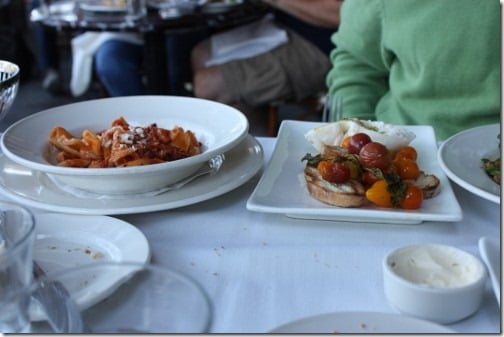 Chloe and Knud both felt that the food could have been better, but none of us were downright unhappy with our meals. Clearly not—check out the goofy photos!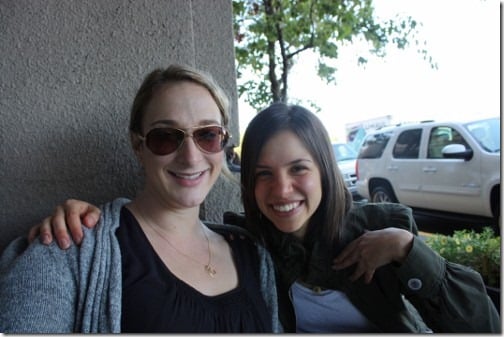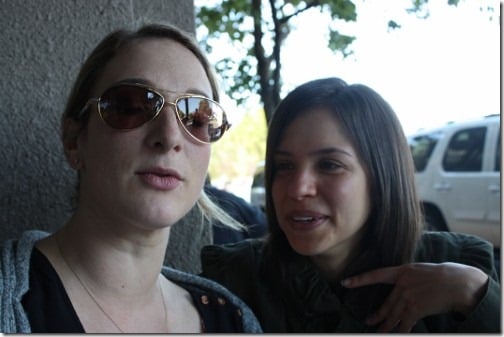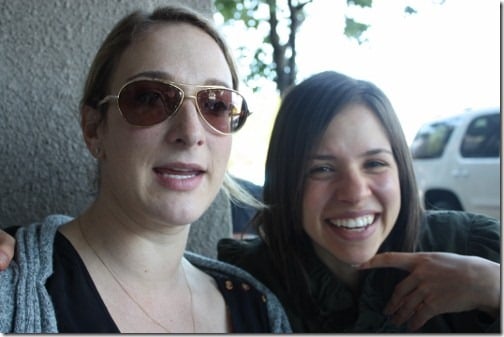 After lunch, we strolled around a bit on the docs, before finally catching the ferry back to San Fran. These activities also offered us some spectacular views. I feel as though San Francisco simply has more photo ops than I can bear: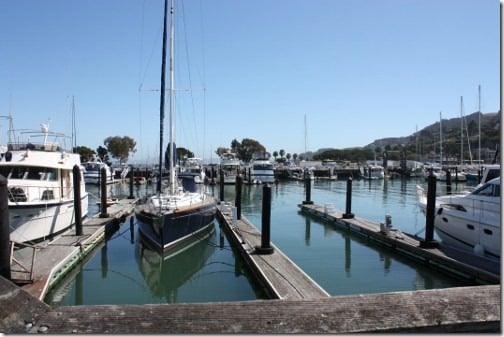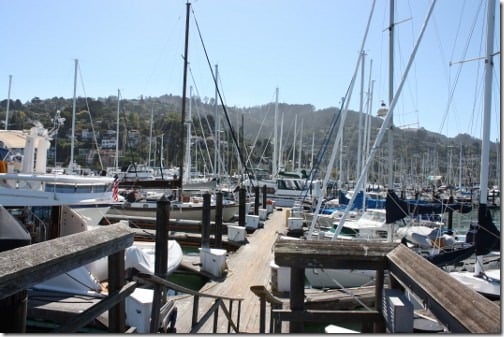 Another day in paradise.
Yesterday, it was easy to be a semi-raw vegan tourist. I was at a farmer's market abounding in fresh produce, and with at least one raw, vegan food stand. And I had dinner at every high raw vegan's dream restaurant!
Today, it was a little harder, since we were in more touristy spots and looking for meals on the go. I could have insisted that we find more vegan friendly dining options, but my hunger nearly always trumps my pickiness. Instead, I come prepared. Rather than being relegated to toast and fruit salad (which I don't even really like) for breakfast, I added a fruit I love (banana) and healthy, monounsaturated, vegan fats (nut butter) to the meal, giving it density, satiety, and taste. Rather than having a lunch of lettuce leaves and a few candied walnuts, I up the volume a little with a fruit+nut bar. If I hadn't had these foods on hand, I'd have been a lot hungrier today.
Yesterday, my roomstar commented, "Isn't having friends who support our love of raw and green foods amazing?? Chloe seems like such a great friend, and I love considering how differently you two eat, you each could find a bounty of choices that you loved." This is a great observation: Chloe and I are foodies of a very different feather (though we have a ton of common likes and dislikes, too, and she's a big fan of green cuisine). We're united by the fact that we both love food and food talk.
But it's also worth noting that having vegan-friendly friends is a two way street. Chloe and Knud are awesomely open minded. But I'm also a very easygoing vegan, and part of this is because I'm always a prepared vegan. Don't misunderstand: I have no problem being outspoken when I need to be. I'll make special requests in restaurants, be a diva if I don't like something, and get a manager out at my table if someone doesn't know whether or not the soup contains cream. If people don't like it, they can kiss my vegan you-know-what. But I'm also well aware of the fact that my lifestyle choices are not the same as most other peoples' choices, and for that reason I will very often be in situations where I don't have all of the options I wish I had. I come to these situations prepared: I bring foods and add ons that I know I might need, and I always bring a rosy, laid back attitude. This makes it easy for the people around me not to fret about whether or not I "there's anything I can eat" in this or that restaurant, or about my being full enough. I take care of my own dining needs. And I strongly suggest that all fellow vegans—or anyone with specific food tastes and needs—do similarly. It makes travel and day trips so much easier.
Truth be told, that lunch still wasn't quite as filling as a hungry Gena would have liked. By the time I was back in my room at 6, I was already famished again. Fortunately, I had a vegan dream meal at Millennium planned for 7:30. Having just returned from this meal, I can tell you right now that it's one of the five best meals I've ever had. But I am a sleepy girl, and so you'll all simply have to wait till tomorrow morning for my recap!
xo