Everyone,
A quick, somewhat sleepy post to thank you all for the tremendous outpouring of sweet birthday wishes today. I am so lucky to have been in your thoughts! Thank you, thank you.
I hope you're not tired of restaurant food porn yet: I have yet another fine birthday meal to share with you! This one was at Candle 79, an all vegan and semi-raw eatery on the Upper East Side. As much as Pure holds a special place in my heart, Candle is my Mom's vegan dining spot of choice, since it has both raw and cooked options for her. And I'm always happy to oblige: Candle has a cozy, yet upscale environment, a fresh and seasonal menu, and an exceptionally sweet wait staff.
Tonight's dinner began with two spectacular appetizers. I got the live avocado tartare, which was inredible: I hate to admit that anything rivals my own guac, but this certainly does. It's like guacamole, but slightly more textured and thicker. And, best of all, it's onion-free!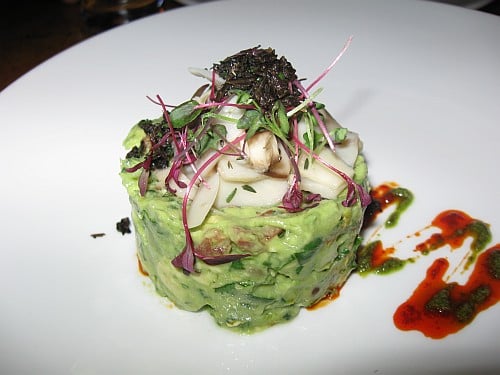 My mom got the cauliflower soup, which was drizzled with some sort of chipotle oil to give it a nice flavor.
For entrees, Mom got the restaurant's signature dish: the seitan piccata. I don't need to say much about this masterful vegan creation, since so many bloggers before me have waxed poetic. But I will say that this is the ideal meal for anyone who is discovering vegan cuisine: it's light, yet it has all of the heft of a traditional meat dinner. And though I don't love meat analogs, it's a great option for newbies (and the house made seitan is particularly good). Mom devoured the dish before I remembered to photo (as usual), but I'm borrowing a jpeg from my friend Erica:
After my feast last night, I was craving something simple and green. So I combined two salads: the spring market salad (with extra avo) and the rocket arugula salad. These were fresh and very seasonal, flecked with spring peas and roast asparagus. It was a delicious, green plate:
And there was also dessert! Mom and I split the amazing chocolate mousse cake. Like an idiot, though, I forgot to photo. I'm going to have to work on this. I don't know how you food journalers do it!
It was a lovely meal – the perfect end to a great birthday weekend. I said it once today already, but I really can't get over how lucky I am. And to demonstrate this, I leave you with a photo of me and my Mother. Of all the blessings in my life, having a Mom who is also my best friend, confidant, restaurant companion, number one fan, and source of inspiration, is the most dear to me.
And now, another work week begins. Night all 🙂
xo