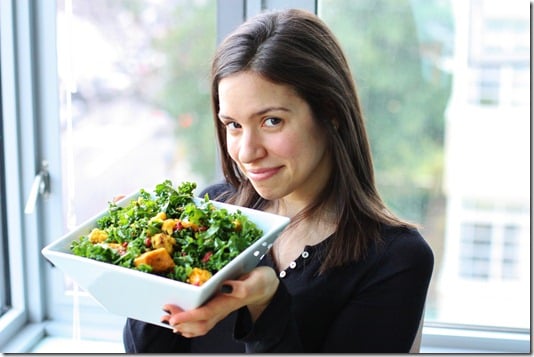 Hey all! Thanks for the comments on yesterday's post. I think Lia summed it up best by saying that the post was an illustration of the fact that health is about "so much more than food." Wise words, and important ones to remember in the food blog realm.
I have not been as excited about a salad as I am about today kale salad with roasted kabocha squash and cauliflower, candied pumpkin seeds, goji berries, and turmeric lemon vinaigrette in a long time. I'm calling the salad bitter, salty, sour, and sweet to evoke the fact that it speaks to nearly all of our tastes. I also want to emphasize that this salad is incredibly whole—a meal unto itself.
So how did this exceptional salad come to be? It all started with Kathy's Show Me Your Salad'tude Contest. As you probably know, Kathy Patalsky is both a good friend and the talented powerhouse behind Healthy, Happy Life. Reading Kathy's blog, which is full of gorgeous photos, culinary creativity, and passion for the vegan lifestyle, teaches me how to be a better blogger. I am excited about her upcoming cookbook (365 Vegan Smoothies), but even more excited at how ably she brings vegan cooking into mainstream consciousness with her accessible and delicious creations.
Recently, Kathy was given the chance to offer one of her readers a free ticket to Napa Valley for a special salad event, courtesy of the folks at Dole, who are encouraging us all to embrace our "salad'tude." The grand prize includes a trip to Greystone, the Napa Valley, Calif., campus of the Culinary Institute of America and a chance to meet Clinton Kelly of ABC's The Chew, who will talk about how his childhood memories inspired a series of new Dole fall and winter salad recipes.
The last time I was in California, you may recall that it was for the Dole Summit, which is where I met Kathy! That was an exciting experience both because it was great fun, but also because it gave me a chance to see how a major food corporation is trying to spread enthusiasm for salad nationwide. Dole was launching a ton of new salad kits, and they were also expanding their organic program. The organic program is now growing, as is Dole's ongoing mission to promote salad as way more than a side dish. The Dole mission statement for this event says: "Salad is more than just food. It is a form of self expression." I could not agree more.
I was especially excited to hear that Dole, which is hosting this contest nationally, gave Kathy one individual ticket for a Healthy Happy Life reader who created a gorgeous vegan salad. I'd love to see a vegan dish represented among the winners, and I'd also love to see a vegan home cook make it to the Napa trip! A huge part of vegan activism is showing the world that vegan cuisine dishes can compete with omni ones, and also to voice the vegan ethos in the presence of major corporate tastemakers. Hurray for Kathy for making this happen!
The rules of the contest were to submit a photo with you and your salad creation, and to include in that photo a slogan that expresses your personal "salad'tude." I knew right away what my salad'tude is: it's the belief that salad is complete. It's not a puny side dish, and it's not a tasteless "health food." As one of my favorite CR posts of all time shows, salad can be a whole, beautiful meal. I also wanted to express the fact that, for me, salad can enliven all of the five senses.
And that's how this salad—my bitter, salty, sour, sweet salad—came to be!
Bitter. Bitter is the slight bite of raw kale, just before you "massage" it into soft, salad-worthy perfection.
Salty: Salty is the kiss of Himalayan crystal salt in a tangy vinaigrette.
Sour: Is freshly squeezed lemon juice, lip-puckering and tartly delicious!
Sweet: Is plump goji berries, maple cinnamon kissed candied pumpkin seeds, and velvety kabocha squash.
And finally, I should say that the turmeric lemon dressing is pungent, packing a vibrant and fragrant bite! But it was hard to make "pungent" rhyme, so it stayed outside of my title.
This salad is bursting with nutrition, starting with the kale, which may be nature's most nutrient rich green. Vitamins A, C, K, fiber, iron, protein, antioxidants, calcium…the list goes on and on. Let's look at the other sources of potent nutrition:
Goji berries: Rich in protein and powerful antioxidants.
Pumpkin seeds: A great source of zinc, as well as protein, magnesium, and iron.
Kabocha squash: Rich in beta-carotene.
Cauliflower: An excellent source of Vitamins C and K, as well as folate and vitamin B6, cauliflower is a powerful anti-oxidant and may have anti-inflammatory properties as well.
What a nutritional powerhouse!
If you want to create this amazingly hearty and delicious salad at home, here's how you do it.
Bitter, Salty, Sour and Sweet: Kale Salad with Roasted Kabocha Squash, Candied Pumpkin Seeds, Goji Berries, and Lemon Turmeric Vinaigrette.
Serves 4
1 medium bunch curly kale, washed, dried, and chopped into small pieces
1 small kabocha squash, halved, seeds, removed, and chopped into 1.5 inch pieces
1 small head cauliflower, washed and chopped into small florets
2 tbsp coconut or olive oil
Sea salt and pepper to taste
1/3 cup maple cinnamon candied pumpkin seeds, crumbled a little
1/4 cup goji berries
1/2 cup hemp, flax, sacha inchi, or olive oil
1/4 cup orange juice
2 tbsp lemon juice
1 tsp turmeric
1/4 tsp ground ginger
2 tbsp agave or maple syrup
1/4 tsp sea salt (or to taste)
1. Prepare candied pumpkin seeds, either by dehydrating or in the oven.
2. Toss the squash in 1 tbsp oil and season with salt and pepper. Toss the cauliflower in the other tablespoon and season with salt and pepper. Roast both veggies at 375 degrees for 20-30 minutes (the cauliflower will cook faster), till golden brown and fragrant. Remove from oven and let cool.
3. Place the kale, goji berries, and pumpkin seeds in a large bowl. Whisk together the olive oil, lemon juice, turmeric, maple syrup or agave, ginger, and sea salt, or use a blender to emulsify them.
4. "Massage" about 1/4 cup of the dressing into the kale, gojis, and seeds. Add more dressing as needed–you may need about 6 tablespoons total. When the salad is well coated and taking on a soft texture, toss in the kabocha and the cauliflower. Serve!
As you can see, I was very happy with my giant bowl of green:
So, so happy…
And so, so ready for a whole meal.
As you can see, there's nothing wimpy about this dinner bowl. Here's my final submission to Kathy's contest, which I hope summed it all up: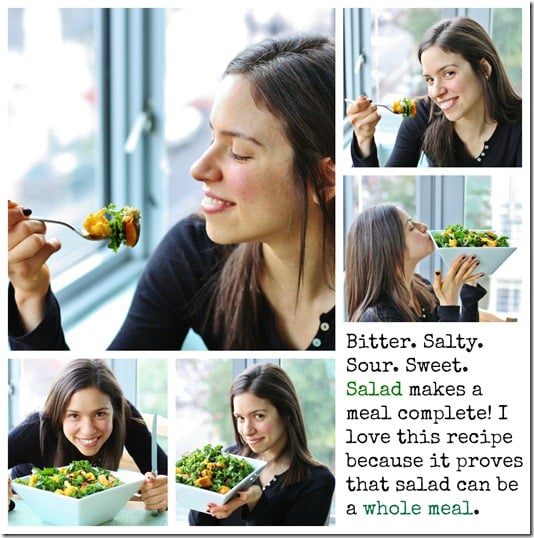 If you'd like to vote for my bitter, salty, sour, sweet salad in the Show me Your Salad'tude contest, I would be so, so grateful to you! It's a really easy, one-click process, and of course you'll get a chance to peek at the other fine entries. I am #4. Click here to vote!
And I want to say that there were 15 other amazing, vegan salad entries submitted to Kathy's contest, from such talented fellow bloggers as the wonderful Jenne (Sweet Potato Soul), Cailin (The Vegan Chickpea), and Sayward, who is one of my all time favorite people. If you like one of their recipes more, please feel free to support them. I'd love your vote, but I'm honestly just excited to see vegan bloggers rising to this fun challenge, and delighted to know that one of them will be traveling to Napa to share their talent and point of view
Happy voting, and thank you!
xo