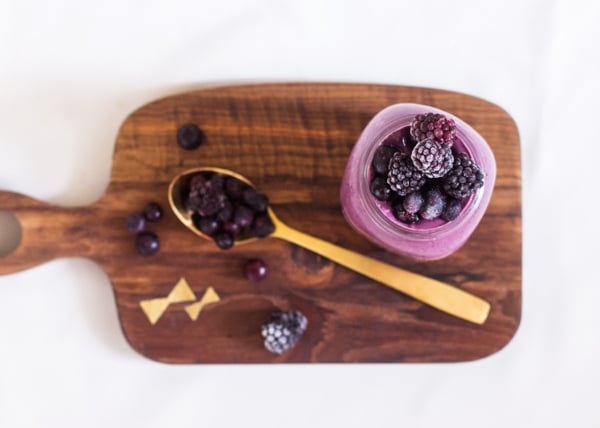 Black and blue smoothie is a weird title, I know. But maybe it'll make more sense if I just say that this is a blackberry and blueberry smoothie, and it's both delicious and nutritious.
There's also a little wordplay in the smoothie name, because I'm feeling somewhat bruised today. I got my term grades yesterday. And they weren't exactly what I'd hoped for—not after a semester's worth of all nighters and tutoring and an assignment that took me four hours apiece. Maybe I've always attached a lot of importance—too much importance—to grades (all numbers, really). Maybe this is all a lesson in detaching from the ego.
But be that as it may, failures hurt. And sometimes when life knocks us down–even in small ways, comfort can be found in nourishing food.
This smoothie has it all: sweetness, tons of body boosting phytonutrients, protein, and a thick, creamy texture. It's truly delicious, and while it may not be able to heal bruises, it is helping me to feel more appreciation and humility and detachment today. And that's good enough for me.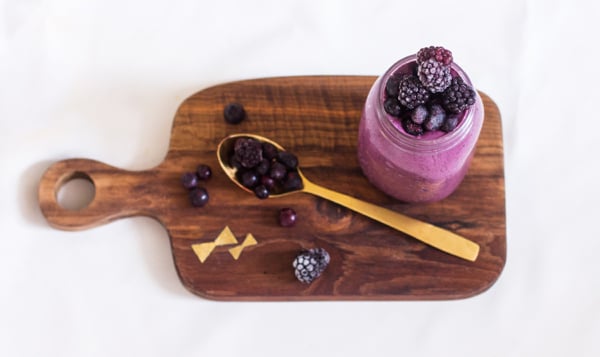 | | | |
| --- | --- | --- |
| Black and Blue Smoothie | | Print |
Cuisine:
vegan, gluten free, soy free option, tree nut free
Prep time:
Cook time:
Total time:
Ingredients
1 frozen banana
1 cup mixed blueberries and blackberries (fresh or frozen)
4 ice cubes
1 cup soy or almond milk
2 tablespoons shelled hemp seeds
Optional: 1 tablespoon hemp, pea, or brown rice protein powder
Instructions
Place all ingredients into a powerful blender and blend until they're completely smooth. Serve.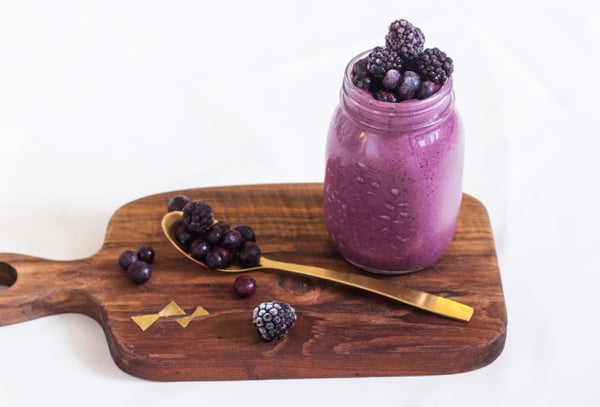 It's tempting, no matter how old and wise we become, to nurse our wounds for too long. I don't feel altogether better today, but I'm resisting the urge to mope, and I'm staying hopeful that my next semester will be easier than this one was. The bruises will heal fast.
Till tomorrow,
xo