To all those who are celebrating, I wish you a wonderful and restful holiday weekend. I'll be catching up on work, but doing so from my Mom's place in New York, which is restful and nice for both of us. In the meantime, I'm here to share one of the recipes I've recently featured as a part of my vegan lunch column for Food52. This is a quick, easy option when you're in a pinch, especially if you prep the black bean and corn filling ahead of time. If that's too much, you can add some plain beans or lentils–no need to dress them up!
As I was writing this column, I realized that "tostada" was sort of a misnomer, because the corn tortillas aren't fried, which is the traditional tostada preparation. Even so, the dish looked and tasted like tostadas to me. If you'd like to make it a little more authentic, you could heat the corn tortillas in a frying pan with some oil. Or you could call them burritos, or soft tacos…or whatever works. But the point is that these little guys make for a satisfying and tasty lunch. They're also good to bring to potlucks or cookouts, if you're attending any of those this weekend!
Black Bean and Corn Tostadas (vegan, gluten free*)
Author -
1/2

cup

onion

chopped

2

teaspoons

olive oil

1

cup

black beans

cooked

1

cup

raw or frozen and steamed corn

1/4

teaspoon

cumin powder

1/2

teaspoon

paprika

1/2

teaspoon

chili powder

1

tablespoon

lime juice

1/2

cup

jicama

diced (optional--jicama can be hard to find)

1

Haas avocado

sliced

4

corn tortillas

I like the sprouted corn tortillas from Food for Life
1. Heat the olive oil in a medium frying pan. Add the onion and cook for five minutes, or until soft. Add the black beans and corn, cumin, paprika, chili powder, and lime juice. Remove from heat. Stir in the jicama, if using.

2. Divide the corn and bean mixture among the four tortillas. Top with avocado slices and a sprinkle of greens, if you like (I went with arugula, my summertime favorite). Makes 4 servings.

*If you're extremely sensitive to gluten, corn tortillas may not be appropriate for you. Use a brand that you know and trust.
If you'd like a shortcut approach to this recipe, you can omit the onion and skip the cooking altogether. Simply toss the cooked black beans and corn with the seasonings, some olive oil, and the lime juice before piling them into your tortillas. Also delicious, and quicker for sure.
Of course, you can and should get creative with filling ideas. If you'd like to explore another one of my favorite recipes, check out my tortillas with creamy kale and toasted chickpeas!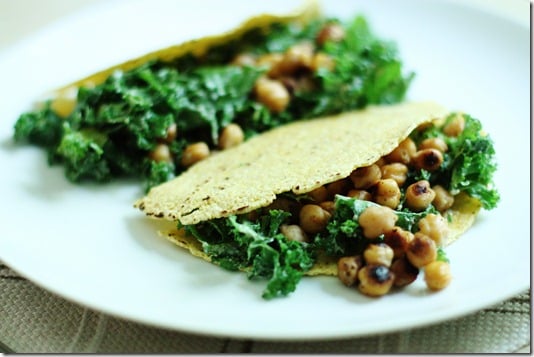 What will you be eating for lunch this weekend? I hope it's delightful, no matter what. And with that, happy Saturday, friends. Till very soon,
xo