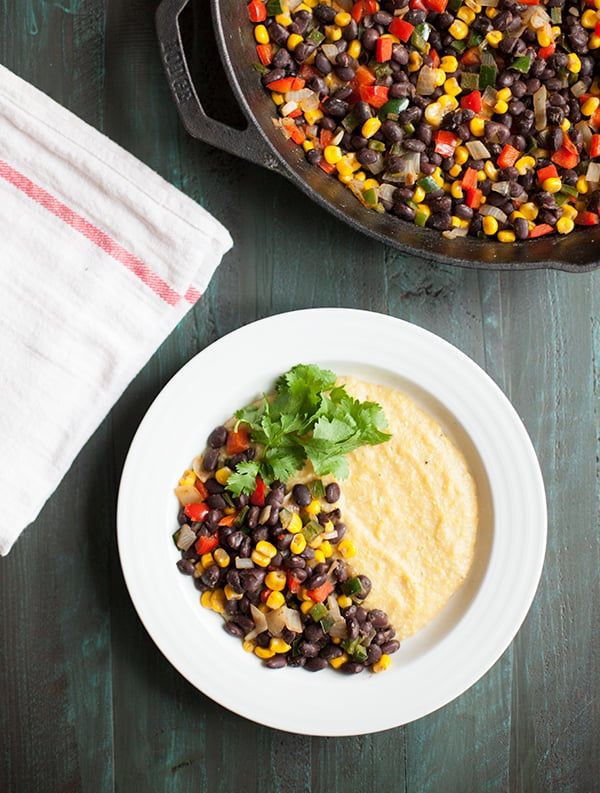 I like all of my meals far too much to make such bold statements as "breakfast is the most important meal of the day." But I do love breakfast a lot. I've always loved breakfast. As a kid, I relished Cream of Wheat and oats. In college, I loved swinging by the campus coffee hub for a grainy morning glory muffin (which wasn't vegan, but I've veganized a recipe of my own in years since). When I went vegan, I learned how to make killer bowls of oatmeal, tofu scrambles, all sorts of porridges employing ancient grains, and of course, my beloved bowls of chia pudding.
I think my attachment to breakfast is all the greater because it was a meal I sacrificed during my orthorexic period. I became persuaded that I had to delay eating for as long as possible each day (not an uncommon position in certain detox-oriented, raw food philosophies—the idea is that one's first meal will interrupt nighttime "detox" mode, oy) and did my best to sip juice till lunchtime. It was terrible, and I was always ravenous, staring at the clock and hoping the minutes would pass quickly until I gave myself permission to eat. In the years since my recovery, I've welcomed back breakfast with gusto, giving it the same thought and attention that I give to lunch or dinner.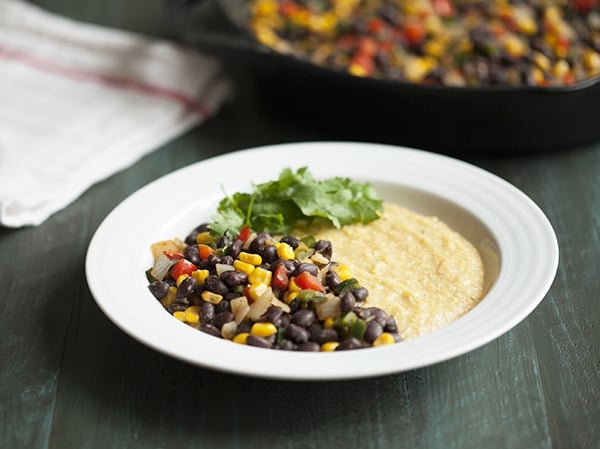 In spite of my devotion to my morning meal, I'm prone to breakfast ruts. I think most of us are: we find something that works with our schedules, and we stick to it. As someone who works from home part of the time, I'm in the happy position of being able to prepare different kinds of breakfasts in my own kitchen, and lately, I'm trying to take advantage of that freedom with more breakfast variety, and especially more savory breakfasts (tostadas, breakfast bowls, and, most recently, quiche).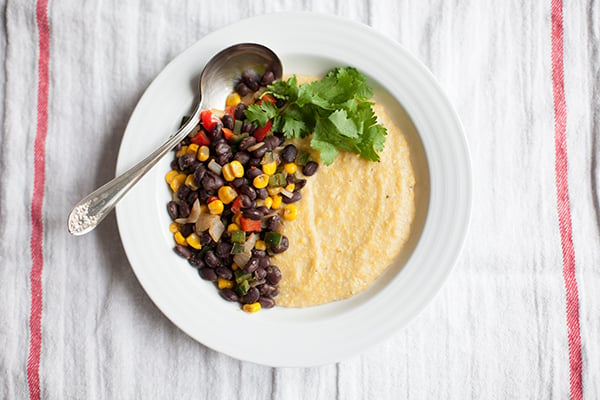 Today's recipe is a perfect example of a savory breakfast that's incredibly flavorful and filling, but also easy to make. Sure, it may not be a go-to option on a busy weekday if you're rushing out the door, but it's not a hassle, either. The polenta cooks up pretty quickly (I've always found that cooking polenta on the stovetop is faster than most recipes suggest—20 minutes, tops), and the skillet couldn't be simpler, especially if you have canned black beans at home. The flavors are bold, thanks to pepper and spice, and the resulting dish is hot and filling. Perfect for a weekend, or for a busy day.
Black Bean Skillet Scramble with Cheesy Polenta
Ingredients
*For the Polenta*:
4

cups

vegetable broth

½

teaspoon

salt

¾

cup

polenta

Pepper to taste

1

tablespoon

olive oil or Earth Balance

3

tablespoons

nutritional yeast
*For the Black Bean Skillet Scramble*:
1

tablespoon

olive oil

1

yellow or white onion

chopped

1

poblano pepper

chopped

1

red bell pepper

chopped

1

jalapeno pepper

chopped finely (optional)

1

cup

corn

fresh or frozen and thawed

½

teaspoon

ground coriander

½

teaspoon

ground chili powder

1/2

teaspoon

smoked paprika

¼

teaspoon

ground cinnamon

Dash red pepper flakes

2 ½

cups

cooked black beans

2

tablespoons

lime juice

1

cup

loosely packed

washed and chopped cilantro
Instructions
Prepare the polenta. Heat the vegetable broth in a medium or large pot until it comes to a boil. Add the salt. Lower it to a simmer. Whisk in the polenta.

Cook the polenta, stirring frequently. It will bubble and spatter aggressively, so you may want to wear an oven mitt as you do this! Once the polenta has the texture of a thick gruel or porridge, it's ready. Stir in the Earth Balance or olive oil, the nutritional yeast, and a dash of black pepper. Set the polenta aside.

Heat a tablespoon of olive oil in a large skillet. Add the onion and peppers. Cook, stirring frequently, until the onions are clear and soft and fragrant and the peppers are tender, about 5-8 minutes. If the mixture dries out as you sauté it, simply add a few tablespoons of water. Add the corn and cook for another two minutes. Add the coriander, chili, paprika, cinnamon, and pepper flakes, and give everything a nice stir.

Stir in the black beans and lime juice. Continue mixing until everything is hot and well incorporated. Check and adjust seasonings to taste.

To serve, divide the polenta into four bowls. Top each with a generous serving of the bean mixture, and then sprinkle a quarter cup of cilantro over the mixture. If you like, you can top each bowl with some sliced avocado or a nice, generous drizzle of my

cashew queso sauce

.
Are there more exotic ways to prepare polenta than this? Sure. I particularly love to stir in roasted garlic or chopped greens. But this recipe is all about ease, and this polenta tastes perfectly lovely without too many added ingredients. Steven happens to be a polenta fiend, and I use the recipe above as a base for plenty of meals, from chilis to stews to vegetable ragouts.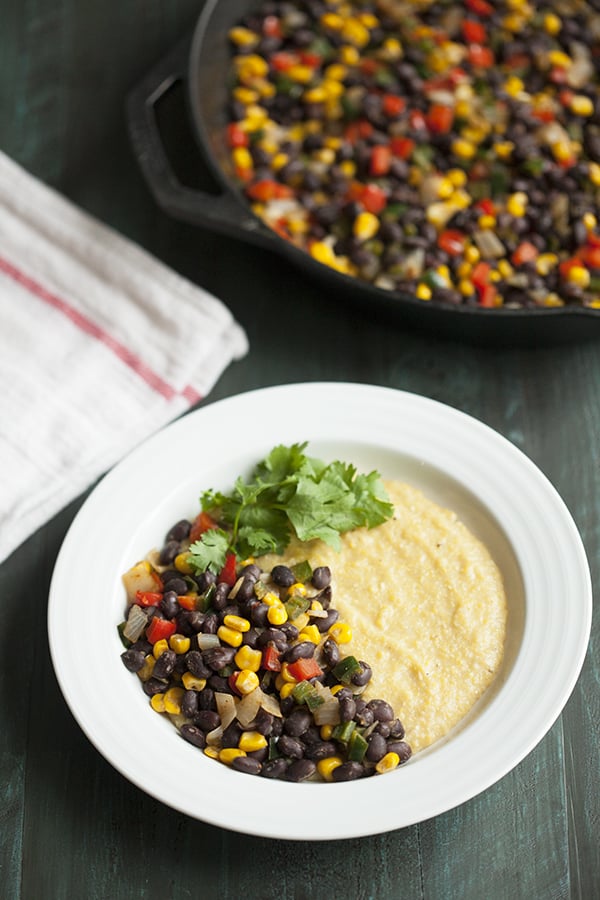 If you've been in a breakfast rut of your own, perhaps this recipe will encourage you to venture into new territories. The polenta alone is a wonderful breakfast idea, and it's so incredibly versatile.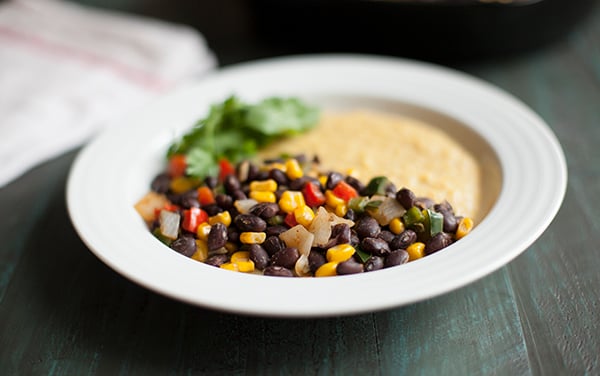 On that note, it's time for me to sit down to my own morning meal, and get to work. I'll return tomorrow with a fabulous new giveaway, so tune in soon!
xo
P.S. If you're into the bean scramble idea, check out my equally tasty (and easy) chickpea scramble!