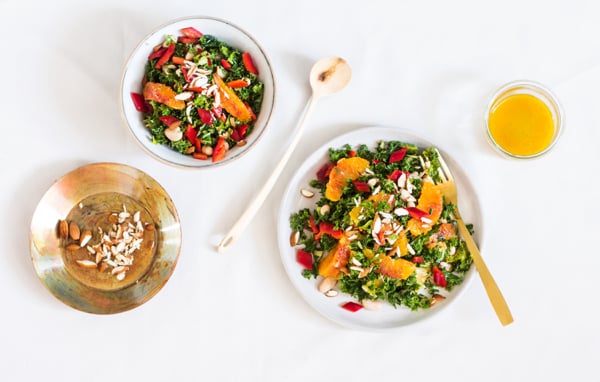 I can't believe I'm saying this, but my salads have been kind of boring lately. Usually, salad is my forte. It's the culinary zone in which my creativity and passion shines the most. But since most of my salads have gotten briskly packed up in my lunchbox lately, and eaten in a library carrel, it's been hard to focus on making them memorable.
When I saw my friend Ashley's blood orange kale salad with quinoa, however, I was inspired to create something with blood oranges and kale. Ultimately, my dish resembled hers closely, with the omission of quinoa because I was out of it (the horror). Not to fear: the salad was still delicious, bright, and incredibly beautiful.
Blood oranges, the star ingredient in this salad, are of course very high in Vitamin C. Unlike other citrus fruits, blood oranges contain anthocyanin, an antioxidant compound that is also responsible for the scarlet color in beets. It gives them their characteristic hue, which is so beautiful in dishes of all kinds. This is the season for blood oranges—they're typically grown and harvested between December and March—so it's worth picking some up if you see them at your market. I'm now in love with the simple vinaigrette I made for this salad, in which I used a whole, juiced blood orange!
Blood Orange Kale Salad with Almonds (Inspired by Edible Perspective)
Cuisine:
vegan, gluten free, soy free
Author:
Prep time:
Cook time:
Total time:
Serves:
2 large or 4 small servings
1 small bunch (about 8-10 leaves, stems removed) curly kale
3 blood oranges
1 cup chopped red bell pepper
1/2 cup toasted, sliced or slivered almonds
4 tablespoons extra virgin olive oil
1 tablespoon lemon juice
2 teaspoons maple syrup
Sea salt and black pepper to taste
1 tablespoon finely chopped shallots
De-stem the kale and tear it into bite sized pieces. Wash and dry the kale and set it aside. Remove the skins and pith from the oranges. Cut two of them into segments and set the third aside for the dressing.
Juice the orange you've set aside (you can use a citrus juicer, or just squeeze it through a sieve into a small bowl). Whisk together the blood orange juice, olive oil, lemon juice, maple syrup, and salt and pepper. Stir in the shallots.
Place the kale in a large mixing bowl. Add the dressing and use your hands to "massage" the dressing into the kale. You can use as much as you like; I like a very well-dressed kale salad!
Add the sectioned oranges and almonds and pepper to the salad. Mix everything well and serve.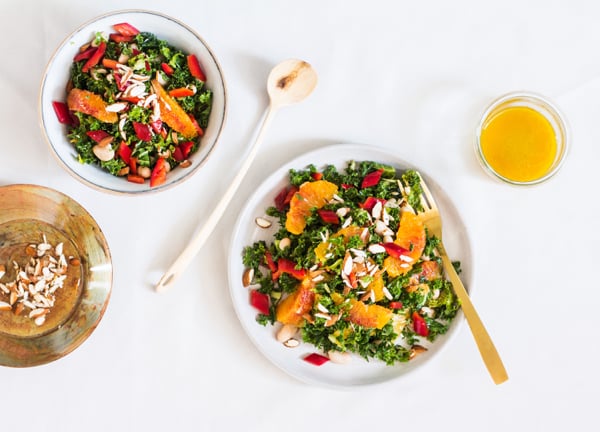 I'd recommend serving this salad with a winter grain pilaf and some grilled tofu. It's also great with a simple lunch sandwich or wrap.And that's it for today. I continue to get a lot of thoughtful comments on my Marie Claire "Vegan Myth" post, so thank you for those.
xo