These braised lentils on toast are one of my favorite all time, easy vegan dinners. They taste sophisticated in spite of being very simple, thanks to red wine and herbs.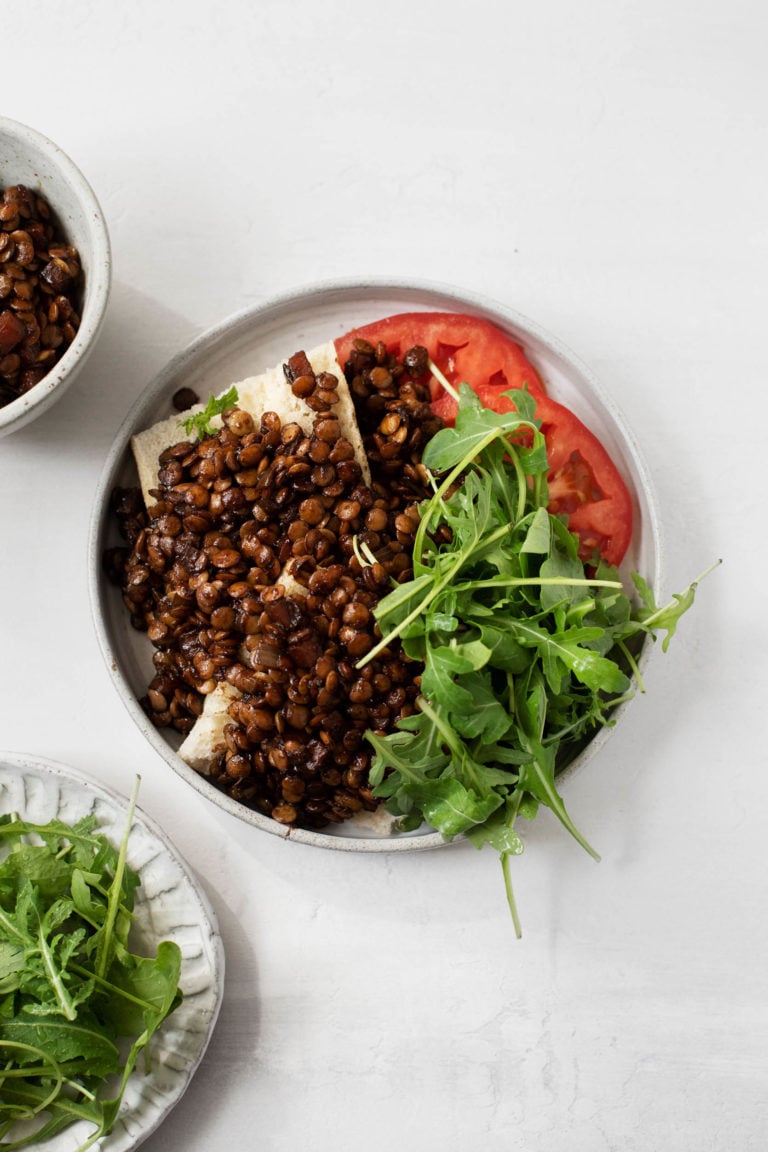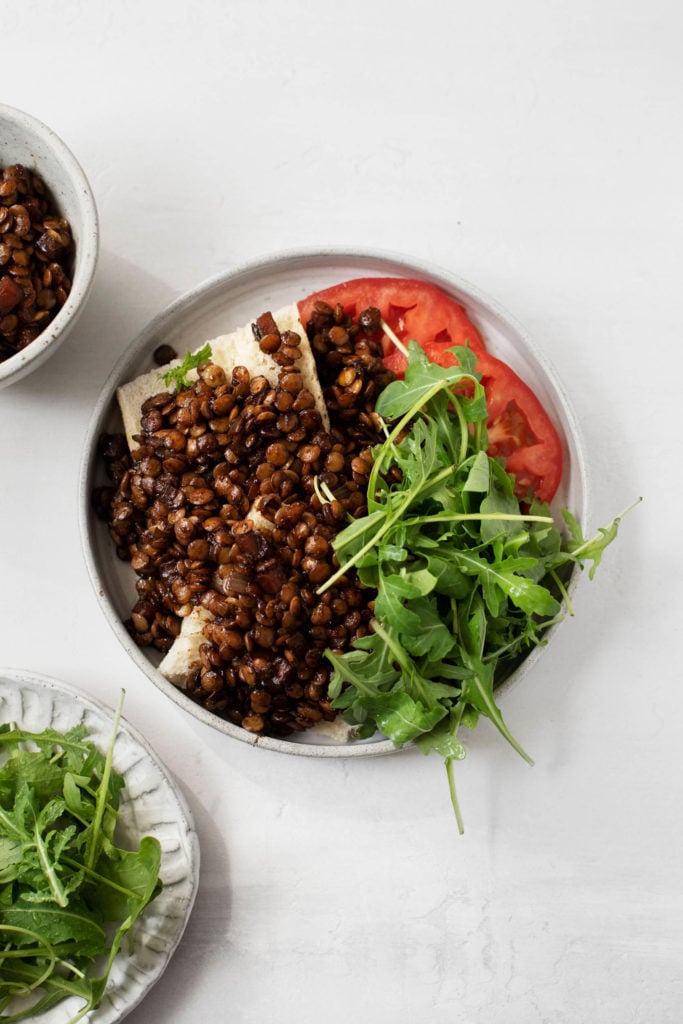 Produce is so abundant at this time of year that I'm not usually thinking about pantry meals like this one. But that's exactly what I was thinking about when I got back from Prague in August. I was greeted by a fridge that was empty except for a couple carrots and a heart of celery. It was tempting to get takeout, but then I remembered Nicholas Day's ode to Judy Rogers braised lentils. The recipe sounded very comforting after a long day of travel.
Fortunately, I've almost always got some onions in my kitchen, lentils in my pantry, and bread in my freezer. I decided to give Rogers' recipe a try, serving it over toast. It was wonderful. These braised lentils on toast will keep me company all through the winter. Or whenever I need something fast and nourishing.
Braising 101
As I was making this recipe, I actually had to ask myself what braising is, exactly?
I learned that it's a method that combines wet and dry heat. Something (traditionally meat) is seared, then cooked in liquid. In this recipe, vegetables are sautéed, then simmered—along with lentils—in red wine and water (or broth). There's probably a lot more to it than that, but it's a less complex technique than it sounds!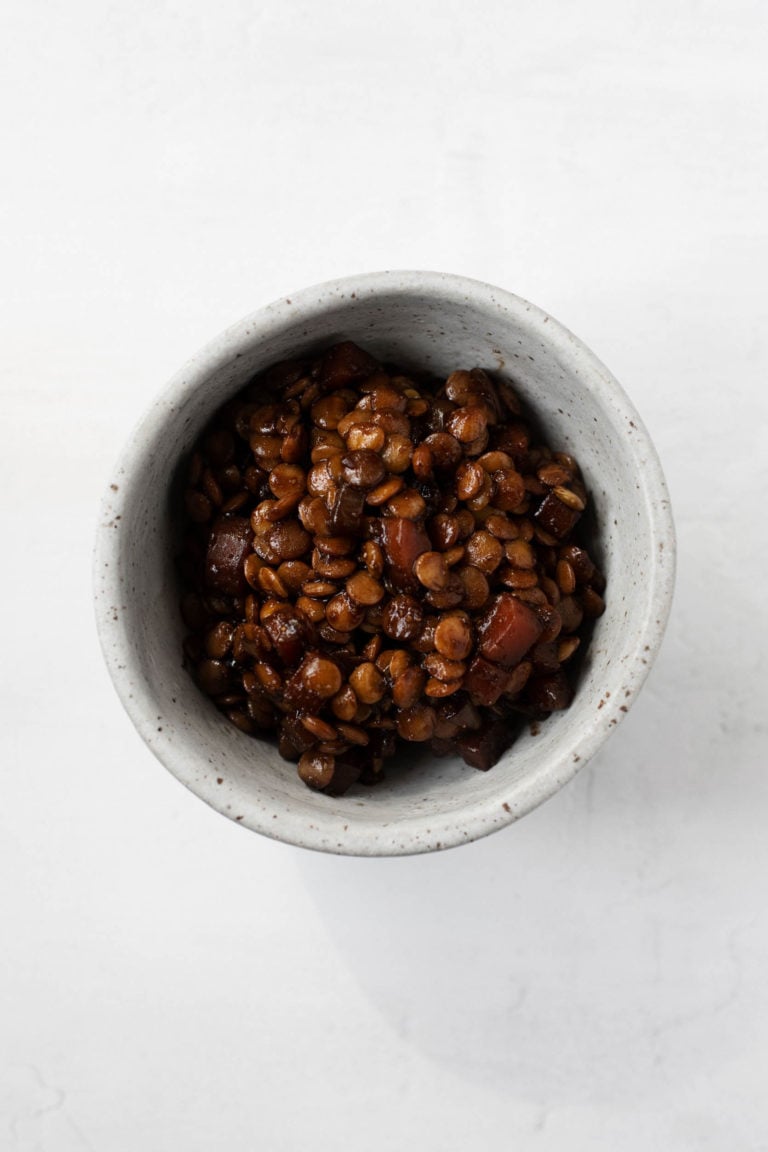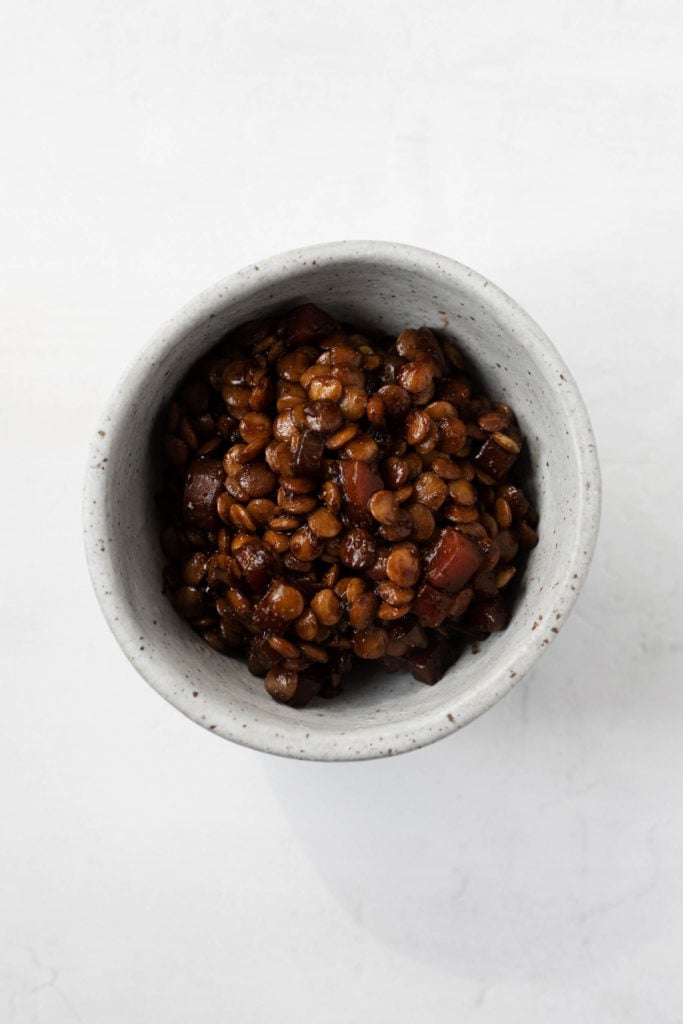 Adjusting a classic recipe
I followed Day's version of Rogers' recipe pretty closely, making a few tweaks. The first was to reduce the oil significantly. I worried this might make a big difference, but it didn't. There's still enough oil to carry flavor, and the lentils are delicious.
I also used water instead of chicken stock. Again, I was really happy with the results! I may try the recipe with vegetable stock at some point, but it's not necessary for good flavor.
Finally, of course, I took the liberty of serving my braised lentils on toast, rather than as a soup or stew. That's just me, being the bread lover that I am. If you'd like to enjoy these as a soup, they're also very good that way (and similar to my favorite French lentil soup).
Additions to braised lentils on toast
The first time I tried the lentils, I served them over toast with no other adornments. Next, I tried them with a drizzle of syrupy balsamic vinegar. The next few times (yep, I've already made the recipe a couple times since late August), I added chopped arugula for a peppery bite.
Lately, I'm adding chopped tomato, too, so that I can hang onto tomato season. The recipe is a good vehicle for using up tomato ends, if you've been slicing tomatoes for sandwiches. A sprinkle of my walnut herb parmesan or hempesan is great, too.
I'm especially partial to adding balsamic vinegar to the lentils. This isn't a surprise: I love balsamic and use it in marinades, pasta, dressing, and more. But if you have nothing else but carrots, onion, and celery at home, there's no need to embellish the recipe. For all of its simplicity, it holds its own beautifully.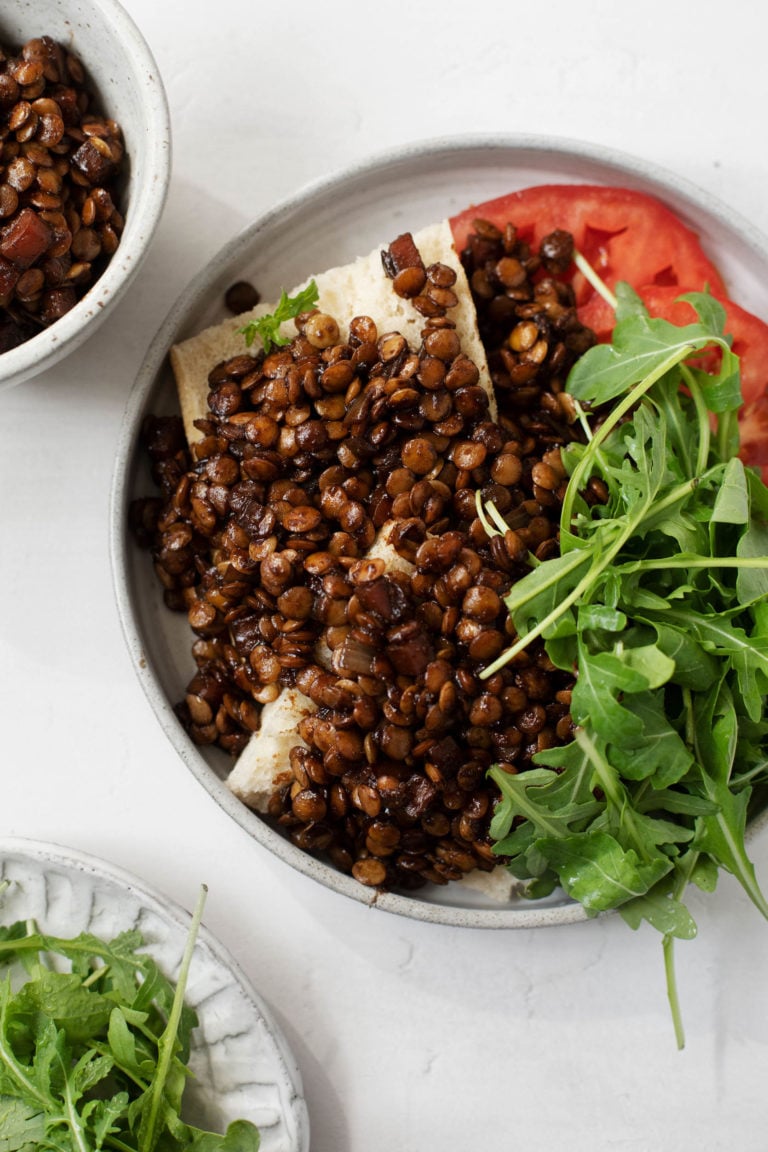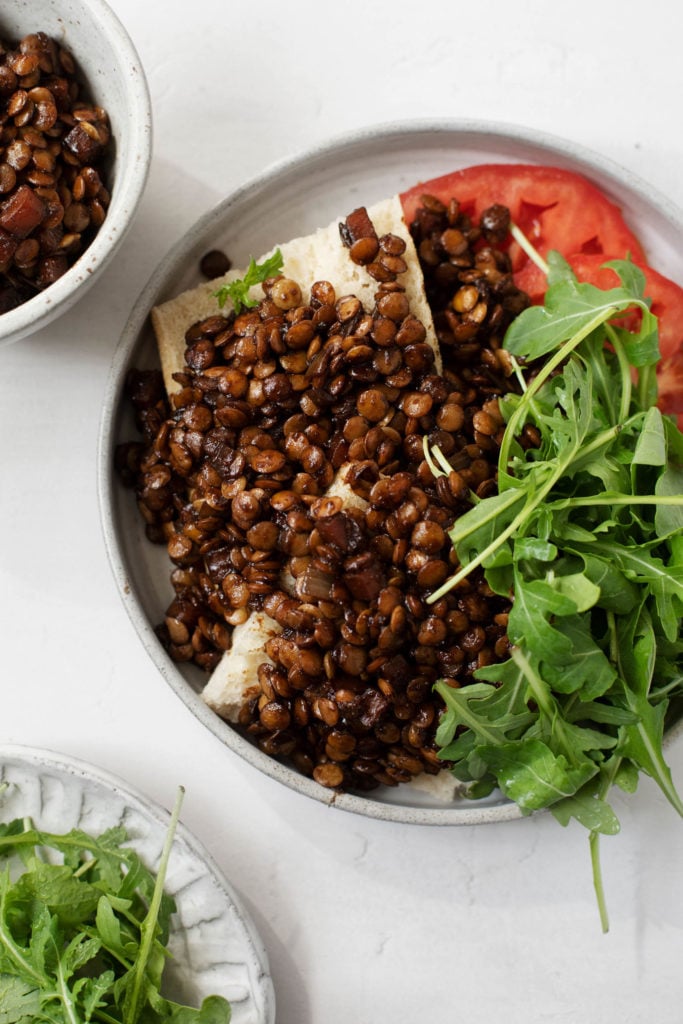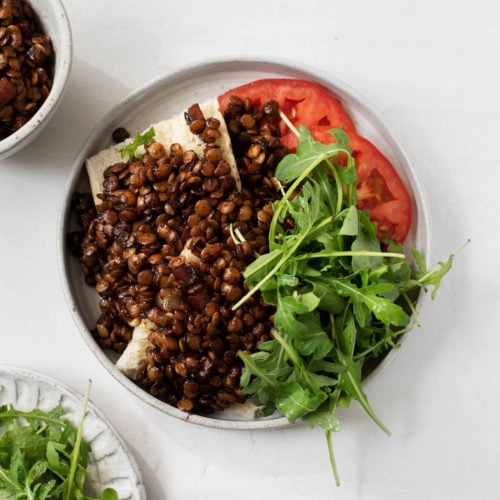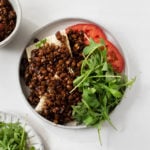 Braised Lentils on Toast
Author -
2

tablespoons

olive oil, plus extra for drizzling (if desired)

2

large carrots, diced

2

stalks celery, diced

1

medium white or yellow onion, chopped

Kosher salt and freshly ground black pepper

1

bay leaf

1 1/4

cups

lentils (I like French, beluga, or pardina lentils in this recipe)

1

or 2 sprigs fresh thyme, optional

1

cup

red wine

2 1/2

cups

water or vegetable broth

Your favorite toast, for serving

Optional: syrupy balsamic vinegar, chopped fresh greens, chopped tomato, vegan parmesan
Heat the olive oil in a medium pot over medium heat. Add the carrots, celery, and onion, along with a few pinches of salt and a turn or two of pepper. Cook for five minutes, or until the vegetables are tender.

Add the bay leaf, lentils, thyme (if using), wine, and 2 cups water. Bring the mixture to a boil, then reduce the heat to a simmer. Simmer, uncovered, for about 30 minutes or until the lentils are tender, stirring occasionally and adding the last 1/2 cup water or broth if the lentils get at all dry. The finished lentils should have a little soupiness and extra broth at the bottom of the pot. When the lentils are finished, remove the bay leaf, taste them, and adjust salt and pepper as needed. You can add an extra drizzle of olive oil, if you like.

The lentils can be served with a cooked whole grain, in a bowl, with a fresh salad, or over toast. I like them best drizzled with a syrupy balsamic vinegar.
Adapted from Judy Rodgers' Lentils Braised in Red Wine from The Zuni Cafe Cookbook, via Nicholas Day.
Leftover lentils will keep for 5 days in an airtight container in the fridge.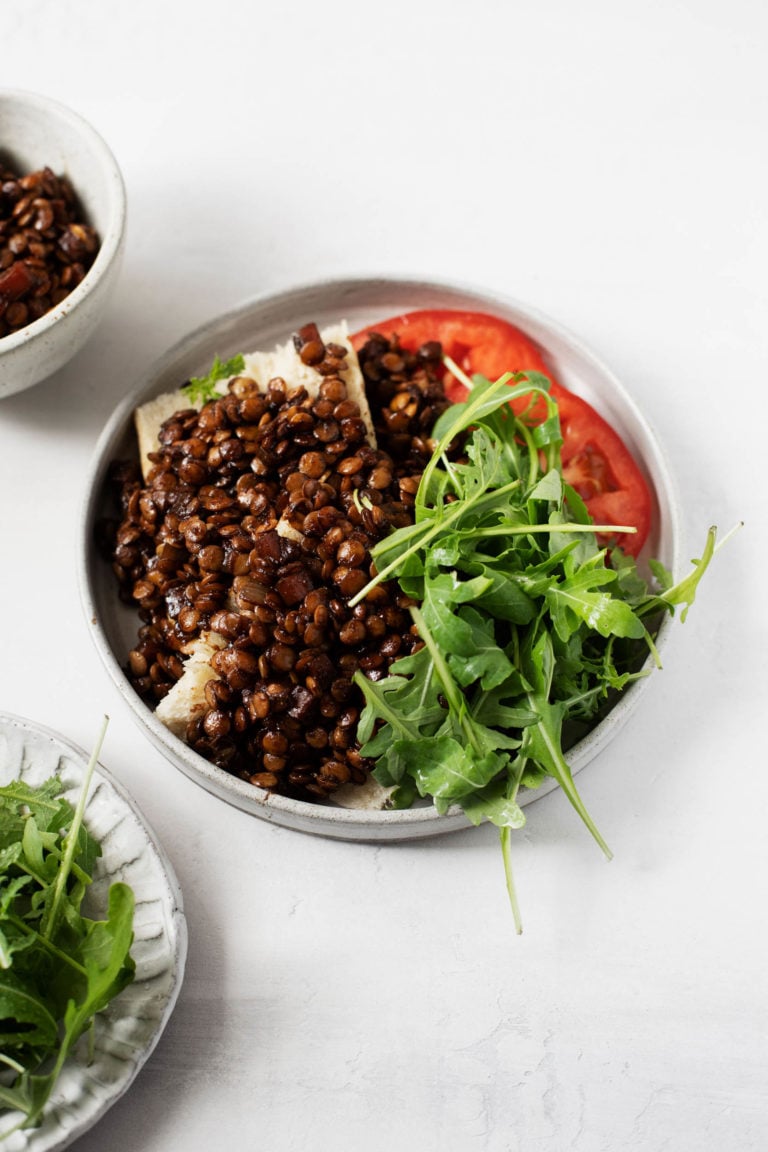 The reality is starting to hit me that, if all goes as planned, I'll be a dietetic intern next year, and the days of being able to cook whenever I want will be suspended. I'll need to re-strategize my home cooking routine, taking batch cooking more seriously than I have since my post-bacc days.
Recipes like this one aren't just delicious, economical, and healthful. They're also perfect candidates for meal prep. I wasn't planning to blog about this one, but I'm so glad I've loved it enough to make and make again, and to share here.
xo