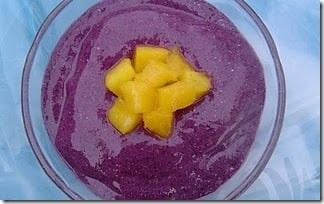 Well well well. It feels awfully strange to be doing a regular 'ole food post! If you guys missed any of the epic HLS recaps, fear not. You can read them here, here, here, and here. Enjoy.
Lately, I've found myself in a breakfast rut. It's still steamy outside, which means that my appetite for hot cereal is low. And yet I'm getting increasingly tired of smoothies – not enough texture, not enough variety! Fruit alone won't do it for me, and there are only so many bowls of buckwheaties I can eat. Hmmm.
Thank goodness that I recently found Heathy's blueberry chia pudding! This has quickly become my breakfast of the moment. I'm loving fresh blueberries this summer, and this is a great way to show them off. The recipe, which you can find here, is simple: basically, it's blended chia gel and blueberries. I simplified it a bit, eliminating the lucuma and maca, but kept all proportions the same.
Perhaps the best thing I took away from the recipe was the most obvious, too: how to mix chia gel. I've always made chia puddings "to order," or I've just thrown chia seeds in oats or smoothies. Now I know that, by mixing 5 T chia seeds with 2 cups of water, you get a loose gel that will keep in the fridge for two solid weeks. (I like mine a little thicker than Heathy does, so I use 5 T chia seeds to 1.5 cups of water.) Whenever you like, you can use some of the gel in puddings, or you can mix it with almond butter, banana (or other fruit) or even some cocoa powder and stevia for a sweet treat.
I like to make Heathy's pudding and top it with bananas and buckwheaties. Check out this lovely morning meal:
:
Blueberry pudding, buckwheat clusters (that's buckwheaties mixed with a touch of agave and dehydrated quickly), and banana.
Not quite as purple as Heathy's pudding, but that's just office lighting foiling my photo shoot. I promise, the color is gorgeous!
On Saturday, Caitlin and I began our spiel on blog food trending/peer pressure by asking audience members to stand up if they had tried any of these oh-so-trendy healthy ingredients/dishes:
Green smoothies
Oats in a Jar
Sun Warrior protein
I think we might have added:
The ingredient that seemed to get most people standing was – you guessed it – chia seeds. These guys are the healthy eater's object of lust—at least until something else sweeps in and takes their place—and there's no more refreshing way to enjoy them than in Heathy's delicious pudding. I intend to try it with other berries, too – probably with strawberries tomorrow morning! Try it, and let me know if you like it as much as I do.
xo