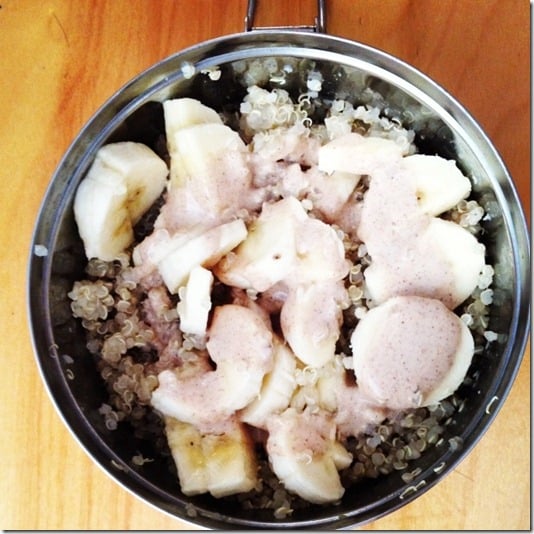 Summer physics is a wrap! As of just a little while ago, I finished up physics II, and what a relief it is. For the next two weeks, I get a real summer. I'll be bouncing around and catching up on a lot of CR related work (if you've emailed me in the last four months, or if you've searched for a new-ish recipe only to find that my recipage and recipe tab are hopelessly out of date, then you know what I'm talking about), but I'll also be reading, sleeping, and replenishing my energy for the coming fall. I'm excited.
Yesterday, in preparation for my final, I planned to spend the entire day on campus studying and in class/lab. This meant two packed meals, rather than one (I've been packing breakfast all summer for my early class, but trying to dash home for a quick lunch). And this, in turn, meant limited room in my already crammed backpack. It carries two notebooks, a netbook, my gym clothes and sneakers, two chargers, my wallet, my phone, my pencil case, and my water bottle every single day: space is precious!
I went ahead and asked you guys via twitter and facebook what your suggests were for a  super light, portable breakfast. Top suggestions included banana and peanut butter, buckwheat cereal, green smoothies, chia pudding, fruit, and quinoa with banana or other fruit. Fruit was stricken from the list pretty quickly: I'd never make it through a long morning of class and lab on fruit alone! And while you all know my love of a good chia pudding, my issue with it is that it tends to get a little heavy, as do overnight oats! Ditto for packed smoothies.
What isn't heavy, however, is cooked quinoa. It's light and fluffy as can be, and I realized that, if I purchased a banana on campus and came up with an easy sauce, I'd be set. The sauce part was a snap: here's what I did.
Quinoa and Banana Bowl with Almond Butter Sauce (vegan, gluten free, soy free)
Serves 1
1 cup cooked quinoa
1 large banana
A few tbsp quick almond butter sauce (recipe below)
Quick almond butter sauce:
1/4 cup almond butter
2 pitted dates
2/3 – 3/4 cup almond milk (depending on how thick you'd like it to be; I went with 2/3 cup)
Tiny pinch sea salt
1/2 tsp vanilla extract
Optional add ins: ginger, cinnamon, cardamom, homemade chai spice mix, protein powder.
1. Mix almond butter sauce ingredients in a high speed blender till well mixed. Pack up a few tablespoons in a tiny tupperware container.
2. To assemble breakfast, slice banana and mix into quinoa. Top with sauce, and enjoy on the go!
A few of you seemed to get a kick out of my lunch time instagram shot. Raw kale salad was the star:
In the tupperware is about a third of a cup of my hemp hummus. I served this along with a bag of flax crackers. Packed snacks for the day included one Pure Bar (afternoon snack) and one apple with some of my chocolate and peanut butter black bean dip. All made very possible with the magic of tiny tupperware: little containers are just as important as big ones! I'd love to do glass for everything, but I just can't do the weight in my backpack. I have been switching to all BPA-free plastic, which is a good development in my life as a student nomad
So there's a small peek into my solutions for student dining! As someone who really loves big, voluminous, vegetable stuffed meals, I do find that campus dining is a challenge (and I miss the office fridge at my old job a lot). But I hope to be a student for a long time yet (and a person who works in hospitals after that), so I'll need to adjust to eats on the go. Thanks to my Facebook friends for your inspiration (especially Rebecca, who was very enthusiastic about the quinoa option, and makes a similar one herself), and for your help! You all helped to remind me that eating whole, healthy, plant-based food on the go is possible.
And delicious.
Happy weekend!
xo