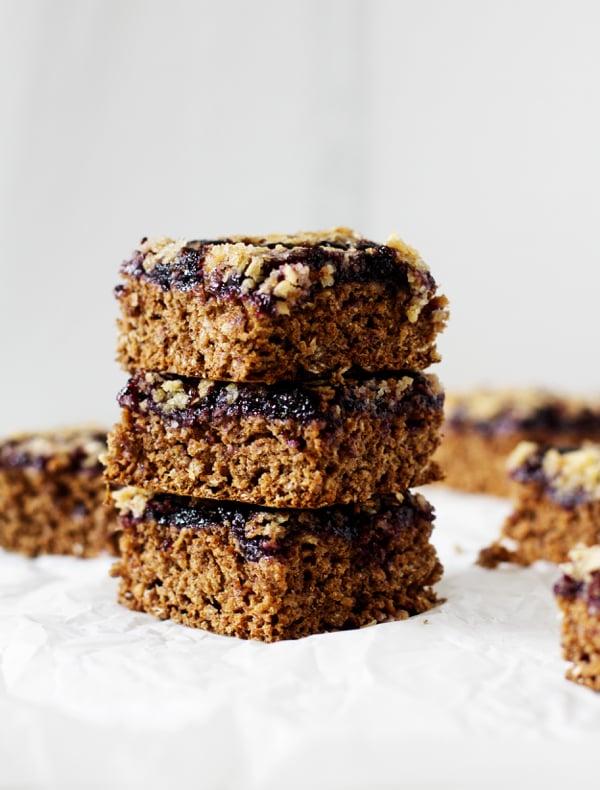 Thanks for your suggestions on calorie and nutrient dense breakfasts, everyone! I appreciate it, and your enthusiasm for my superfoods breakfast bowl. Since we're all on the topic of breakfast, I thought I'd share my latest baking endeavor with you: blueberry oat bars that are 100% vegan, relatively low in fat for baked goods, and terribly delicious.
These guys happened on the spur of the moment. I woke up on Sunday with my current breakfast dilemma in mind, and wondered if I couldn't come up with something baked that would nevertheless be (along with some fruit and coffee) a filling morning treat. I rarely eat baked goods in the morning, not because I dislike them, but because they simply offer my little satiety. No matter what, even the heartiest of muffins or cakes need to be paired with fruit or something else (sometimes a smoothie) to fill me up, but there are degrees of success, and my goal with these bars was to make something a little chewier and more satisfying that a airy little muffin.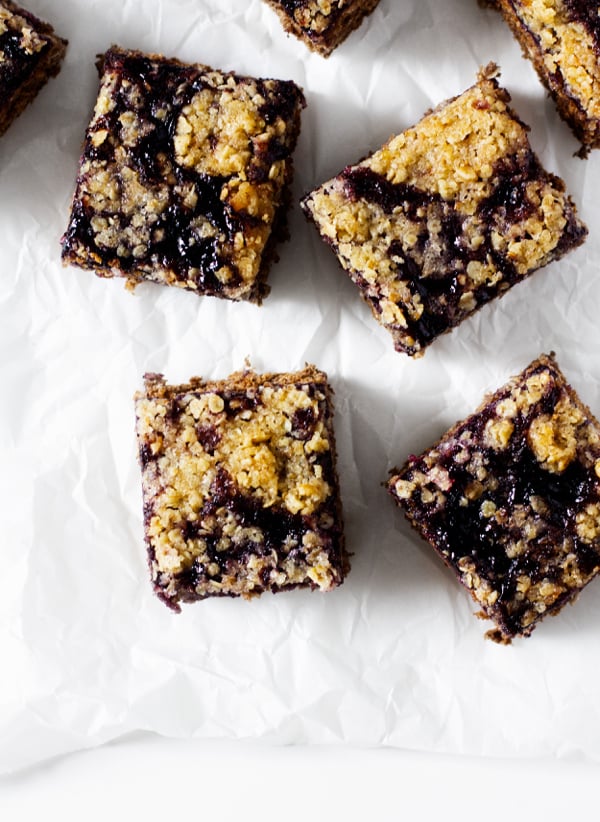 I think I got it right: these bars are chewy, sweet, and have a substantial feel. They're also very healthy, full of banana, oats, and held together with coconut oil and some agave. The coup de grace, for me, is the blueberry topping, which is nothing but your favorite, all-natural blueberry jam or spread, and then some crumble on top. I like Dalfour, Crofter's, and Cascadian Farms preserves, but anyone who is intrepid enough to make his or her own should certainly use that!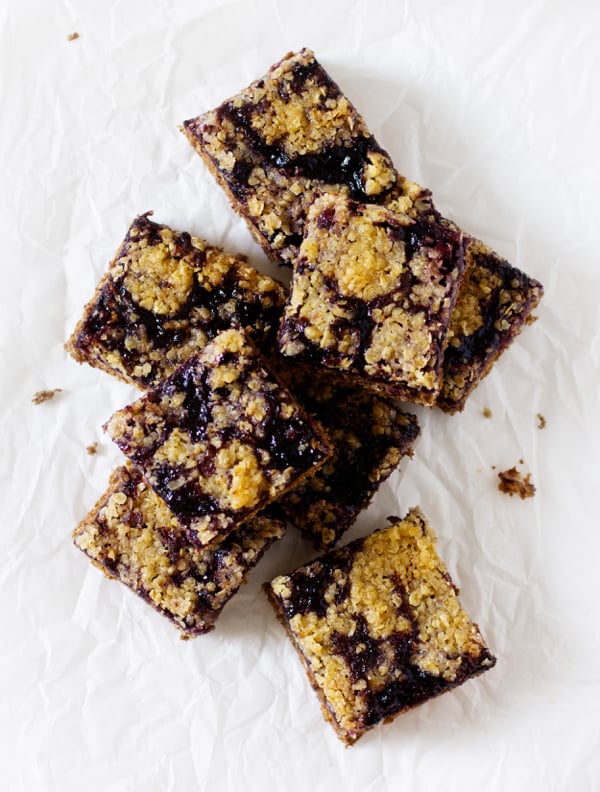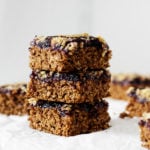 Vegan Blueberry Oat Bars
Author -
2

cups

oat flour

1

cup

rolled oats

1

teaspoon

baking soda

1/4

teaspoon

fine salt

1

teaspoon

ground cinnamon

6

tablespoons

maple syrup or agave syrup

1/4

cup

neutral vegetable oil, such as safflower or grapeseed

1

large banana

1/4

cup

non-dairy milk of choice

1

teaspoon

vanilla extract
Crumble Topping
1/3

cup

blueberry jam or preserves

2

tablespoons

vegan butter or solid/cold coconut oil

3

tablespoons

rolled oats

3

tablespoons

brown sugar

pinch

salt (if you don't use vegan butter or the butter you use isn't salty)
Preheat oven to 350 degrees. Mix the oat flour, oats, baking soda, salt, and cinnamon in a large bowl. In a blender, blend the syrup, oil, banana, milk, and vanilla. Add wet ingredients to dry and mix well.

Spread the mixture into a square baking pan (8 x 8 or 9 X 9 is good) and top with the preserves. In the food processor, pulse the vegan butter or solid coconut oil, oats, sugar and salt into a topping. Dot the pan with the crumble topping.

Bake at 350 degrees for about 30 or 35 minutes, or until the top is golden. Set out for a while to let the piping hot preserves cool and solidify.
Bars should be stored in an airtight container in the fridge for up to 1 week.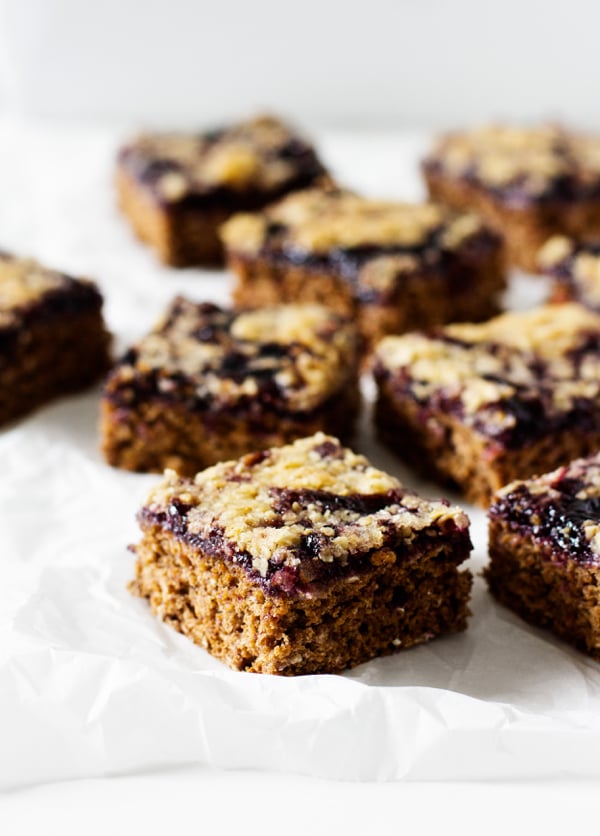 I really wasn't intending for these to be special, but M claimed they were the best bars I've ever made. I have to agree: the banana and coconut are irresistible, and the texture is great. I plan on making them often, possibly with other sorts of fruit preserves! Give them a try, and let me know what you think.
And with that, it's time for coffee with the lab partner, some school related stuff, and dinner with a former client. Night friends!
xo