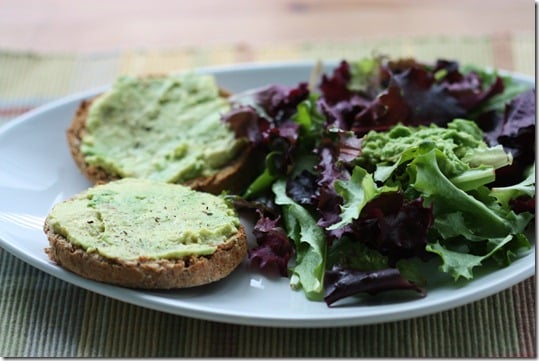 I've been asked to share more of my breakfasts with you all, just the way I sometimes share my packed lunches. No burden there: breakfast often feels like my favorite meal of the day, and I love talking about it, sharing it, gazing upon tasty examples of it. This winter I've been gravitating toward warmer and denser foods, rather than smoothies or chia puddings, which is funny, because it happens to be a very mild winter! But the body wants what the body wants.
Lately, I've been cooking up steel cut oats in my rice cooker with homemade almond milk and serving them with nut butter or hemp seeds. I also like oat bran served with some goji berries and a drizzle of blackstrap molasses, or some of my toasted almond quinoa bake. On days when I want something savory, I love some plain, cooked quinoa mixed with greens and vinaigrette, a breakfast salad, or leftover curries, soups, or grain dishes.
Today, I woke up craving something comforting and savory. I also woke up with a to-do list that was making my head ache just to contemplate. With little time on my hands and a lot to get done, I decided to make my life easy, and go for one of my simplest, tried-and-true breakfasts: smashed avocado toast. Normally I serve this on sprouted grain bread (Ezekiel is my brand of choice, but I also like Manna bread), but sprouted English muffins are nice, too.
Just cut a large avocado in half and remove the pit. Then, use your fork to mash half the avocado up (still in the skin if you like). Spread it onto a hearty, whole grain toast, sprinkle with salt and pepper, and serve.
I used such a giant avocado that I had extra avocado leftover to pile on top of some fresh greens—which I'd been craving as well.
Simple. Fast. And delicious. Everything I want in a breakfast. Next time you're in a serious time crunch, I couldn't recommend this little combination enough. It's gotten me through countless mornings and afternoons in a hurry!
Before I go, thanks for all of the smart commentary on vaccines. Obviously, this subject strikes a chord with many of you, and I appreciate your insights!
G