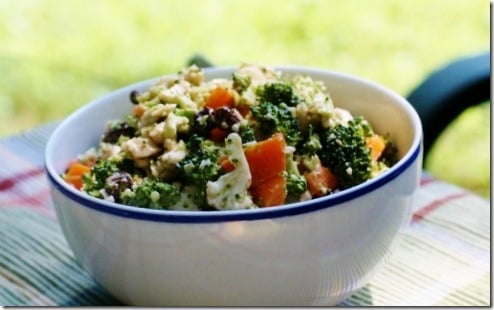 Happy Labor Day, folks!
I'm on my way back to DC, after a whirlwind weekend spent at the ultimate NYC wedding celebration. The culmination? A ceremony and dinner last night at Blue Hill Stone Barns, a fine dining hotspot that surely many of my foodie readers have heard about. I can't wait to share my thoughts on the ceremony and my recap through photos—not to mention details of my all vegan wedding dinner—but today, I'm here to share a recipe that tickled my palate in the weeks before I left for NYC and Portland. August feels like a lifetime ago, doesn't it?
When people ask me if there are any vegetables that can't be eaten raw, I always give the standard advice: beware of raw potatoes (though raw yams can work well in certain recipes), winter squash, and some people claim that raw green beans and snap peas can be mildly toxic (I eat the latter raw, not the former). Additionally, many people find that raw legumes, even sprouted, can be a digestive nightmare; I personally find cooked beans much easier to digest than sprouted ones. Finally, I caution everyone to listen to their bodies and use intuition: if there's a certain vegetable that just seems to wreak havoc on you when you eat it raw, cut yourself a break, and try gently steaming it for a while.
Raw broccoli used to be just that food for me. I digest it with no trouble when it's steamed, but eating it raw was rather unpredictable. Something has changed, and suddenly I find myself loving—and digesting well—raw broccoli in all sorts of recipes and applications. I've even been choosing it instead of cucumbers and carrots for dipping and snacking. I love when our relationship with a food shifts over time.
For those of you who are still feeling so-so about the prospect of raw broc—and believe me, I get it—I have a few ideas about how you can make the stuff far more palatable. The first idea I'll share is this fabulous raw broccoli and cauliflower slaw with Asian "peanut" dressing and raisins. Chopping the crucifers very finely will help you to digest them better (as will chewing your food well—ahem!) and render them a little more tasty. The dressing, which is one of my all time favorites (and, judging by reader response, a favorite of yours, too) takes care of the rest, uniting this into a sweet, salty, gingery, and downright fantastic salad for any time of year.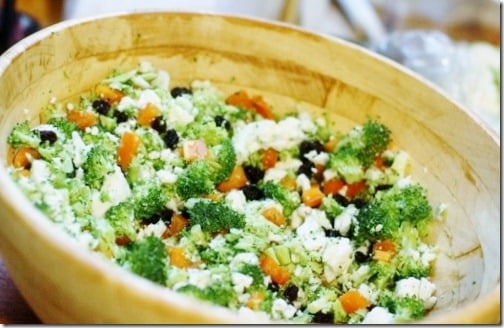 Raw Broccoli and Cauliflower Salad with Creamy Asian Dressing (raw, vegan, GF)
Serves 4
3 heaping cups broccoli florets
3 heaping cups cauliflower florets
1 small or 1/2 large red bell pepper, chopped
1/3 cup raisins
1 batch of my creamy Asian dressing (for this recipe, I'd add extra lime juice for more zesty taste!)
1) Place the broccoli and cauliflower in a food processor and roughly process. Alternately, chop into small pieces with a big knife.
2) Transfer to a bowl and add chopped bell pepper and raisins.
3) Dress to taste with creamy Asian dressing, and serve! I like this finished with a squeeze of lime.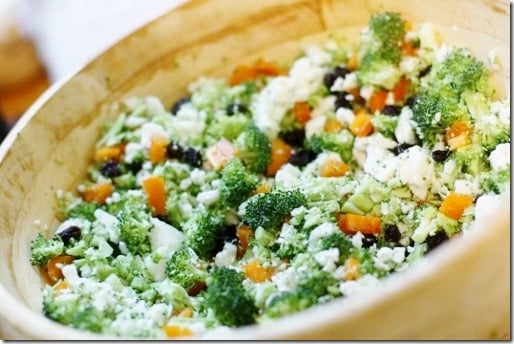 Quick point of interest before I go: many of you have asked me about goitrogens in raw broccoli and other crucifers. It's totally true that cruciferous veggies contain goiter producers, or goitrogens, that can interfere with the synthesis of thyroid hormones and block iodine absorption. On the other hand, keeping broccoli raw protects its vitamin C content and leaves available sulforaphane, a cancer fighting compound that is made inaccessible to our bodies through the cooking process. For this reason, I'd suggest that anyone with thyroid issues try steaming all broccoli and other crucifers lightly before consumption (talk to your health care provider if you have more questions, of course), and that everyone else consume broccoli regularly in both raw and cooked form, so as to always enjoy the full spectrum of its health offerings!
OK: I have errands and studying and a dinner date to get to. Tomorrow: wedding weekend adventures!
xo