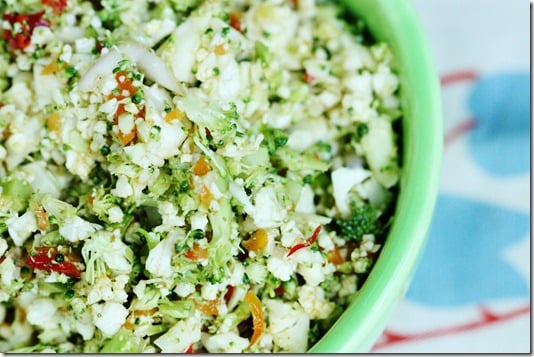 One of the biggest fears that most people encounter as they adopt a new way of eating (be it veganism or something else) is that their family members will be unsupportive, derogatory, or outwardly critical. Though I eat very differently from the rest of my family, I've also been blessed overall with their respect, understanding, and enthusiasm for my lifestyle.
This was never more evident than on Friday evening, when I went over to my Aunt and Uncle's home for dinner, only to be greeted by some of my own recipes! My aunt had whipped up some of my zucchini pasta with roasted butternut squash creamy garlic sauce, along with my cauliflower and broccoli salad with creamy Asian dressing. I was so touched, especially since my aunt is famous within our family for being a great cook.
I will admit: I was a little nervous about whether or not my family would enjoy the recipes! But they did, along with the quinoa dish I brought over. What a nice compliment. My aunt was also very gracious with leftovers, and gave me some undressed, leftover broccoli, cauliflower, and red pepper. Yesterday, I set about putting this to use. I thought that hemp seeds would be a nice addition to the broccoli–more protein, more Omega-3 fatty acids–and I went with a simple, tangy, mustardy dressing.
I've been eating this slaw straight out of the bowl in which I mixed it, but it's also a fabulous raw side dish, and I think it would be fun to stuff this, along with some lentils or chickpeas, into butter lettuce cups for a quick and easy lunch.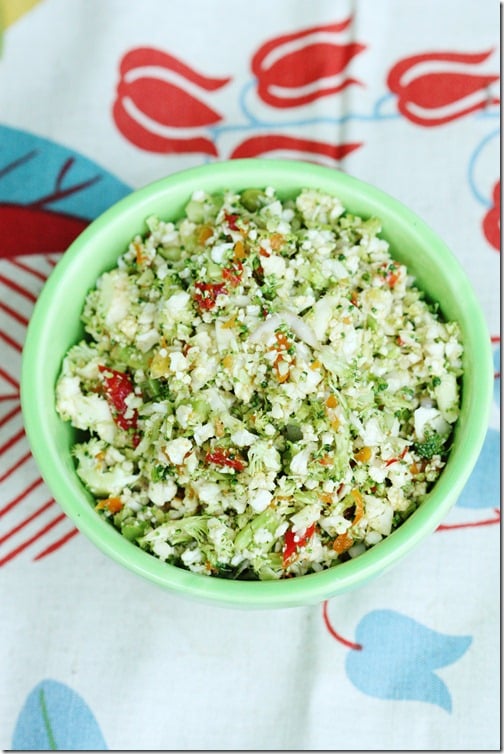 Broccoli Hemp Slaw with Tangy Mustard Dressing
Recipe Type
:
salad, side dish
Cuisine:
vegan, gluten free, soy free, nut free
Author:
Prep time:
Cook time:
Total time:
3 heaping cups finely chopped broccoli (stems and florets)
3 heaping cups finely chopped cauliflower (stems and florets)
1 red bell pepper, chopped
1/3 cup raisins
1/4 cup shelled hemp seeds
2 tablespoons olive oil
1 1/2 tablespoons apple cider vinegar
2 teaspoons maple syrup
2 teaspoons Dijon mustard
1/2 teaspoon curry powder
1/2 teaspoon salt
Black pepper to taste
Place the broccoli, cauliflower, bell pepper, raisins, and hemp seeds into a large mixing bowl.
Whisk together the oil, vinegar, maple syrup, mustard, curry powder, salt, and pepper. Toss the dressing with the salad and serve. Flavors will marry as the salad sits, so I recommend refrigerating it for 1-2 hours before serving.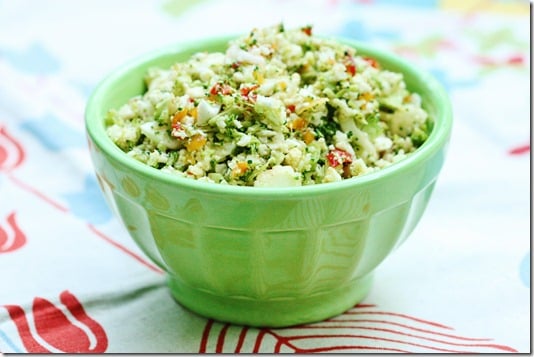 If you're new to the vegan lifestyle and you're feeling trepidatious about talking about your food choices, keep in mind that cooking is often far better than talking! Prepare a simple, tasty salad or side dish like this one. Not only will you show off the beautiful simplicity of plant foods, but you'll also demystify the word "vegan" a little, and show your loved ones that choosing a plant-based diet doesn't mean sacrificing pleasure or taste. And you never know–at some point, they may actually surprise and delight you by preparing your own food even better than you do
Thanks, Aunt Kate!
If you're looking for a little more confidence-building when it comes to talking about your food choices, I recommend these posts:
Confidence Building 101
Power of Choice
Calling Ahead
Talking About Your Food Choices
"Just One Bite"
Have a great Monday!
xo