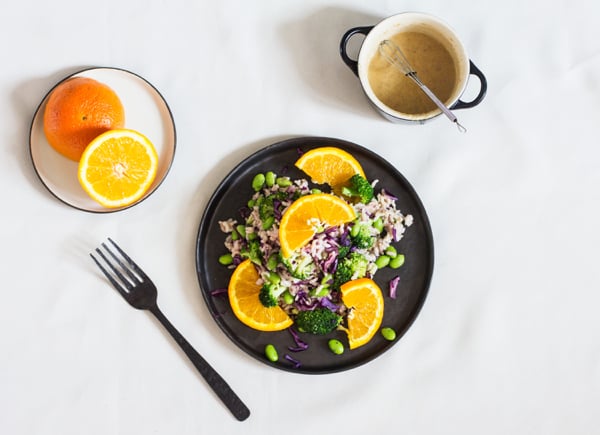 Happy humpday! Having just spent a solid two hours working on impossible dilution problems with my fellow post-baccs, I can officially say that I'm glad the week is drawing to a close.
Today's recipe—a scrumptious and filling brown rice salad with edamame, broccoli, and a citrus miso dressing—was mostly an accident. I made rice this weekend, as is my custom: every Saturday or Sunday, I use my rice cooker to whip up a few batches of whole grain, which I then go on to use in salads, grain salads, or on their own throughout the week. As the rice was cooking, I also made some freshly squeezed OJ for a salad dressing that I had been thinking about
As soon as I had the dressing in hand, it occurred to me that it might be good with the rice. And since no meal in my home is complete without a preposterous number of vegetables, I began rummaging through my fridge for some color and crunch.
By the time this salad was done, it occurred to me that the best and easiest vegan dinners come together precisely this way: make a whole grain. Add flavor in the form of dressing or seasoning. Consider a protein source—in this case, edamame. Add vegetables. Lots of them. It's really that simple. I've been cooking vegan for so long that I forget how hard it is to for people who are accustomed to structuring dinners around animal proteins to begin constructing vegan meals instead. If you're in that boat, consider the steps above my super-speedy primer!
And consider this meal as a contender for your next dinner.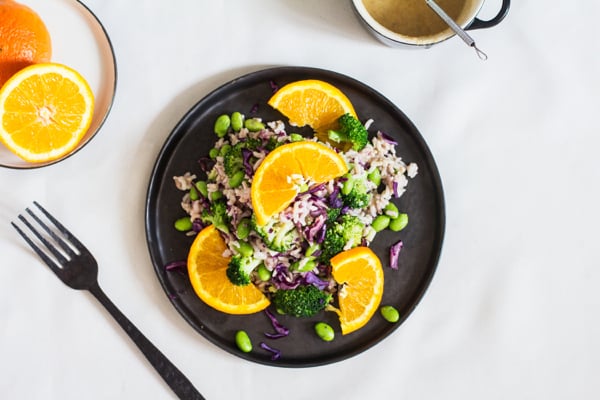 Brown Rice, Edamame, and Broccoli Salad with Citrus Miso Dressing
Cuisine:
vegan, gluten free, no oil, tree nut free
Author:
Prep time:
Cook time:
Total time:
For the dressing:
1/2 cup orange juice (freshly squeezed if you can)
3 tablespoons mellow white miso (or any miso)
2 tablespoons seasoned rice vinegar
1 teaspoon agave or maple syrup
2 tablespoons tahini
For the salad:
1 cup brown rice (dry)
1 1/2 cups shelled edamame (fresh or frozen)
3 cups chopped broccoli florets
1 cup shredded red cabbage
1 cup orange sections
Cook the rice according to stovetop or rice cooker instructions. Fluff and allow the rice to rest for a few minutes before using in the salad.
While the rice cooks, place a steamer insert into a medium pot of water and bring water to a boil. Steam the edamame till tender, then add broccoli and cabbage. Steam the vegetables until they're crisp-tender.
Blend or whisk all dressing ingredients together till smooth.
Add the edamame and steamed vegetables to the rice. Pour at least 1/2 cup dressing over salad, and more to taste (I used most all of it). Mix well. Serve the salad warm or cold and garnish with fresh orange pieces.
Salad leftovers will keep for up to two days in an airtight container in the fridge.
This meal is quick, easy, and full of vibrant flavor, color, and nutrition. Rice provides hearty whole grain sustenance, while edamame delivers a protein boost. The cabbage and broccoli both provide vitamin C, along with powerful antioxidants.
Before I go, a HUGE thanks to all who participated in last night's fabulous VegNews twitter chat. It was inspiring and a lot of fun. The transcript, for those of you who couldn't join in, will be up soon, and I'll share the link so that you can see what you missed!
xo
Images courtesy of Lighter.