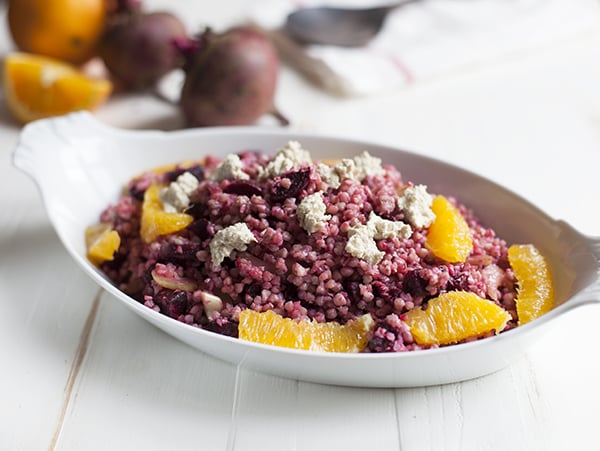 Every day, nutrition clients ask me about different whole grains. I always rattle of a list of my favorites: rice, quinoa, millet, oats, buckwheat. When clients ask me about buckwheat, I'm quick to sing its praises, noting that it's got a pleasantly nutty flavor; that, in spite of the name,  it's wheat free and gluten free, thus suitable for folks who follow gluten free diets; that it's actually a pseudograin, or fruit seed (related to rhubarb and sorrel); that, in Traditional Chinese Medicine, it's thought to aid digestive troubles and high blood pressure; that it's rich in fiber, magnesium, and manganese, the latter of which is associated with bone health.
The truth is that, in spite of how quick I am to recommend buckwheat, I don't use it nearly enough in my kitchen. Long ago, I started to use it as a raw breakfast cereal (buckwheaties), and I made it the base ingredient in my raw granolas. Since then, I've really slacked on finding new ways to use it. I sometimes purchase kasha (roasted buckwheat) and use it as a breakfast cereal, but surely there's a lot more to do with this wonderful, healthy ingredient than that.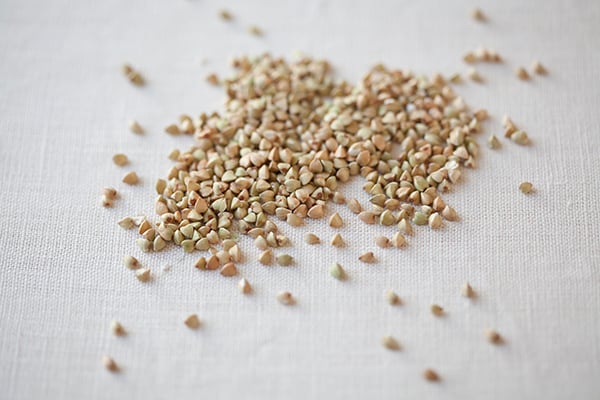 This delightfully colorful salad is my ode to the whole grain that I so often neglect in my kitchen. In preparing it, I was reminded of how much I love the nutty flavor and chewy texture of buckwheat. It also occurred to me that buckwheat is actually a great gluten-free substitute for farro or barley–both of which have irresistible chew, but aren't suitable for gluten and wheat free diets. Buckwheat has a nice, toothsome quality, and unlike rice or millet, it's got plenty of chew.
I kept this salad seasonal, using a bunch of beets I'd picked up over the weekend and some simple chopped celery. I also decided to top the salad with fresh citrus slices (and use some citrus in the dressing). I'm going through a bit of an orange obsession right now, and it felt right.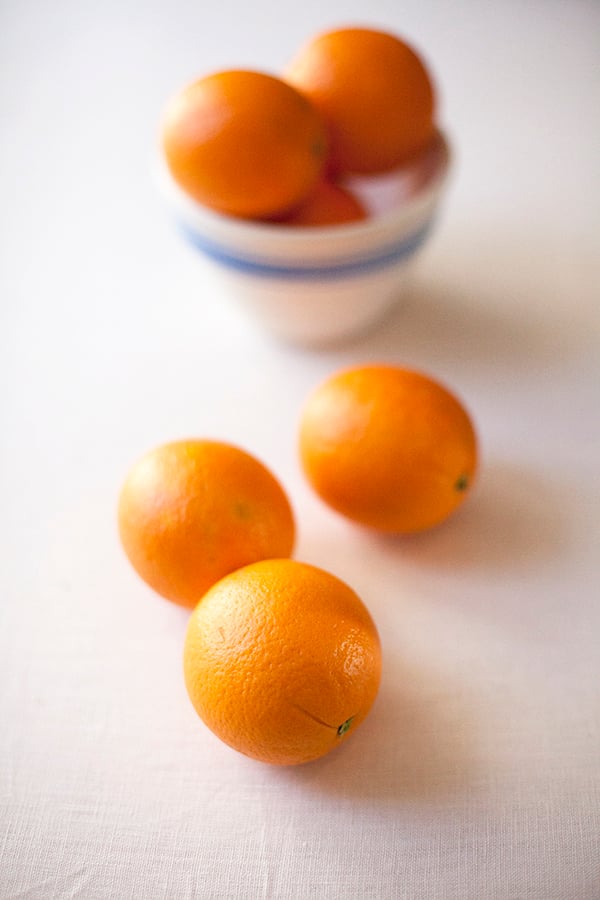 The sunflower "feta" in this recipe adds a salty, tangy bite. I love the taste, but I do want to note that you could easily omit it, and in its place, you could simply sprinkle about a quarter cup of sunflower seeds (toasted or raw) over the finished dish. You could also use my herbed cashew cheese recipe instead, my lemon pepper brazil nut cheese, or my tofu ricotta.
Buckwheat, Beet, and Citrus Salad with Crumbled Sunflower Feta
Author -
*For the crumbled sunflower feta*:
1

cup

sunflower seeds

soaked 2-3 hours, rinsed, and drained

1/2

teaspoon

salt

1

small garlic clove

roughly chopped (optional)

1

tablespoon

lemon juice

1

teaspoon

apple cider vinegar

Pepper to taste

1

teaspoon

dried oregano

1/3-1/2

cup

water
*For the salad*:
3

medium or large beets

peeled and chopped into 3/4-1 inch pieces

2

teaspoons

olive oil

1

cup

buckwheat groats

2

cups

water

1

tablespoon

olive

walnut, or hazelnut oil

2

tablespoons

orange juice

you can use some of the juice from the orange that you'll be sectioning for topping the salad

2

teaspoons

champagne vinegar or white wine vinegar

substitute apple cider vinegar if you don't have either

1

small shallot

chopped

Salt and pepper to taste

2

stalks celery

chopped

2

navel oranges
Optional step: To make the sunflower seed cheese, place all ingredients except for the water in the bowl of a food processor fitted with the S blade. Pulse it a few times to break the seeds down. Turn the motor on, and drizzle 1/3 cup water into the machine in a thin stream as the mixture is processed. Stop a few times to scrape the machine down. You're aiming for the texture of a thick hummus; add just enough water to achieve that texture. When the mixture is smooth and thick, transfer it to an airtight container and refrigerate it for at least 30 minutes before using. Seed cheese will keep in ain airtight container, refrigerated, for up to four days.

Preheat your oven to 375 F. Toss the beets in the two teaspoons of olive oil and lay them onto a baking sheet. Sprinkle with salt and pepper. Roast for 30 minutes, or until the beets are soft and browning ever so slightly. Remove the beets from the oven and allow them to cool.

While the beets cook, combine the buckwheat groats and the two cups of water in a medium sized pot or a large saucepan. Bring the mixture to a boil and reduce it to a simmer. Simmer it for 12-15 minutes, or until the buckwheat has absorbed the liquid. Fluff the buckwheat and let it sit until it's room temperature.

Cut one of the oranges in half and squeeze out the juice (you'll use this in the dressing). Peel and section the remaining 1 1/2 oranges. Set the sections aside.

Whisk together the olive or nut oil, orange juice, vinegar, shallot, and salt and pepper together in a large mixing bowl. Toss in the celery and beets, along with the cooked buckwheat. Mix it all together. Check the mixture for seasoning and season to taste.

Transfer the grain salad to a serving bowl. Top with orange sections and 1/2 cup crumbled sunflower feta. Serve.
So much texture, color, and flavor in this salad. You could serve it with lightly dressed greens for a simple lunch, or with soup and a hearty vegetable side for dinner.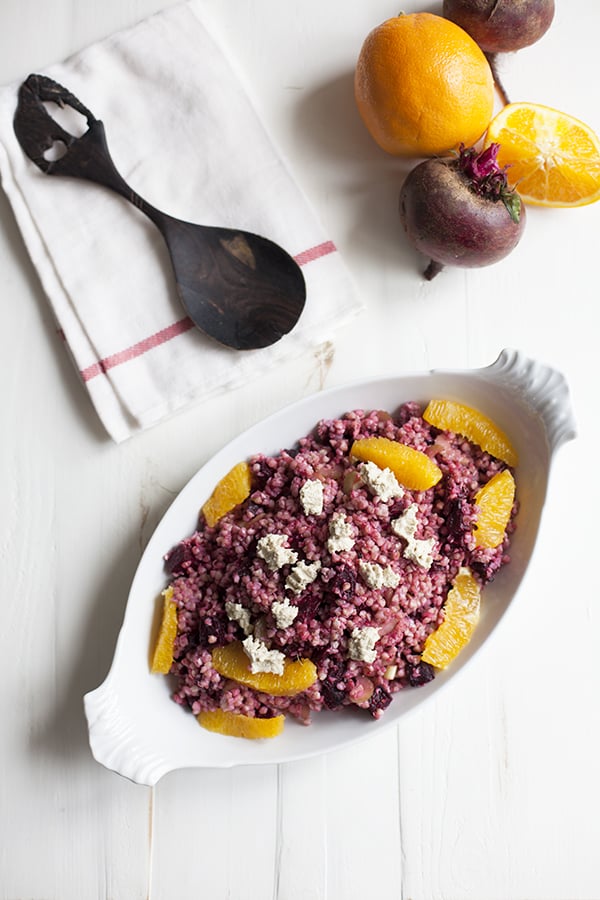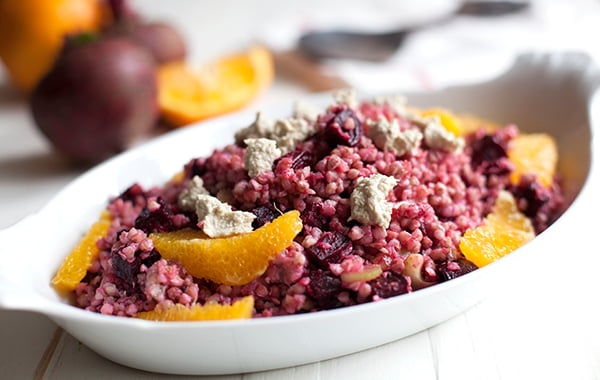 Another wonderful advantage of buckwheat? It cooks so quickly! I was amazed at how easy it was to prepare (totally on par with quinoa). I'm definitely inspired to make buckwheat a more regular part of my diet–it'll be perfect for porridge, lunch salads, and other easy recipes.
Hopefully you're inspired to give buckwheat a chance, too. Enjoy the recipe, and enjoy the start of your weekends!
xo