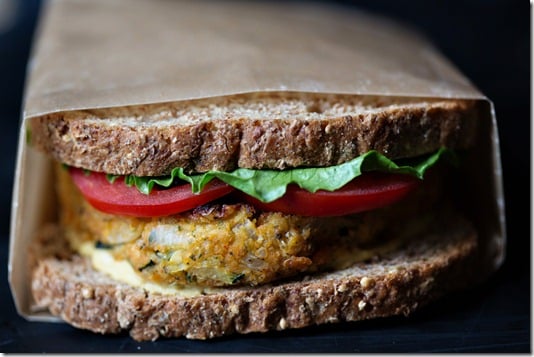 Veggie burgers. To vegans and vegetarians, they're dietary mainstays. Even the least veg-friendly restaurant is likely to carry a veggie burger these days—maybe not a great one, but a solid option for vegan dining, regardless (always ask to make sure the veggie burger is vegan, but in my experience, they usually are). It's easy to bring veggie burgers to summer cookouts, pool parties, and tailgate parties. They're almost always crowd pleasers: longtime vegans and veg-curious diners will feel equally at home with them (it's easy for me to share a good burger with friends who aren't used to vegan food, which isn't always true of my more unusual recipes). And in my experience, veggie burgers are an extra special hit with my guy friends.
For all of their popularity and versatility, veggie burgers aren't always easy to make. The major challenge is texture and binding: how do you get veggies, grains, and legumes to hold together in a perfect patty shape without using eggs or meat? When I first started making veggie burgers, the flavors were usually lovely, but something always went wrong with texture. They were either too crumbly and dry or too mushy and soft. Oftentimes the texture was too uniform. And when I did happen to nail the right consistency, I'd taste the burger, only to find it was bland. There was a learning curve, to be sure.
This is why I'm happy to be sharing the tips and tricks I've learned along the way. Finding my way to a great vegan burger has been a long journey, and I've found that a few simple rules usually leads me to the best results. Nowadays, veggie burgers are a staple for me, in part because they're so versatile (I can eat them on salads, in wraps, on a sprouted grain bun, etc.) and also because I can make a bunch at one time, freeze them, and use them for speedy meals later on. Just recently, I shared my quinoa burger with za'atar spice; today, I'm taking it one step further towards veggie heaven with a quinoa burger recipe stuffed with zucchini and chickpeas. Yum.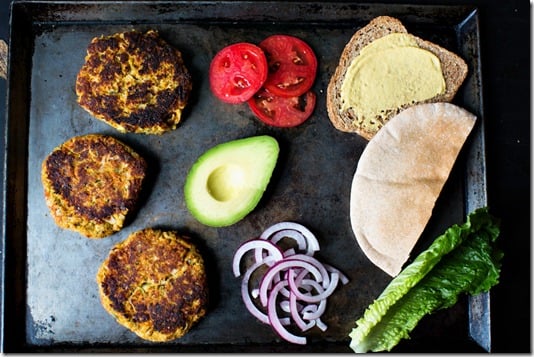 All photos courtesy of Food52.
These burgers are moist, flavorful, seasonal, and delicious. They're a little time intensive if you make everything (beans and quinoa) from scratch, but they're a snap if you have premade quinoa and organic canned beans on hand. I guarantee that they're likely to please even dubious omnis; while the texture isn't quite "meaty," the quinoa, pumpkin seeds, and beans lend a lot of heft to the recipe. Heft, and taste!
To get the recipe itself, and hear my top tips for veggie burger success, please head on over to Food 52 today, where my summer quinoa and zucchini burgers are on full display!! Enjoy the recipe, and see you from the other side of summer physics!
xo