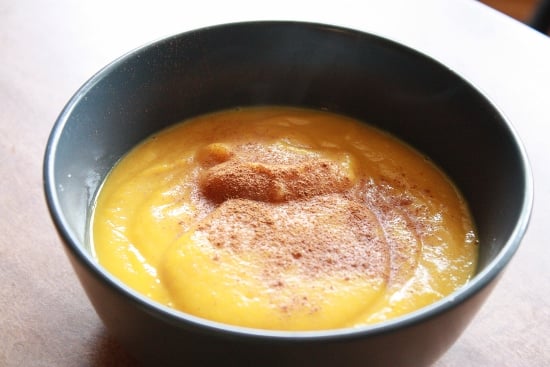 Thanks for sharing your weird 'sammich ideas! I was glad you all liked the cashew/apple combo.
When you've been eating semi-raw for as long as I have, you start to realize that you've had both a raw and a cooked version of almost all of your favorite foods: soups, burgers, wraps, etc. I make sunshine burgers raw, and I make them cooked; I make hummus raw, and hummus cooked; I make noodles raw, and noodles cooked; you get the idea, right?
One of my favorite soups in the world is butternut squash and apple. I love how the sweet, starchiness of the squash is met by the tartness of apples; I love the fall flavors and spices; I love the simplicity and ease of making it. A long time ago, I shared my recipe for a raw version of butternut squash and apple soup (I don't love root vegetables in raw form, but I don't mind them that way when they're blended), which is one of my favorite raw soups, period.
This past weekend, I tried my hand at a cooked version, and liked the results almost as much. Before I play a fun little game of comparison, let me share the new recipe:
Roasted Butternut Squash and Apple Soup (Vegan, gluten free, soy free if you don't use soy milk)
(serves 2-4)
1 butternut squash, peeled and chopped (if you use pre-cut, this should be about 3 lbs)
3 apples of choice, chopped; I used Braeburn
1 very small onion, chopped
2 tbsp coconut oil
1/2 tsp kosher or sea salt (+more to taste)
Black pepper to taste
1/4 tsp nutmeg
1/2 tsp crushed thyme
2 1/2 cups vegetable broth
1/2 cup coconut, soy, or rice milk
1) Place squash, apples, and onion on a large roasting tray. Drizzle coconut oil and salt and pepper over them, mix with your hands, and roast at 375 degrees for about 45 minutes, or until they're all soft and golden.
2) Place roasted veggies in a blender with vegetable broth, nutmeg, soy, rice, or coconut milk, and thyme. Blend, and season to taste with salt and pepper. If the soup needs more liquid, add some more, until it's the consistency you like. I like mine nice and thick!
3) Transfer to a pot, and re-heat. Serve dusted with cinnamon.
How does this recipe stack up to my raw recipe? Good question. Let's compare:
The Cooked
Pros:
Depth of flavor: roasting the veggies gives this soup a deep, sweet, smoky flavor that simply can't be found in the raw recipe.
Mainstream appeal: this recipe is, I think, a little more familiar in flavor than my raw recipe, which is also familiar, but brighter and lighter than the norm.
Heat: this is your go-to for a cold winter day.
Cons
Time: roasting the vegetables takes quite a bit of time, so this isn't a recipe you can make spontaneously, or enjoy immediately.
Mess: roasting pans are a pain to clean.
Sweetness: I find that roasting all of your veggies brings out the natural sugars, which means that this soup is on the sweet side. Now, I love this, and many others will, too, but if you're cooking for someone who doesn't appreciate sweet/savory food, you may prefer the raw version.
Pros:
Speed! This soup comes together in mere moments, and tastes as if you've simmered it for a while (well, aside from the fact that it's not hot…you know what I mean. It tastes complete). So, even if it occurs to you to make this at the last moment, you'll still have time for a delicious meal.
Less mess: You'll chop a lot, but no roasting pans to deal with. Or pots. Score.
Brightness of flavor: you taste everything in this soup—the spices, the apple, the salt—because it's so unbelievably fresh.
Cons:
Temperature: while you could easily heat this soup up, it lacks the warmth (and depth of flavor) of the cooked soup. Maybe better for autumnal cravings during the summer?
Starchiness: leaving the butternut squash raw will give the soup a slightly starchy mouthfeel. I barely notice this, but a very picky eater might. If you're scared of that, steam the squash lightly.
Novelty: the idea of a raw soup may freak out non-raw guests. You can either trick them, and not say a thing before you serve it (just let them be surprised), or you can opt to make a cooked version for others, and enjoy the raw version yourself.
I think that's a pretty good summary of the soups' strengths and weaknesses—and it speaks to some of the pros and cons of cooking vs. uncooking in general (that is, cooking is messier and slower, but often easier when you entertain; raw food can present challenges in terms of texture and novelty, but is fast and fresh). In truth, they're both delicious meals, both worthy of dinner, depending on how much time you have and what your priorities are!
As for taste, did I have a preference? Yep. I registered a faint preference for my raw version when I tried the cooked one, but I still really, really enjoyed the cooked one. And M did too, though he noted that it was a little salty (I originally had 3/4 tsp, so I decreased it to 1/2; that should be safe, and you can add more if you want more).
In any case, butternut and apple is a match made in heaven, so I hope you try either of these soups—or both of them!—soon!
What's your favorite soup? If it's raw, can you imagine eating it cooked? If it's cooked, do you think you could make a raw version?
xo