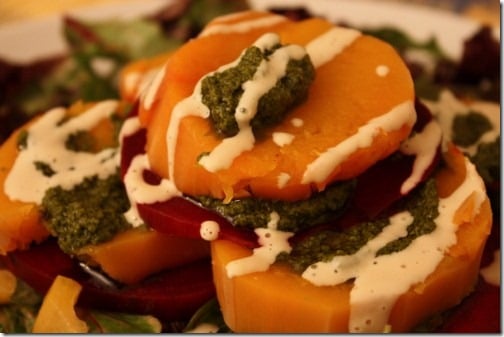 Another wonderful set of responses! That was an important topic, and I'm so glad that it struck a chord with you. Actually, this has been a great week of blog commentary in general! I always tell people that the actual writing of a blog is really less than half of the fun: the real fun is to see what readers will respond to via comments, and how they'll run with a conversation.
As I bid you adieu last night, I said I was off to make a half raw, half cooked dinner. This is what resulted. The inspiration for this all began last weekend, when I saw huge heads of basil at my farmer's market. It seemed so uncanny and too good to be true: great, bright, vibrant bunches of basil in early November? (This is, I suppose, in keeping with the late heirloom tomatoes we've also been having.) Immediately, I bought a bunch: when I see late-growing produce at a farmer's market, l usually pounce on the chance to enjoy the last of it before winter's chill.
As soon as I  got home, though, I realized that I didn't have many ideas about how to use basil in the autumn. I usually use it in summer pestos, sandwiched in between stacks of heirloom tomatoes, or as a topper for summery roast veggies (bell peppers, zucchinis, etc.). I'm really not used to eating it any other way. I'm not a 100% local and seasonal eater – I've blogged about this before – but I do try to obey the seasons in a broad way, and there are certain flavors, like basil, that seem so deeply tied to a particular season that I rarely use them in other ones.
Eating seasonally is good, but it's also a shame to miss out on superb flavors at other times of the year (especially when we have slightly off calendar crops, or if we're lucky enough to have frozen some pesto over the summer, which I wish I'd done). And if I hadn't leaped upon those basils bunches, I'd have never have come up with the following dinner, which was a perfect marriage, not only of raw and cooked food, but also of summery and wintery flavors and textures. Who knew that butternut squash is so totally delicious when drizzled with a good, tangy pesto? Or that beets and squash are harmonious bedmates, even if the beet is likely to turn the butternut squash pink?
This dinner was facilitated by the use of M's pressure cooker, which I am currently holding hostage in NYC. I didn't get home from the work and the gym until 8:45 last night, and when I did I was hungry. Normally, this would be a night for salad or leftovers—taking the time to cook root veggies would be unheard of. With the pressure cooker, though, I was able to cook a small b-nut squash and two gargantuan beets in ten minutes. I cut the squash into three parts and trimmed the beets, and I put them all in about 1 cup of water in the pressure cooker. After five minutes of pressure cooking, the squash was ready; another five minutes later, the beets emerged tender. What a miraculously efficient appliance! I must have one of my own, and soon.
Regardless of how you cook your veggies for this recipe, it's easy to assemble: just a matter of having your components (beets, squash, a batch of pesto, and a batch of cashew cream) ready to stack. Here's how it happens:
Butternut Squash and Beet Napoleon with Pesto and Cashew Cream (serves 2)
For the pesto (yields one cup):
3 cups basil, packed
Generous 1/2 cup extra virgin olive oil
1/2 cup pine nuts (pistachios are also great)
2 cloves garlic
2 tbsp lemon juice, freshly squeezed
Salt and freshly ground black pepper to taste
1) Combine the basil with the pine nuts and pulse a few times in a food processor till roughly mixed. Add the garlic and pulse a bit more.
2) Add the olive oil in a thin stream with the food processor motor running. You'll want to be careful but fast, since you don't want the mix to lose all of its texture.Stop to scrape down bowl if necessary. Add lemon, salt, and pepper to taste, and pulse once more to incorporate.
For the cashew cream (yields 1 1/4 cups):
1 ¼ cup cashews, soaked for a few hours
¾ cup water
1 tsp agave
2 tbsp lemon juice
½ tsp sea salt
Freshly ground pepper to taste
1) Put the soaked cashews in your Vita-Mix or food processor along with the agave, lemon juice, sea salt, and 1/3 cup water. Blend until it looks thick and creamy.
2) With the motor running (in either the processor or the Vita), drizzle more water in until the sauce is totally smooth (if you're using a food processor, you'll have to stop and scrape sides occasionally) and the consistency you want.
For the stacks:
12 thick slices cooked butternut squash
12 thick slices cooked beets
To assemble:
1) Place 3 beet slices on a plate, and drizzle with a teaspoon or so of pesto.
2) Place 3 butternut squash slices on top, and drizzle with another teaspoon or so of pesto.
Layer two beets on top of that, repeat the pesto, and place two layers of squash over that.
3) For your last layer, just place one round (either squash or beet) on top, and then give the whole stack a thick drizzle of cashew cream.
I served all of this unparalleled deliciousness over a bed of arugula salad with balsamic vinaigrette. I cannot tell you how rich in flavor the dish was: pesto is so vibrant and distinctive, but somehow the cream and the sweetness of the rest of the stack compliment it in really wonderful ways. I was blown away by how tasty this dinner was:
If you're looking for a super-fast, semi-raw dinner that doesn't demand too much fuss, I can't recommend this strongly enough. Winter pesto is now a brave new world for the taking, and I can't wait to explore it more!
In honor of recent requests for more straight up nutrition info on CR, I'm adding a new "feature": Nutritionist's Note. In it, I'll point out noteworthy things about the meals I share from a nutritional standpoint—either an assessment of nutrient density, a word about nutritional strengths and weaknesses, or fun trivia about what the provides. (Or all of the above.)
In this case, I'm weighing strengths and weaknesses. This meal is very rich in healthy fats, but it's a little weak in the protein department. So, if it's dinner, you'll want to amp up the beans, hemp, soy, or other vegan protein sources at other meals of the day. As I always remind clients and readers, not every meal has to be the protein all star (or fat all star, or carb all star, or iron all star). But you do need to take a bird's eye view of your day and compensate for the things you miss at certain meals in others. Capisco?
Hope you all feel inspired to put some basil to use, even now that its nearly gone. Any winter basil recipes you love? Or flavor pairings that knit one season's flavors with another's?
Final announcement: This is your last two days to enter to win a free health consultation with me. Check out my counseling giveaway and comment there to qualify!
xo