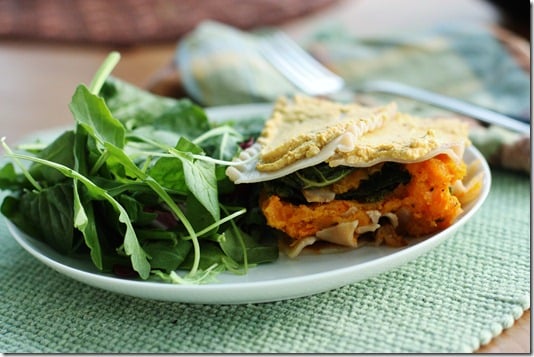 Last night, my friend Anne and I had a chance to catch up after quite a few weeks without our customary conversation and laughter. We're both in the middle of finishing up rigorous academic programs (Anne, an MPH/RD, me, the post-bacc), and so time is quite scarce for us. Normally when we meet up, we try to do "ingredient potlucks," where we pool all of the stuff in our respective fridges and prepare it together at one of our homes; this time, Anne was busy incorporating some edits into her master's paper, so I said that I'd be happy to host her and do a bit of cooking and prep before she got to my place.
When I surveyed my home, I realized that I had a glut of butternut squash, and I also had a container of brown rice lasagna noodles (from Tinyaka) that had been hanging out my kitchen for a good long time. I've seen butternut squash lasagna recipes on many a blog, so I figured I'd try a simple version out, using the squash and the bunch of kale I'd just gotten this week. There's no vegan "ricotta" or melted vegan cheese in this recipe, but I did create a Brazil nut and pumpkin "cheese" to spread on top of the lasagna, and I think it is a great recipe to enjoy on its own, too!
There are a couple of important things to note about this recipe
If you don't have time to make the nut cheese, it's cool. It adds to the recipe but doesn't make or break it, so you can definitely top it with some extra kale instead of the cheese, or simply eat it without a sauce/spread on top at all. This will save you a bit of time!
Unlike a lasagna that uses a lot of sauce, this lasagna is fairly "dry" as you bake it, so you have to cook the noodles all the way through before baking, rather than par-boiling them. I wouldn't use the no-boil noodles if I were you!
It's important to cover the lasagna as you cook it: the noodles on top will get really dry if you don't. A sheet of foil is all it takes.
The butternut filling is super tasty, and I think it would work on its own as a delicious side dish. The trick is to mash it up enough to spread it in the lasagna, but not turn it into a purée. Use a potato masher and don't overdo it.
Without further ado, the recipe!
Butternut Squash and Garlicky Kale Lasagna with Brazil Nut Cheese (vegan, can be gluten free with suitable lasagna noodles)
Serves 4-6
2 lbs butternut squash, cut into 1 inch pieces
1 large yellow onion, roughly chopped
2-3 tbsp olive oil, divided (or coconut for the roasting part)
Salt and pepper to taste
1 tsp rubbed sage
1 cup brazil nuts
1 lemon
1 tbsp mellow white miso (substitute 1/2 tsp sea salt)
2 tbsp nutritional yeast
1 cup pumpkin puree
1/3 cup water + extra
9 lasagna noodles (I used brown rice noodles, which would be good for my GF readers, but any noodles will be fine)
1 large bunch of curly kale, washed and chopped into manageable pieces
2 cloves garlic, minced
1. Mix squash and onions with 1-2 tbsp coconut or olive oil and sea salt and pepper to taste. Roast at 400 degrees Farenheit till the squash is browning and very tender (about 35-40 minutes). Mash the squash with a potato masher till it's smashed up, but not too much: you're not looking for the texture of mashed potatoes here! You want some texture, but for it to still be easy to spread. As you do this, add the sage and season again, to taste. Lower the oven to 350 and set aside squash.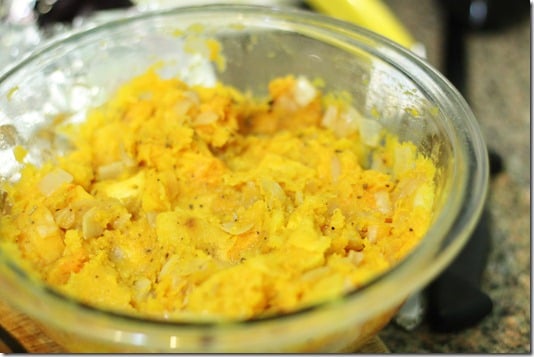 2. To make the pumpkin cheese, place your cup of Brazil nuts in a food processor and grind till they're powdery but not yet turning into nut butter. Add 1 cup pumpkin or butternut squash puree, sea salt, miso, and nutritional yeast, along with 1/4 cup water. Process, adding more water as need be till you have a smooth, spreadable mixture. Set aside.
3. Bring a pot of water to boil and boil the lasagna noodles till tender. This is important! See note above.
4. Finally, heat remaining tablespoon of olive oil in a large pan, along with 2 cloves minced garlic and a bit of salt and pepper. Add your kale and sautee, stirring constantly and adding a few tablespoons of water as you go along to keep it moist and tender. When kale is wilted and the garlic is cooked, turn off heat.
5. To assemble lasagna, spray the bottom of a casserole dish (rectangular) with some coconut or olive oil spray. Lay down a layer of noodles, and top them with a layer of squash and kale. Add another layer of noodles, and another layer of squash and kale. Finally, add one more layer of noodles. Cover the lasagna in foil and bake at 350 for about 20 minutes, till everything is warm. Remove from oven, and when it's a little cooler, spread your Brazil nut cheese (if using) over the top layer). Cut and serve!
It should smell fantastic as it bakes. This recipe includes more garlic than is my norm (I'm not a big fan), but it really works here, and I don't find it overwhelming. I do find it deliciously fragrant, though.
The finished product:
This lasagna is so tasty! A perfect marriage of everything autumn.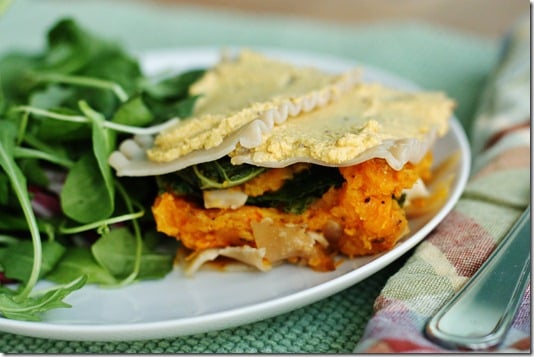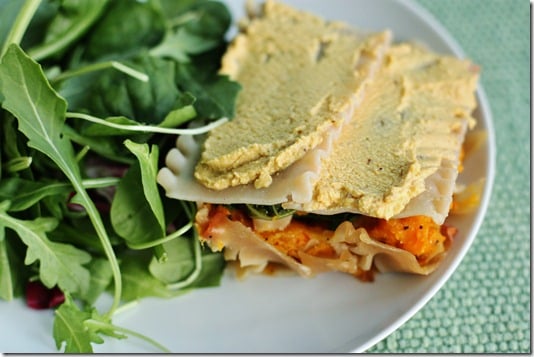 To go along with it, Anne and I whipped up a salad of a few of our favorite things: roasted beets, lentils, arugula and radicchio, and what is now our standard vinaigrette for get-togethers: balsamic, lemon, olive oil, dijon mustard, salt, pepper. It was a killer salad, if I do say so myself. I topped it all off with some fragrant and lovely toasted hazelnuts:
Something about salad preparation always makes me smile:
Look at that abundant bowl of green!
As usual, it was wonderful to catch up with Anne, whose wedding I recently missed, sadly, because of a death in my family. She and I are both so ready to be freed from the yoke of school (even if my freedom is very temporary) and enjoy more adventures together in D.C.!
For some of our previous ingredient potlucks, check out our
Can't wait for the next healthy and tasty collaboration!
Before I go, I wanted to mention that my friend Carrie has just created an app called Vegan Delish. It's designed for new and veteran vegans and vegetarians, plus those wanting to explore the benefits of a plant-based diet. It features innovative tools such as a digital shopping list and searchable categories including gluten-free, quick & easy, and kid-friendly. It inspires users to make whole food, plant-based meals that are as delicious as they are nutritious.
For the introductory price of only $1.99, users of Vegan Delish receive 50 recipes including California Kale Salad, Easiest Slow-Cooker Applesauce, Pumpkin Spice Muffins and Butternut Harvest Stew. Plus, once the app is purchased, access is included to all of the new recipes that are added monthly.
Each recipe features step-by-step instructions to transform simple ingredients into flavorful, health-promoting meals that everyone will enjoy.
I'm really excited to get the complimentary download that Carrie—who has just bravely battled a diagnosis of thyroid cancer and written about her extraordinary healing process on her blog—has generously offered me. And I am offering you, my readers, five free downloads. The first five folks who comment on this post will receive Vegan Delish for free, so don't wait! Chime in now, and I'll connect you with Carrie. Please note that the app is only for Apple handheld devices in the US and Canadian markets.
Have a lovely day, all!
xo