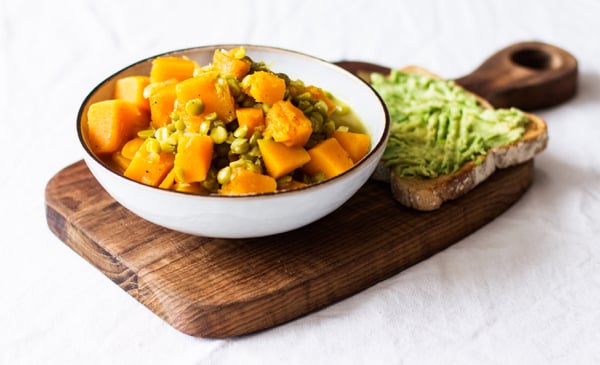 When I had a typical, 9-6 working life, I relished the ritual of coming home at the end of the day and making myself supper. It was a way to flex my creative muscles after an otherwise analytical day, and I found it incredibly relaxing.
Now that I'm a student again, I miss the steady rhythms of full time working life, not least because I miss having the ability to cook something new and spontaneous each evening. Right now, my dinners are composed primarily of things I've batch cooked in advance or over the weekend. It's not quite as creative or inspired as dinnertime used to be, but it is quickly expanding my repertoire of soups and stews, which I like. And this curried butternut squash and split pea soup is a recent highlight.
Last night, I got to D.C. after a long week of exams and counseling work. It was a perfect night for a rewarding, home cooked meal if ever there was one, but I needed that meal to be easy. Soups and stews are a go-to on such nights because I can prepare them in one single pot and allow them to simmer while I take care of other things.
My boyfriend had squash, onions and carrots from his produce box, split peas, and as always, a well stocked spice rack. I decided to combine sweet butternut squash with hearty, protein packed split peas for a filling meal, and I gave it flavor and character by adding curry, cumin, and cinnamon. It was so simple, all things considered, but the end result was absolutely delicious. This soup is a keeper, and I can't wait to make it again on a cold evening!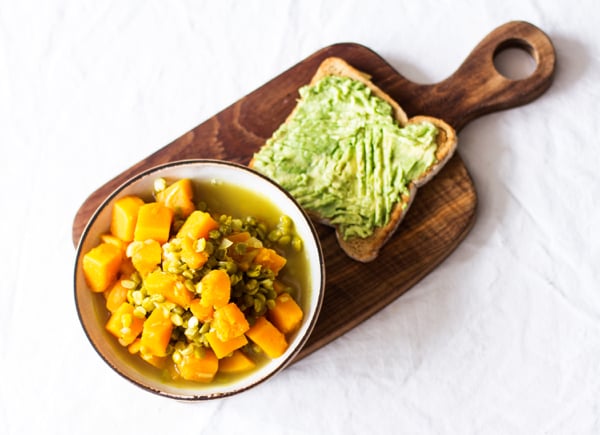 Butternut Squash and Split Pea Soup
Cuisine:
vegan, gluten free, soy free, nut free
Author:
Prep time:
Cook time:
Total time:
1 tablespoon olive oil
1 white or yellow onion, chopped
3 carrots, peeled and diced
2 cloves garlic, minced
1 pound peeled, cubed butternut squash
1 cup green or yellow split peas
4 cups low sodium vegetable broth
1 1/2 teaspoons curry powder
1 teaspoon turmeric
1/2 teaspoon cumin
1/4 teaspoon ground cinnamon
1 teaspoon salt (or to taste)
1/4 teaspoon black pepper
Heat the oil in a large soup pot or Dutch oven over medium heat. Add the onion and carrot. Sauté for 5-7 minutes, or until the onions are clear and the carrots are soft. Add the garlic and cook, stirring frequently, for another 2 minutes.
Add the squash, split peas, broth, curry powder, turmeric, cumin, cinnamon, salt, and pepper to the pot, along with 2 cups of water. Bring everything to a boil and reduce to a simmer. Cover and simmer for 45-55 minutes, or until the split peas are tender (they'll still retain their shape). Uncover, taste, and adjust seasonings. You can serve the soup chunky or use an immersion blender to blend it partially or entirely. Serve.
Leftover soup will keep for up to five days in an airtight container in the fridge and can be frozen for up to 1 month.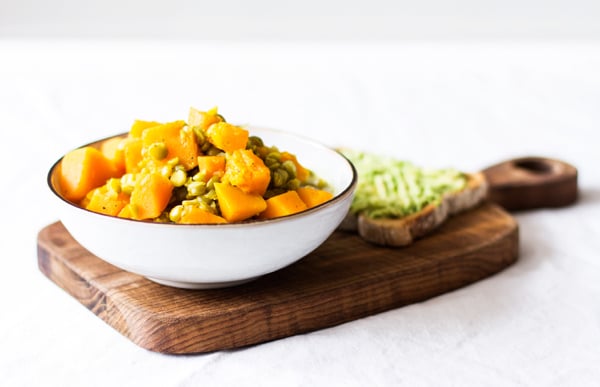 I recommend serving the soup with a fresh salad or a side of avocado toast–or both. We had ours with avo toast and an easy kale salad, and it was a perfectly satisfying meal. If you're only serving 1-2, you'll have plenty of leftovers, which you can enjoy for a couple of nights for quick dinners, or you can freeze them for future busy nights. Easy peasy.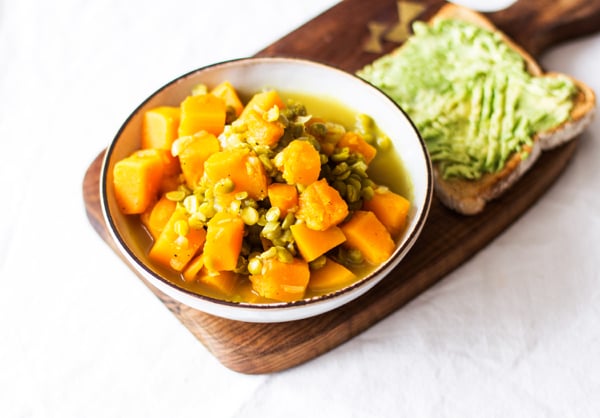 Hope you'll give this tasty soup a try–and if you do, let me know how you like it! As you can see, the soup has a lot of wonderful texture when you don't blend it. But you can also blend it (partially or totally) for a creamy, thick mixture.
What's your favorite Friday or weekend ritual? And what sort of food goes with it?
xo
Images courtesy of Lighter.