This morning, I tweeted out that I had just made a butternut squash smoothie to die for. Within mere moments, I had a flurry of responses asking for the recipe. No surprise there: I don't know too many foodies, vegan, raw, or otherwise, who don't swoon at the mention of autumn squashes. I sent out a promise that the recipe would be up later in the day, and, good to my promise, I'm sharing it now.
Before I do that, though, I should make clear that this smoothie would not have been the same without the generosity of two fine companies. One is the Vega brand. I am way overdue to write a review of Vega snacks and drinks; I've only reviewed the EFA oil blend thus far. Seeing Brendan this week was a good reminder to pester ask the kind Vega team (hey, Kelly!) for some goodies, and goodies I got! Check out the loot: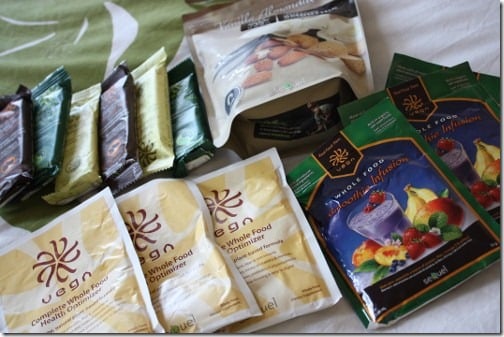 I've tried the Vega vibrancy bars before, and I love them, so I'm thrilled to have more! I had not tried the Vanilla Shake n' Go yet (though I blogged about the chocolate flavor here), nor the Whole Food Optimizer. With that in mind, I decided to make the Whole Food Optimizer a part of breakfast.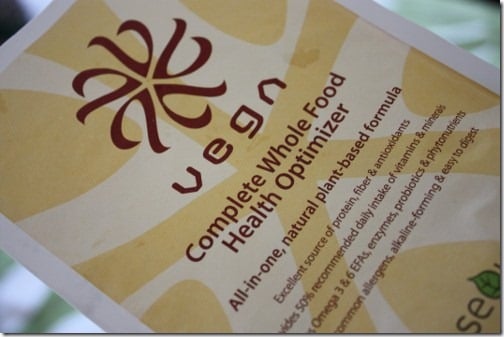 This powder blend was originally designed to mimic the recovery shakes that Brendan made for himself as he launched into life as a healthy vegan athlete. This means that it's all whole foods, all plant based, and all taste-approved by an athlete with a rigorous training regimen. It provides about 45% of most of one's daily vitamin/mineral needs, which means that, paired with a good diet, it obviates the need for any other sort of multivitamin or supplement. A smart investment!
The other key donation to my breakfast came from the lovely Glass Dharma company. I've been eying these glass straws on other blogs with great envy for some time now, so I was delighted when the company offered to send me some of their 100% sustainable glass straws.
Before I heard of Glass Dharma, it truly didn't occur to me that drinking straws were that worthy of replacement. Until I went on the company's website, and read David, the creator's, info page:
Now, granted, there are a lot more plastics in our world than just drinking straws, but bear with me a minute and let me put things in perspective … As of March 2008, McDonald's serves an average of 52 million meals PER DAY!…How many of those served do you think were given a plastic straw? I hope it is becoming obvious just how big of a problem these pesky little plastic straws can be.
I was also interested to hear about the actual health benefits of glass drinking straws:
Glass straws don't leach toxins into your food as you drink.
Each time you use your glass straw equals one less plastic straw ending up in your landfill.
One glass straw replaces thousands of plastic straws. (How many times will you use a straw the rest of your life?)
…and on top of all that, look at how cute they are. I was sold!
All of the straws come with their own little cleaning brushes and eco-friendly boxes. And I think they're all beautiful: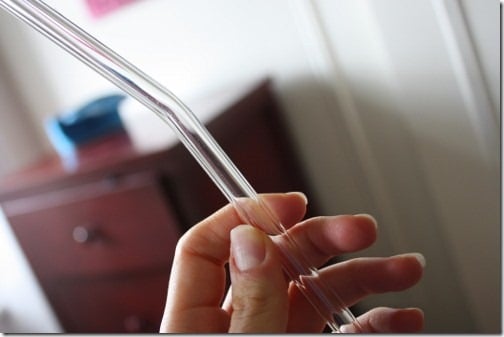 As eco-conscious as I am, I tend not to think about the little choices I make every single day that are lousy for the planet: the straws I take from the deli, the cans or plastic containers I sometimes forget to recycle, or the grocery bags I so often use because I've forgotten to bring cloth. It's something I need to improve on, and Glass Dharma has given me a good kick in the pants. Even the smallest things we do can make a difference, so thank you, Glass Dharma, for motivating me to look harder at my daily habits. I can't wait to use, reuse, and reuse your beautiful straws again.
So, new straws + whole foods optimizer. What else could have been on the breakfast menu but a fine smoothie? Since fall is in the air, I decided to return to one of my favorite smoothie concoctions: pumpkin pie smoothie. Typically, I make this with almond milk and canned, organic pumpkin. I didn't have any canned pumpkin, but I did have a beautiful butternut squash on my kitchen counter, so I simply made my own purée by cutting, peeling, and steaming cubed squash and then blending it in my food processor till smooth. Soon enough, I was ready for breakfast:
Butternut Squash Smoothie (serves 1)
1 cup pureed butternut squash
2/3 cup nut, seed or rice milk
1 tsp cinnamon
1/2 tsp ginger
1 packet of vanilla chai Vega Whole Foods Optimizer–or a neutral protein powder of choice (optional)
Handful ice
Blend all ingredients on high till smooth and creamy. Enjoy with a slice of whole grain toast, or (appropriately) with my carrot raisin bread!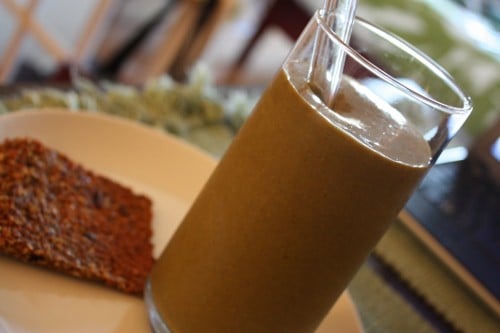 Note that, if you don't use Vega or another protein powder that's a little sweet, you may want to sweeten this lightly with dates or stevia.
This. Was. Heaven. I hadn't counted on the Vega Optimizer being so perfect with the squash, but it sure was. In all, this was like sipping gingerbread through a straw. Disregard the whack color, please: it's the Vega optimizer (which is a little green) that makes it green-tinted. If you were to use another protein, or simply not add it, it would be orange. But less chai-ish!
All of the smoothie recipes I share are designed to give you good nutrition without supplements. So if you don't have Vega products or a protein powder that you'd like to add, that's fine: you'll still get beta carotene from the squash, anti-inflammatory properties from the cinnamon, and (if you use hemp milk), a nice boost of protein, too. I think that hemp seeds, a small handful of almonds, or nut butter would work really well here, too. Give it a try, and let me know how you modify it!
Now that I've enjoyed this slice of heaven through a (glass) straw, fall can officially begin. It had me feeling so autumnal that I even wore a poofy vest today during my long, lovely walk through a sunny Central Park.
I hope all of your Saturdays were as sweet.
xo