The point of Vegan Mofo is for us all to share a lot of recipes, right? Right – and share we do – but I'll take a short hiatus each week to share a restaurant meal or two. I dine out seldom compared to most New Yorkers, but I always enjoy sharing reviews of my fave vegan dining establishments with you guys.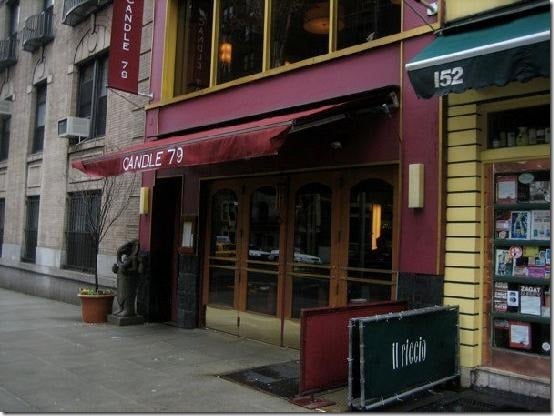 79th street holds a special place in my heart. I grew up on 75th street, and every morning—rain or shine, snow or sleet–I would shuffle outside, drag my sleepy body to the 79th street bus stop, and wait for the cross-town bus to take me to school. The high school where my mom is an art teacher is on 78th street—a mere step away from the 79th street bus stop—which meant easy visitation rights for this kid. The Met museum, where I spent many free periods of high school in hiding, is right next to 79th street. Shakespeare in the Park is situated on 81st, which is technically a part of the 79th street cross-town, and so too is my customary park entrance for jogging. For a long time, the 79th street bus took me directly to my friend Gabi's upper east side apartment. Get the idea? We New Yorkers all develop strong and sentimental attachments to certain streets, neighborhoods, and corners. 79th is one of mine.
Here's another reason I like 79th street: Candle 79. Candle 79 has quickly risen to the rank of my number one vegan dining spot in NYC, for lots of reasons. For one thing, the food is remarkable. For another, it's got both raw and cooked options (though I tend to find that the cooked options at 79 are best; I leave raw restaurant dining to Pure). It's got an elegant and cozy interior, and it looks and feels like a non-vegan restaurant, which is to say that it's not twenty square feet, the service is professional, and it doesn't smell like a wheatgrass shot. I love vegan restaurants, really I do, but the smaller ones can lack prompt service, ventilation, and mood lighting. It feels as if one is dining in a health food store. Cute, sure, but not for a fancy dinner out, and especially not great if you happen to be bringing omnivores out with you.
Candle 79 makes it easy for me to promise omnivore friends a spectacular meal, and mean it—it's even won the heart of my mom, who's a little skittish about all vegan restaurants. Here we are at Candle on my 27th birthday: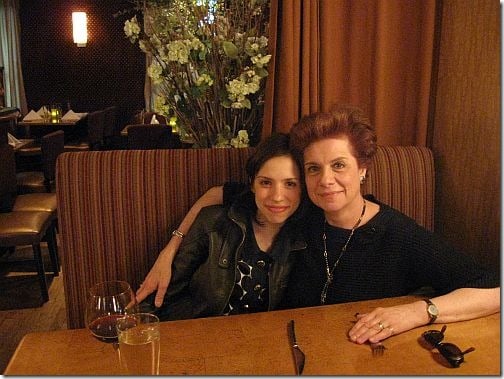 To the list of many things I love about Candle 79, I've got a new one to add: it's the place where M and I had our first date. So it's no shocker that we enjoy making return visits now and then, ogling the menu, feeling terribly indecisive about what to get (OK, lately it's just me who's indecisive), and then feasting. M noted that, as a vegan, one becomes so used to only having one or two options that's vegan-friendly on a restaurant menu that it's actually hard to order at a place where literally everything looks awesome. True! Even as a spoiled New Yorker, I'm accustomed to spending business lunches ordering the one thing that isn't smothered in chevre. What a treat it is to be overwhelmed, rather than underwhelmed, with options.
On our most recent visit, we were treated upon seating to an amuse bouche. Few restaurants offer this genteel pre-dinner ritual, and I love than 79 still does. It was zucchini rounds with a tasty spread: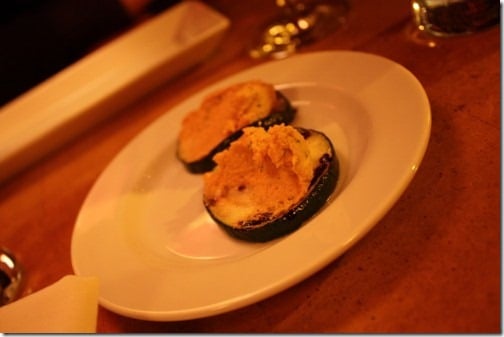 Pre-appetizers, we began with 79's famous flatbread and hummus. This is my favorite non-homemade hummus out there: thick, creamy, and not at all too garlicky for me!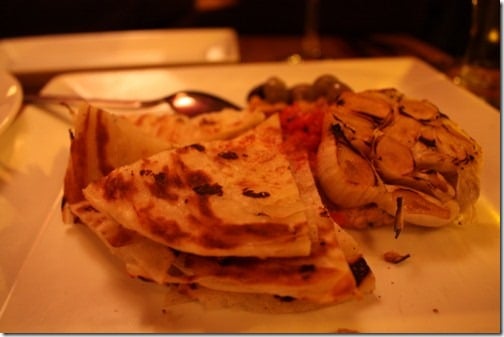 The flatbread is always warm, soft, and a little oily (in a very good way). It comes with a head of slow roasted garlic, which I steer clear of.
Next up, M got the restaurant's awesome seaweed salad: carrots, cabbage, grilled shiitake mushrooms, edamame, radishes, wasabi leaves, miso-ginger dressing.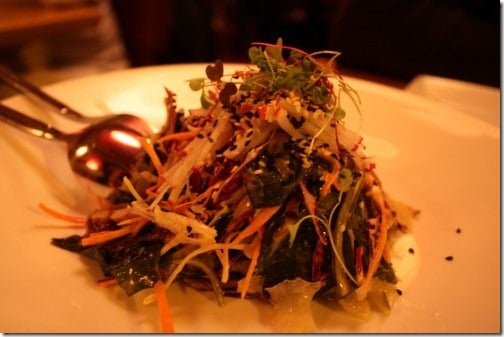 Definitely one of my fave seaweed salads. It's not too salty, not too vinegary, and it doesn't taste as though it was ordered from a sushi restaurant and plated five minutes before I ate it. Which is more than I can say of most seaweed salads in restaurants. Ahem.
Next up, our entrees. I know I wanted a hodgepodge of stuff this evening, but it took me a good twenty minutes to figure out what that would mean. I was dead set on getting two simple veggie sides (Brussels sprouts and roasted root veg—perfect for a cold night), but torn on the salad I wanted with them. At the urging of Benay, 79's hip and generous COO, I went with their famous stuffed quinoa salad, which I always enjoy: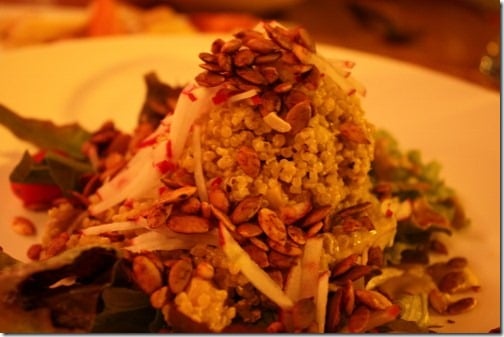 Baby greens, quinoa, butternut squash, jicama, cranberry beans, grape tomatoes, radishes, toasted pumpkin seeds, chipotle-avocado dressing—delicious! So were my veggie sides: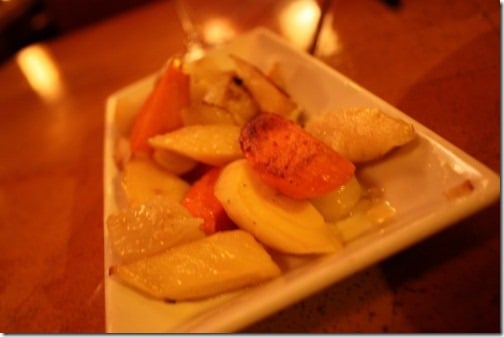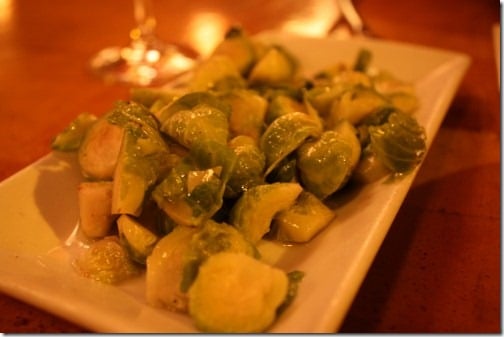 For his entree, M got the daily special, which was some sort of glazed and grilled seitan. It was really, really good, and very hearty: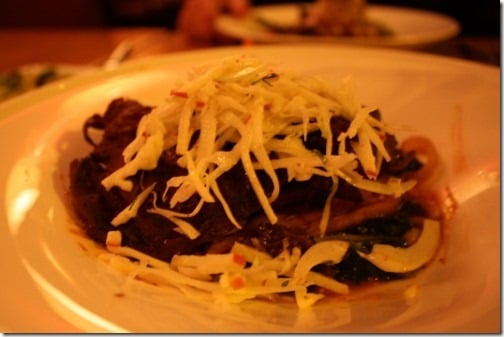 As usual, it was a perfect meal from start to finish. We were even treated to a primo window seat (after a little musical chairs and table shifting).
Seated by the window, watching the 79th street cross-town lit up beneath me and New York's upper east side shuffling by in all of its moneyed elegance, and sensing the first real chill of autumn in the air, I thought that there couldn't possibly be a cozier or better place to be sitting than where I was. The unsurpassed company didn't hurt, either 🙂
What's your favorite restaurant? I envy any of you who live near Millenium in San Fran (where my bloggie buddies are convening right now for the Foodbuzz festival) or Horizons in Philly, but on the whole I tend to think that I'm the luckiest girl in the world for living a cross-town bus ride away from a place like Candle 79 – not to mention Pure, Bonobos, Caravan of Dreams, and all of the other NYC vegan hotspots I love so much. Next weekend I'll be reviewing both an NY area vegan spot I loved, and a DC spot I did not love. So get excited for the first ever CR restaurant takedown.
How were your weekends? Curious to hear what you did – that is, if you weren't frolicking at Foodbuzz!
xo